open for lunch daily
enjoy a relaxed vineyard lunch. Our menu features thoughtful, regional ingredients designed to showcase our estate wines


In addition to our estate wines, we offer a seasonal menu to accompany your tastings. The menu is available daily with all reservations. To enjoy, please book our "Estate Visit" on Tock. Wine Club Members receive their savings on wine and food!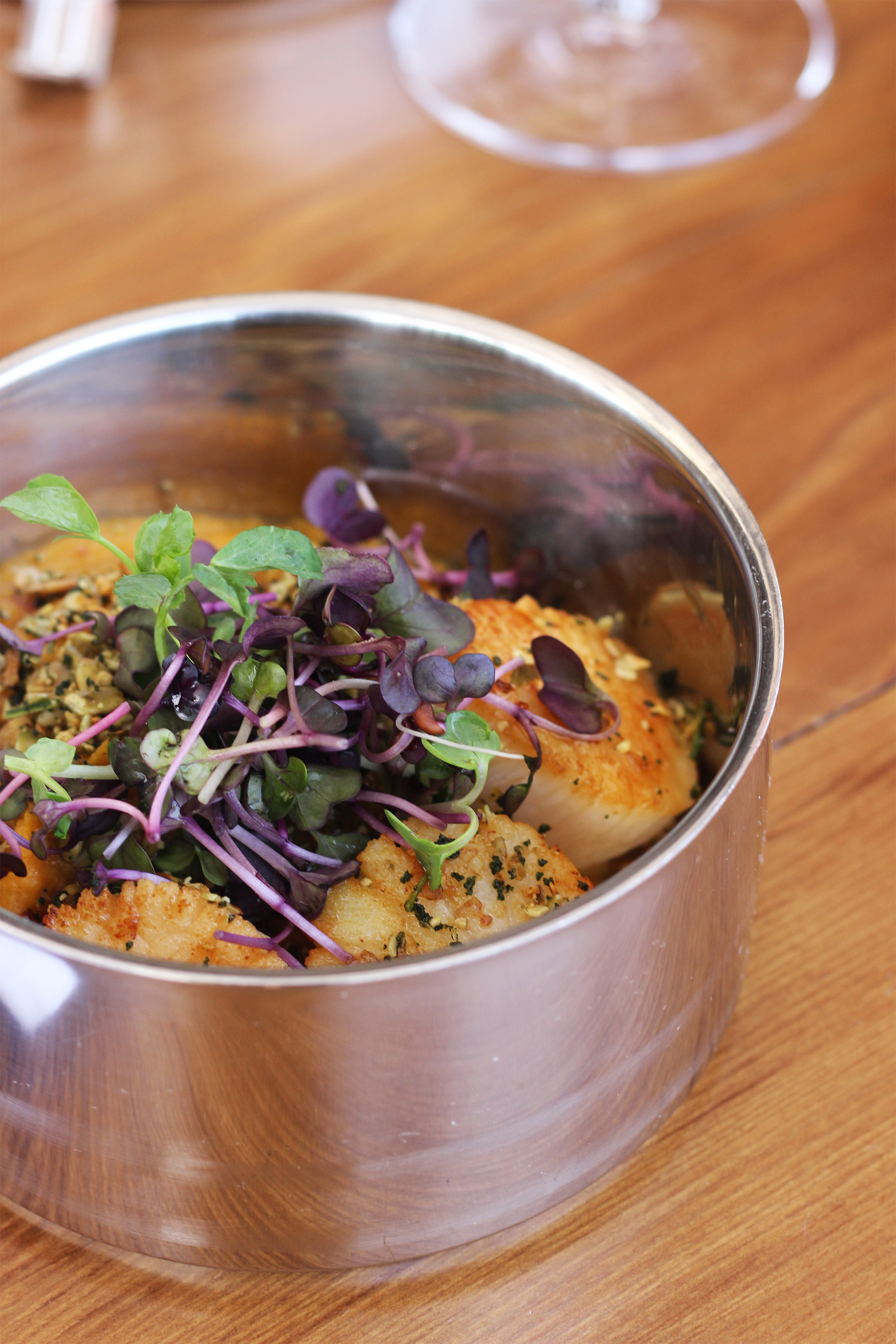 About Our Restaurant
Since opening our restaurant doors in early 2014, we have grown to be a family, winery, community and garden that are obsessive about ingredient sourcing. We know the farmers, butchers and artisans that we choose to partner with and our new picnic-style lunch service is designed to compliment our estate grown wines. Learn more about our:
- Restaurant Awards
- Ingredient Sourcing
- Our Local Partners
awards & recognition
"Best Winery Restaurants in America" - Food and Wine Magazine, 2017. Click here to read the full write-up!

"Overlooking their Heart Hill Vineyard is the winery's restaurant, where the team goes to great lengths to source its ingredients: There's extra-virgin olive oil milled from the property's 350 olive trees, eggs from their flock of 20 chickens, and a great deal of produce pulled from the recently-planted Estate Garden."
Named one of "The 10 Best Winery Restaurants in America" - USA Today, 2018. Click here for the full write-up!

"The open-kitchen lunch served at Niner Wine Estates takes inspiration from all things local. The culinary team sources ingredients from area farmers, butchers and artisans, ensuring the highest quality dishes make it to the table."



Ingredient Sourcing
Everyone talks about farm to table cuisine; our goal is to live it. Our motto when it comes to ingredients is "grow what we can, and know who farms the rest. In that spirit, we play a direct hand in the following ingredients:
---
Our Chef's garden
Our Chef's Garden is an important piece of our restaurant philosophy and, in many ways, dictates what ends up on our seasonal lunch menu. We try to keep our menu items as fresh and locally sourced as possible, and you can't get much more fresh and local than right outside the kitchen doors!
ESTATE olive oil
Each year we mill our own Extra-Virgin Olive Oil from the 350 olive trees planted at Bootjack Ranch and Heart Hill Vineyard for use in our restaurant. We grow four types of olives, and use them to create two blends. Our Arbequina and Mission olives make a spicy, and green-tinged Spanish blend, while our Frantoio and Coratina olives combine for a buttery and lemon-spiced Italian blend. In years where our crop is large enough, you can find our olive oil for sale in the tasting room.Learn more about the process in a blog post here.
Barrel Aged Coffee
We have been working with local roaster JOEBELLA for a series of experiments where we age their coffee beans in old NINER Wine Barrels to create a completely unique product. For a blog post with more details click here. So far, we have aged and roasted over thirty batches which we sell in the tasting room, restaurant and our online shop. We are also now offering cold-brew coffee made with our barrel-aged coffee beans. You can find it in the tasting room!
sourdough focaccia bread
While our restaurant was closed in early 2020, our kitchen team spent the time experimenting with a sourdough starter to perfect our Focaccia bread recipe. From start to finish, the process takes about three days and our team bakes the bread fresh every day. You can find our Sourdough Focaccia bread on our current menu paired with our Estate Olive Oil!


Local partners
For everything else, we rely on the following list of farms, purveyors, and artisans
---
Beewench Farms
Templeton Valley Farms
Outlaw Valley Ranch
Marley Family Seaweeds
Central Milling Organic Flours
Backporch Bakery
Central Coast Creamery
Windrose Farms
Alle-Pia Charcuterie
Charter Oak
Joebella Coffee Roasters
Manzanita Manor Organics
Stepladder Creamery
Kandarian Organic Farm
Local Farmers' Markets
Matthews Honey


Cheese & Charcuterie
notable vendors from other regions you'll find on our cheese & charcuterie board
---

Milton Creamery, Iowa
prairie Breeze, aged cheddar style cow's milk

Rogue Creamery, Oregon
Smokey Blue, mild blue cheese cold-smoked over dried hazelnut shells

Benton's, Tennessee
hickory smoked, cured pork leg aged 10-12 months