heart hill vineyard
the site is home to our winery and tasting room, planted mainly with Bordeaux grape varieties
2020 marks our 13th year of farming at this rocky, cool and powerful site. Our last thirteen years of evolving at Heart Hill and have reiterated that we are in pocket of Paso Robles naturally suited to high quality viticulture, and that this incredibly diverse site can produce fascinating wines.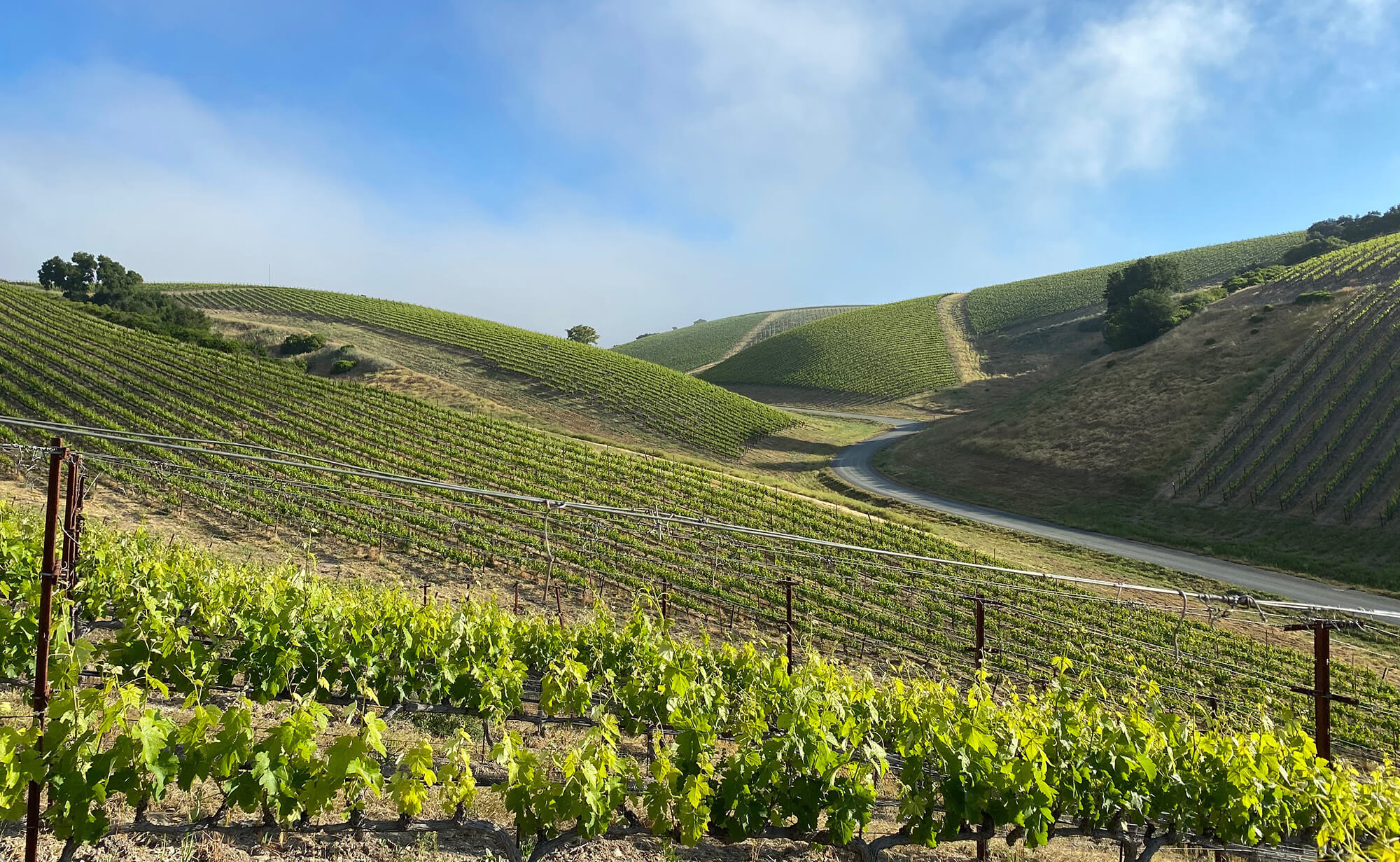 History
We purchased the Heart Hill property in 2003 and planted the first vines in 2007. Before that it was a ranch to the Booker Brothers, who were the creators of the iconic Heart Hill. For details on their life and the creation of the heart in 1956, visit our blog here. At the time, several of our neighbors were producing incredible, highly acclaimed Syrah based wines. With that knowledge we planted some Rhone varieties (Syrah, Grenache, Mourvedre and some whites). We also included a few parcels of Bordeaux vines, which weren't widely planted around us at the time.
If you've been to the tasting room, you can still see those original Cabernet Sauvignon, Malbec and Petit Verdot vines framing the iconic Heart. Over the years this hillside consistently produced the best wines from the property and often becomes the foundation of Fog Catcher. We have since grafted a few blocks over to new Cabernet Sauvignon clones and are expanding our vineyard with new Bordeaux vines.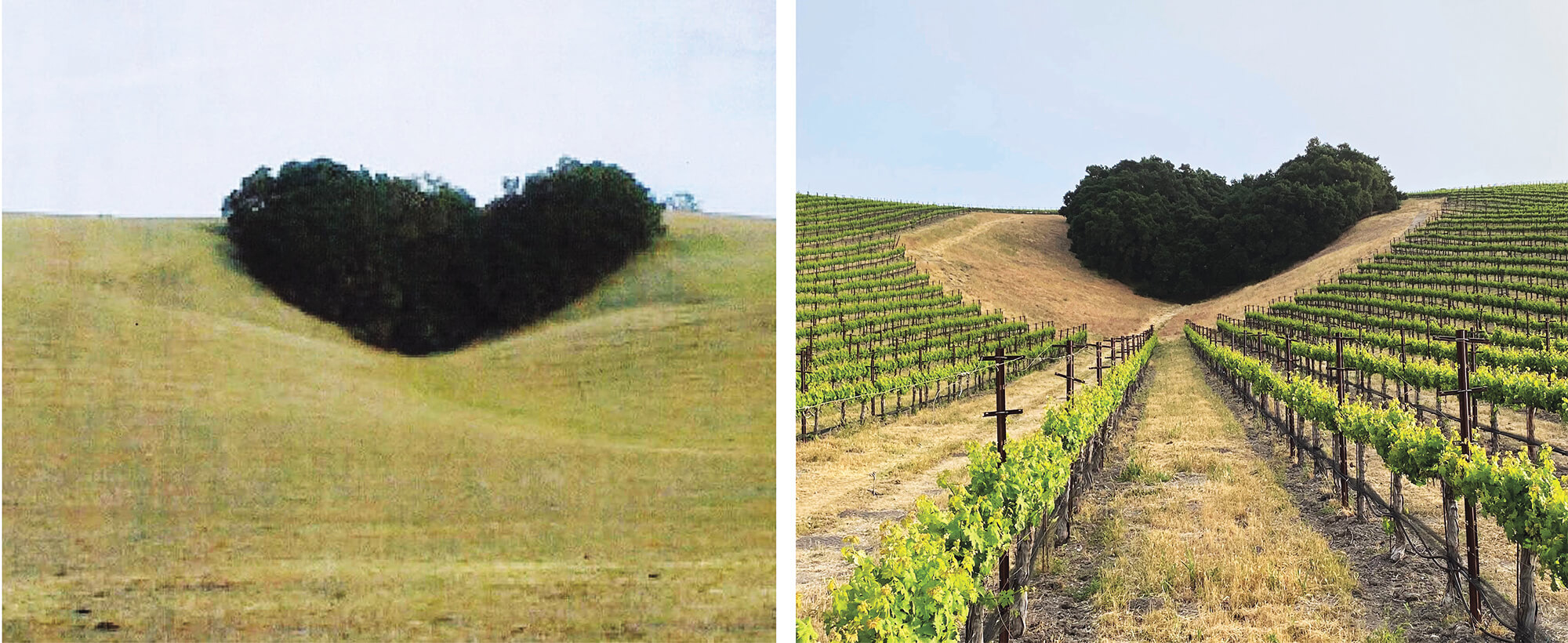 Heart Hill in 2003 vs. 2020
Climate
Heart Hill Vineyard sits 17 miles east of the Pacific Ocean in the Willow Creek District of the Paso Robles AVA. Willow Creek is defined by two key attributes: steep rolling hillsides and ocean proximity.
The temperature is on the cooler side for Paso Robles - we are a II on the Winkler Scale which measures temperatures across different growing regions. Below is a comparision of all 11 Paso Robles sub-AVAs, including ours. Coastal breezes sail through the Templeton Gap in the Santa Lucia Mountain Range that stands between us and the coast and tempers the Paso Robles heat. You can see the temperatures get warmer the farther inland you go.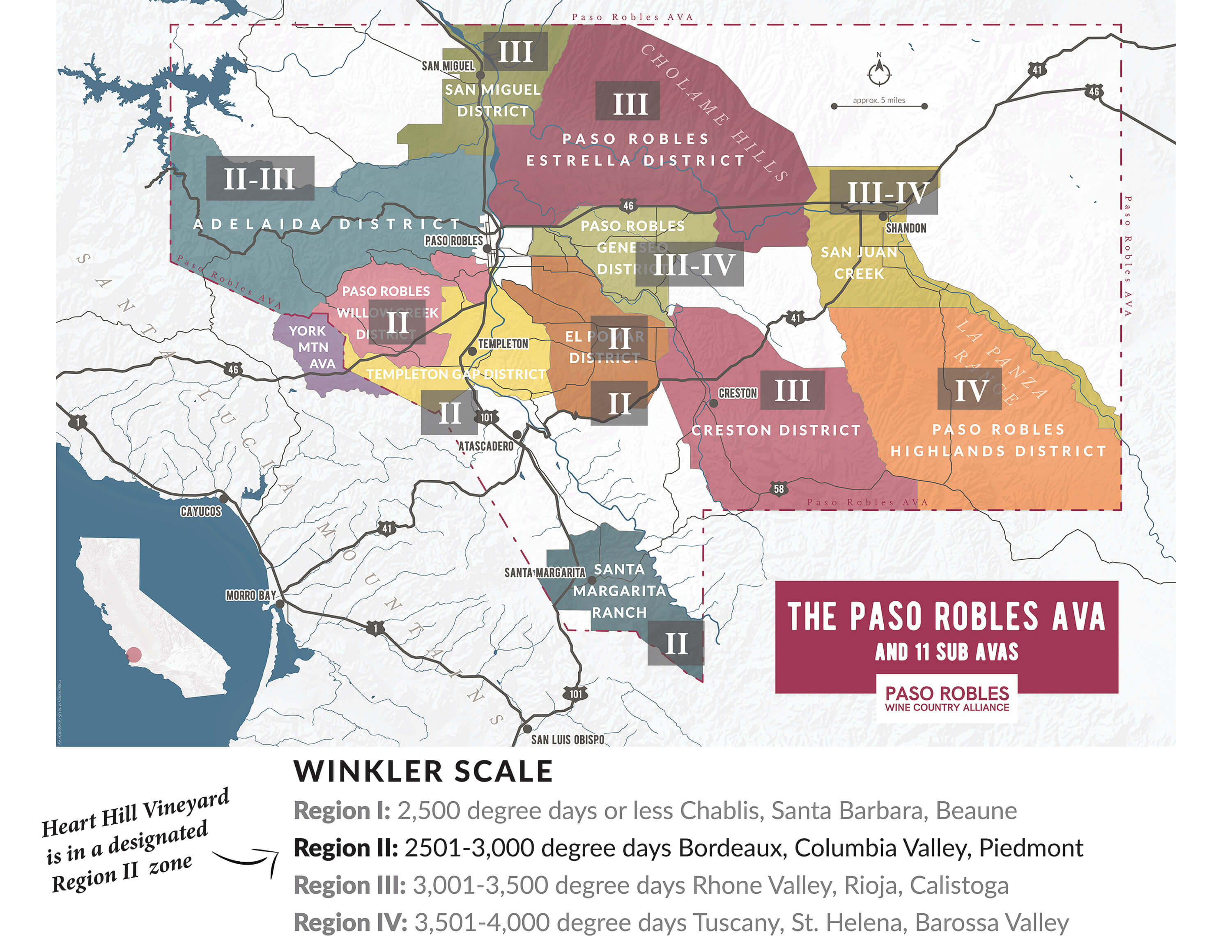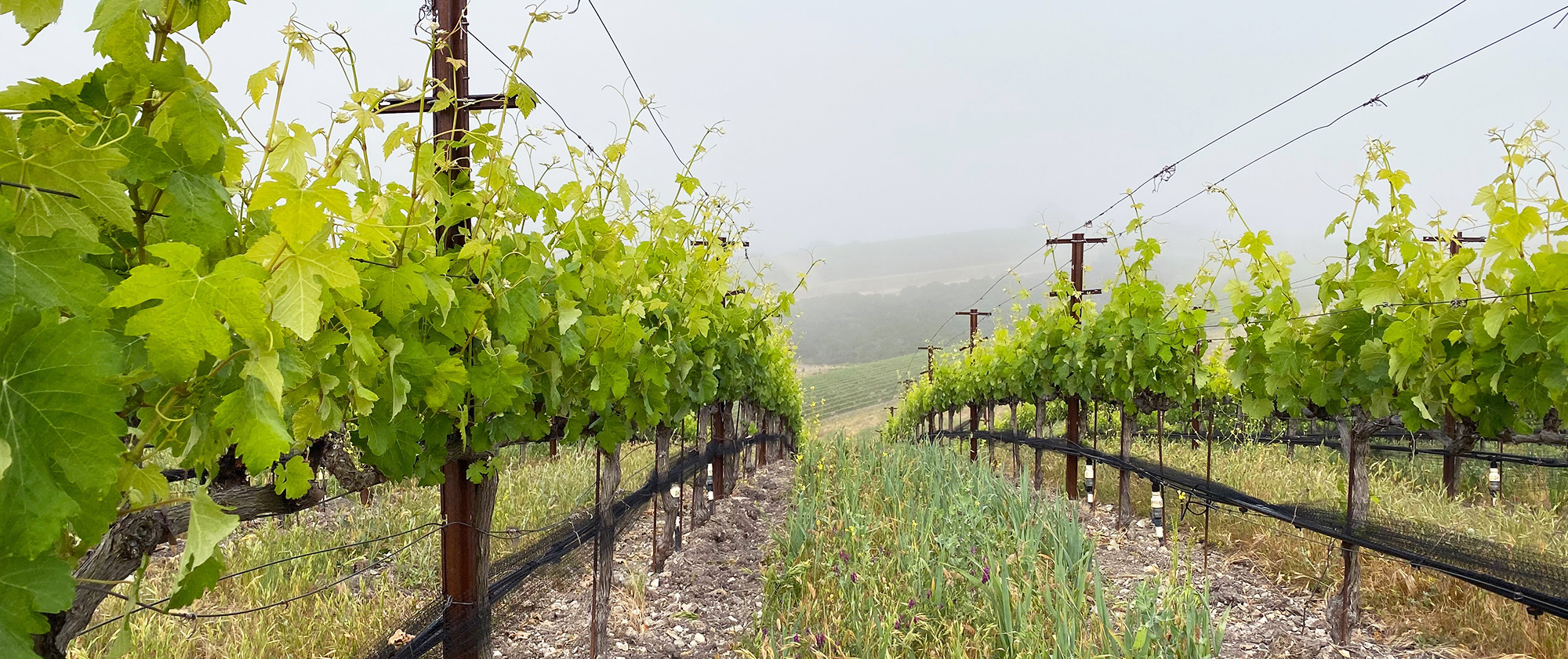 cool, foggy mornings and strong afternoon breezes are common at our site
The soil
The hillsides in the Willow Creek District are remnants of an ancient seabed that fractured and raised as two tectonic plates collided. In fact, as we've developed the vineyard we've found ancient seashells deep inside the hillsides on several occasions. Across the site, we're farming in a combination of loam and fractured shale - photos below.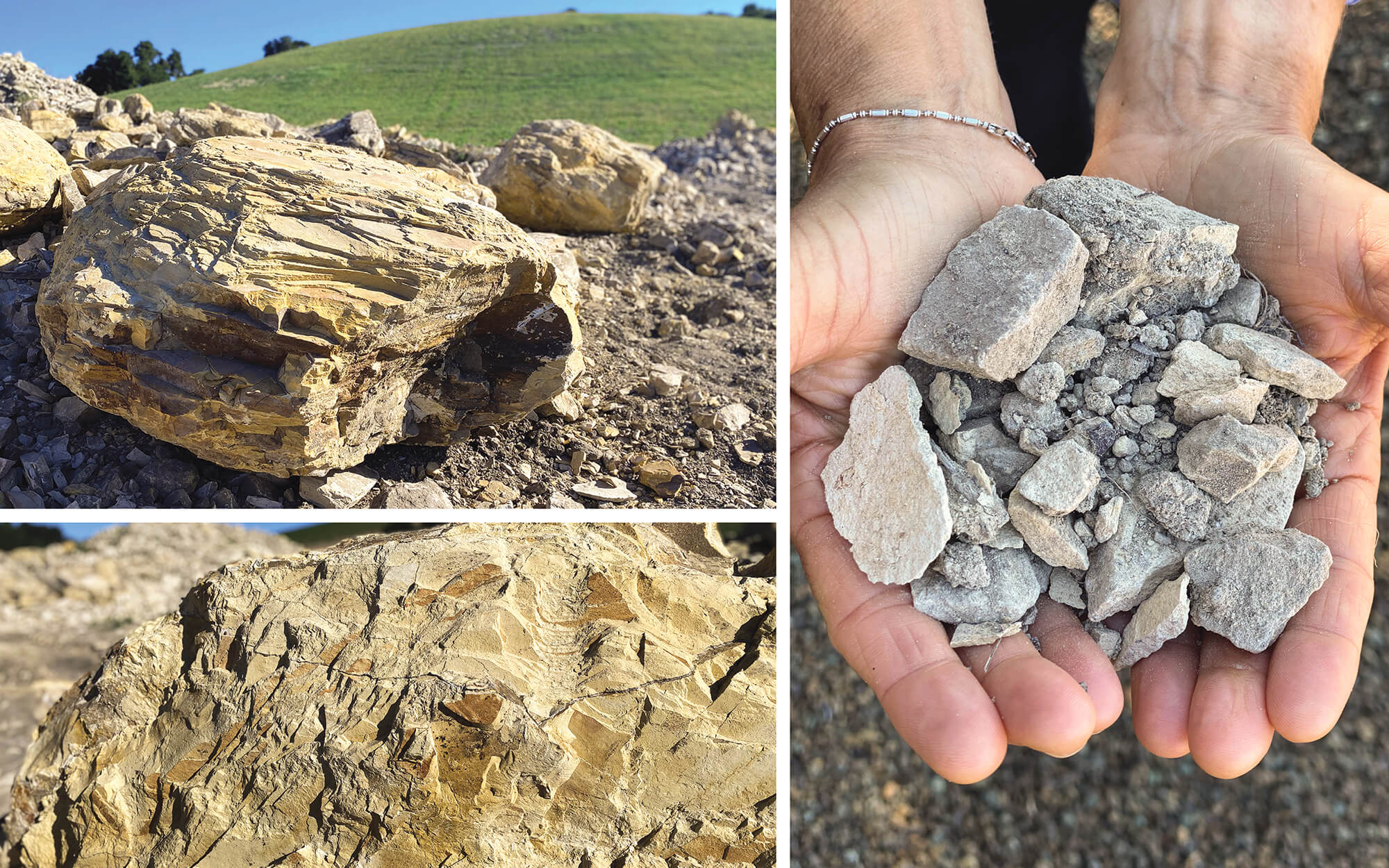 large and small pieces of shale make up a large portion of our soil composition
Part of the beauty of this site is that it varies in chemical composition by the hillside. For you soil nerds: most of our slopes are silica based (Siliceous Shale) with a few rich in chalk or (Calcareous Shale). The first 24" of the soil roughly 50% shale, and upwards of 90% shale as you go deeper.
This soil type and profile is ideal for high quality viticulture. We have enough soil to farm healthy vines but enough shale to keep them naturally devigorated. Healthy, controlled vine growth is the key to great wines: we can produce a small amount of grapes and get each cluster to full ripeness.