March 19, 2020 | Wine News
Q&A With Winemaker Molly Bohlman
Each year in late winter/early spring, the vineyard begins to wake up and show signs of life. After being dormant for the last few months, the vines begin to burst into leaf through a process called bud break. We typically see bud break at Jespersen Ranch a few weeks ahead of our Paso Robles vineyards, and in the last week or so, we have seen the first signs of bud break in our Pinot Noir, Grenache and Chardonnay at Jespersen Ranch, signaling the start of a new vintage.
To celebrate the official start of the 2020 vintage, we sat down with winemaker Molly Bohlman to ask a few questions about this time of the year, her winemaking background and more!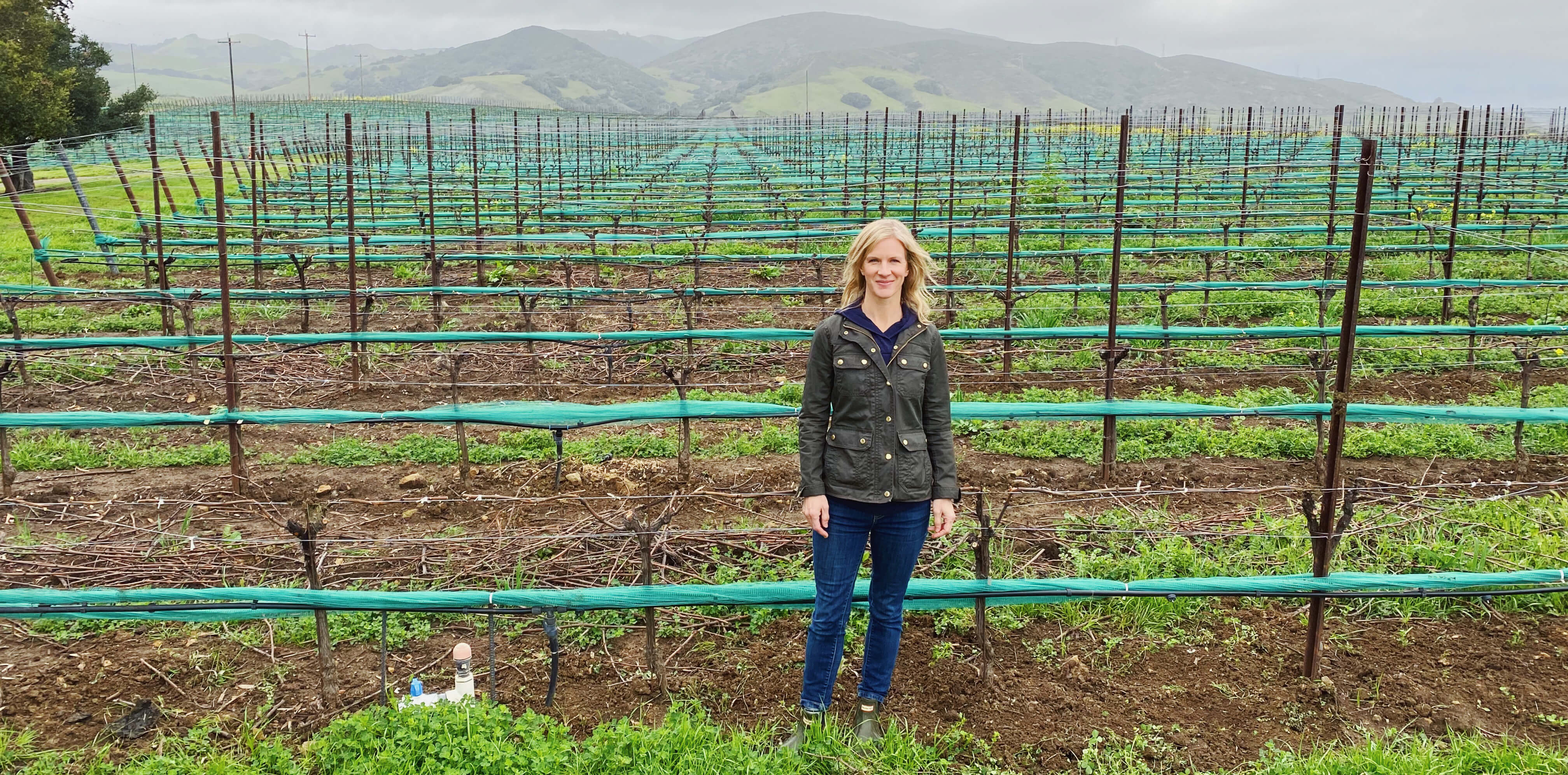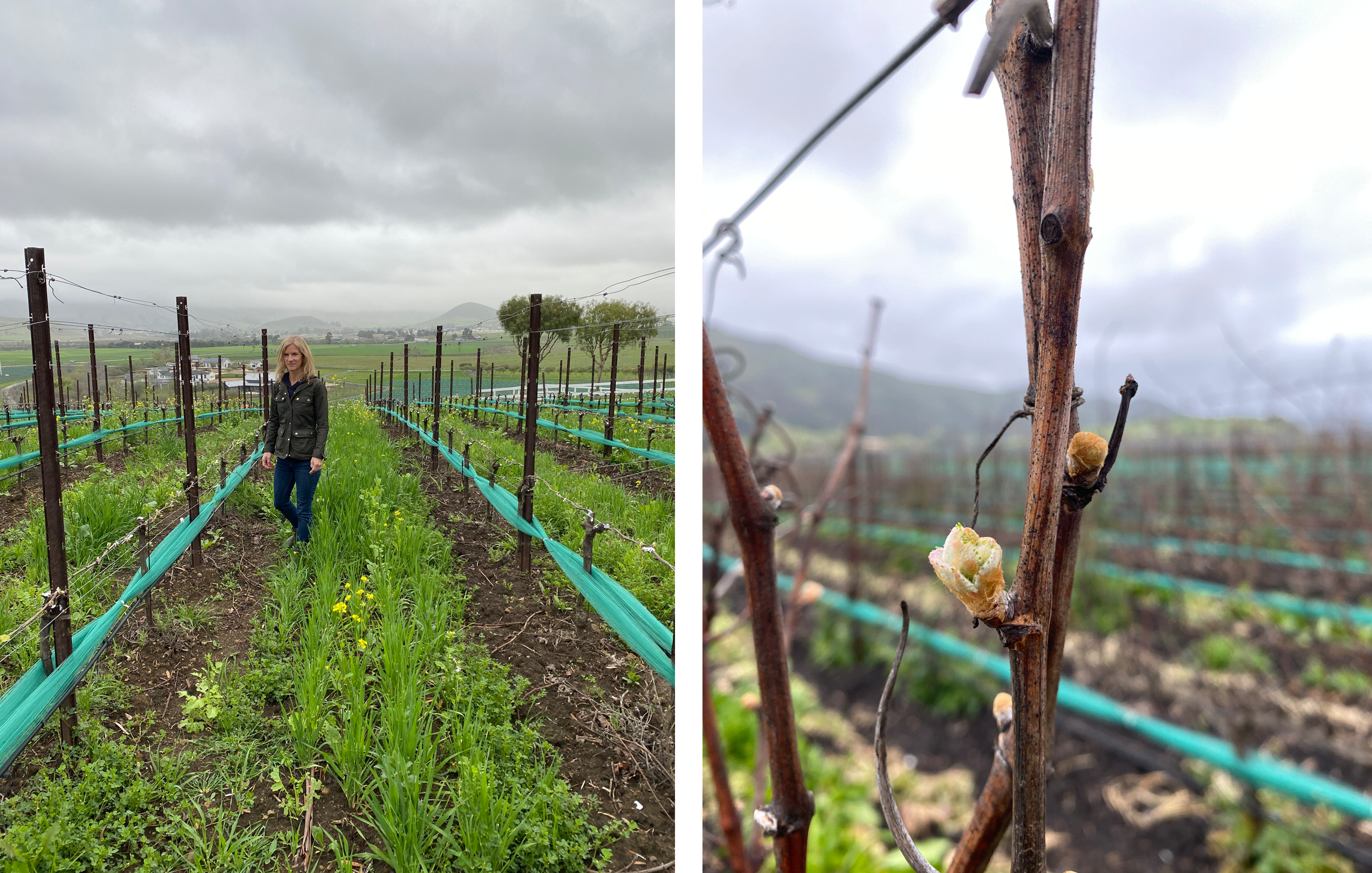 Molly walking Jespersen Ranch to check in on the vintage; bud break on a Grenache vine at Jespersen Ranch
With a career in the wine industry that spans over 20 years, Molly Bohlman knows her way around the vineyard and winery. She joined our winemaking team in 2014 and is responsible for managing Jespersen Ranch and the grapes we farm there. The vineyard is located in the Edna Valley thirty miles south of our tasting room and is much cooler than our Paso Robles properties. From the site, we produce Chardonnay, Albariño, Sauvignon Blanc, Syrah, Grenache and Molly's personal favorite, Pinot Noir.
10 questions for Molly

1. What was your background and how did you get into wine?
Winemaking has been my career goal from the age of 18 but it took me a couple of years (and a 2,000-mile move) to make it a reality! I didn't have any background in wine or farming but for some reason, it called to me - I was drawn to the combination of working with the land and creating something special from it. I have degrees in Viticulture Management and Fruit Science and have now spent over half my life working in the wine industry, yet still have to pinch myself that I get paid to do this!
2. What is going on in the vineyard during bud break and what does it signify to you as a winemaker?
During bud break, the dormant vines show the first green growth of the year. The buds unfurl small leaves that continue to grow (up to 1" per day!) as shoots, tendrils and tiny pre-clusters develop. Bud break signifies a new vintage on the horizon and another opportunity to make some amazing wine from Jespersen Ranch. It is always an exciting and optimistic time to be in the vineyard.
3. Why is Jespersen Ranch usually the first vineyard to show bud break each year?
While our vineyards in Paso Robles are warmer during the summer months, they are colder during the winter (especially night temperatures). Jespersen Ranch keeps a more moderate temperature during the winter (due to the proximity to the ocean) so the soil warms up faster, leading to earlier bud break. Paso Robles will quickly catch up and then surpass Jespersen in ripening as the summer temperature is consistently higher than in Edna Valley. This means we have a very long growing season at Jespersen Ranch – typically we see the first bud break and the last harvest of the year at this vineyard.
4. What do you love most about working with Jespersen Ranch?
Jespersen Ranch is a truly cool-climate site. I love the way the varietals we grow there express themselves in a bright and elegant, yet savory way.
5. What is your favorite thing about working with Pinot Noir?
Pinot Noir is perhaps the most site-expressive varietal. I like the challenge of putting my fingerprint on the wine while still showcasing the uniqueness of where it's grown.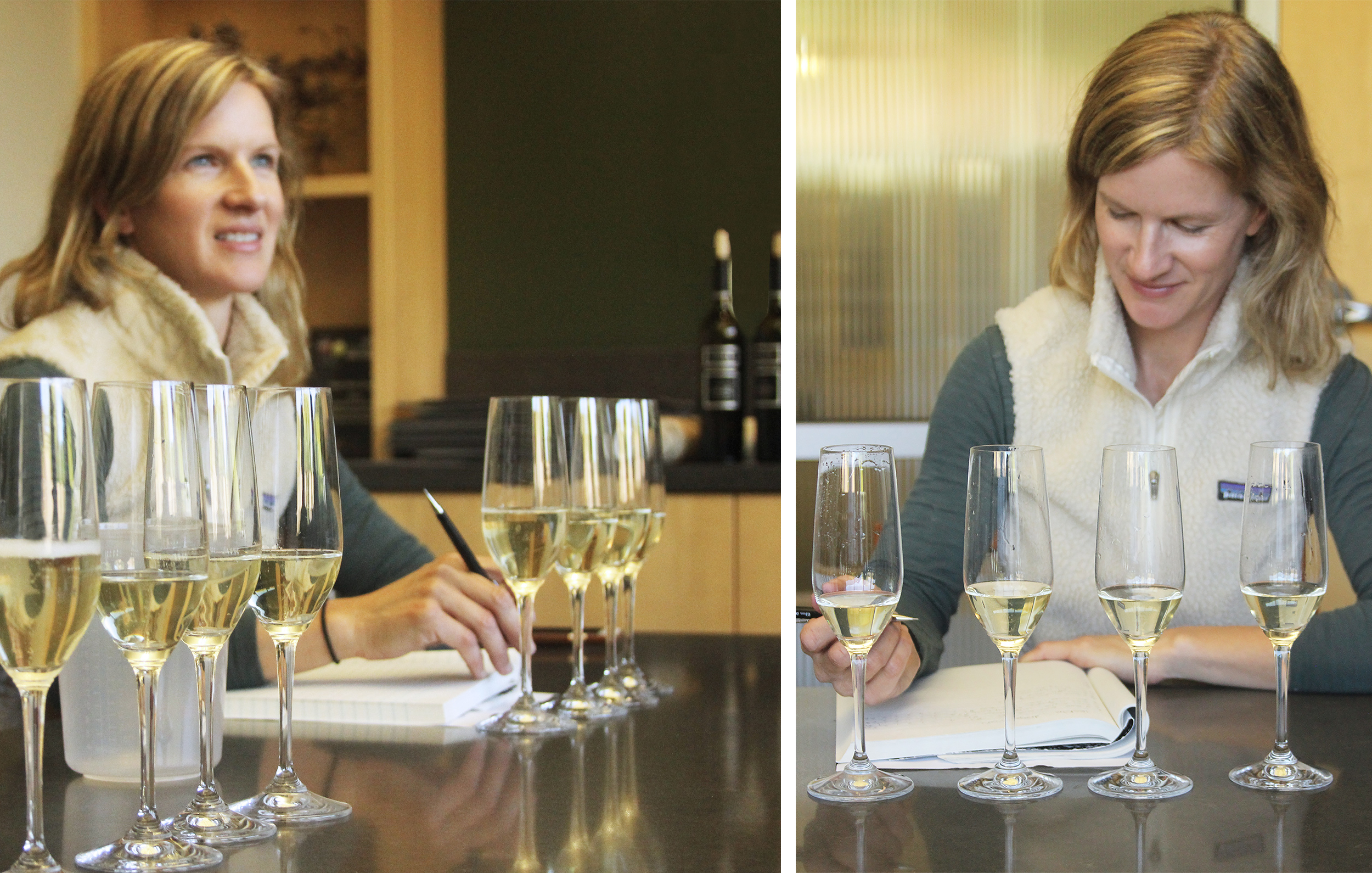 Finalizing the blend for the 2016 Sparkling Wine - it's a rough job but someone has to do it!

6. What does a typical day in early Spring look like for you?
Normally, during this time of year (non-harvest months), I spend my mornings doing some cellar work, pulling barrel samples for tasting and/or lab analysis, responding to emails, attending meetings and skimming the daily online wine news. Afternoons are spent tasting, planning for the next day's cellar activities, more emails and a vineyard visit if I can squeeze it in.
7. What is your favorite winemaking memory?
Waking up pre-dawn to harvest grapes at my family's vineyard. There is an incredible sense of accomplishment in working the land over a season, and a great deal of anticipation over what the wine from that vintage will taste like.
8. If you could make wine anywhere else in the world, where would it be and why?
Tasmania, the island off Australia's south coast. Their climate and varietals are similar to Edna Valley but it feels like a less developed, wilder version of California.
9. Is there anything people would be surprised to learn about you?
I've never had a cavity :)
10. What is your favorite wine & food pairing?
Popcorn and sparkling wine – it makes for an instant party!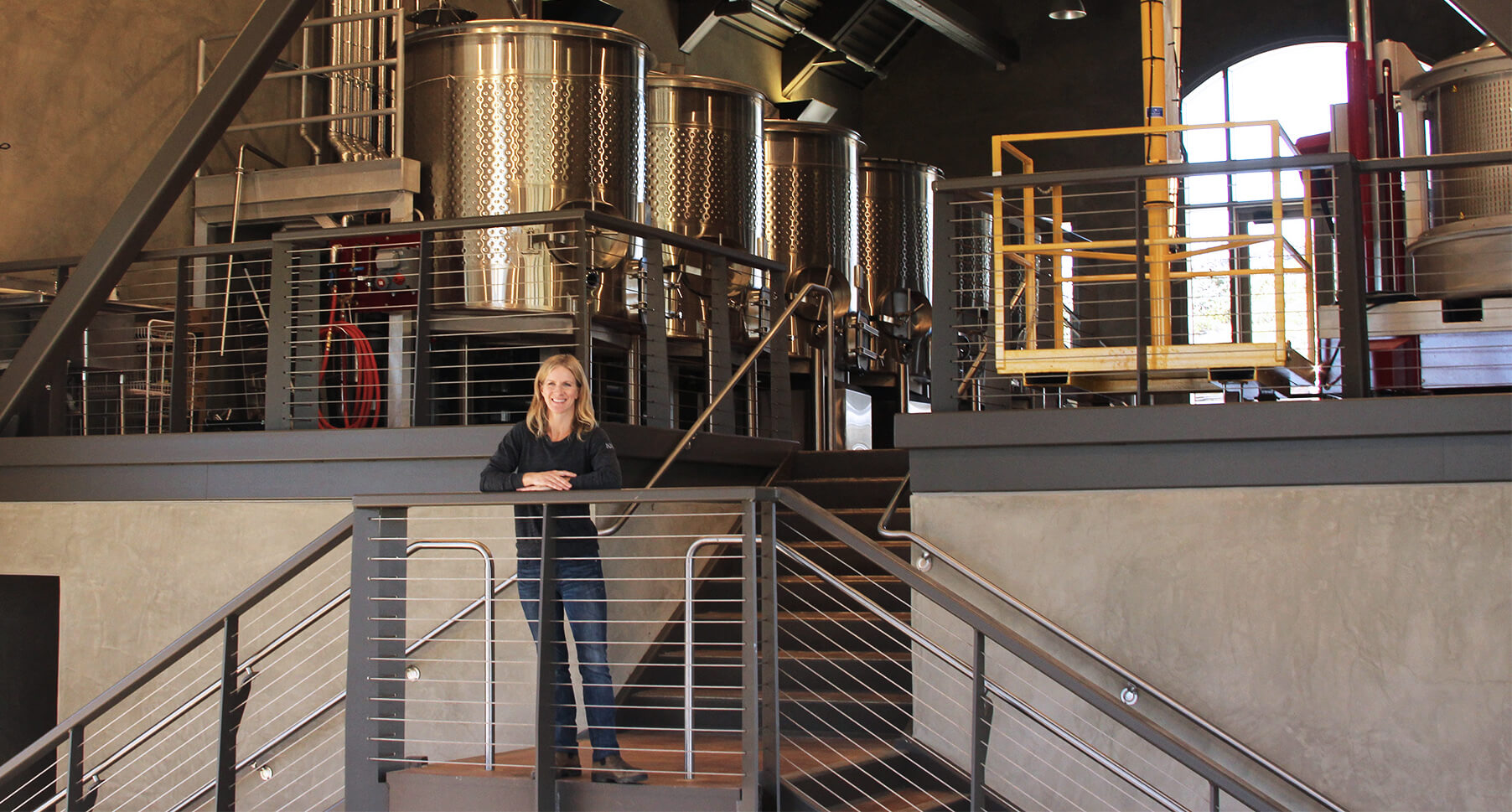 our craft winery, where all the wines from Jespersen ranch (like Pinot noir, grenache and syrah) are made!