November 20, 2020 | Wine News
2020 Vintage Recap
While it's impossible to capture both the energy and exhaustion that comes with this particular season each year, we hope the statistics below can help illustrate what our vineyard and winemaking teams have been through:
Harvest by the Numbers
70 days
19 different grape types
109 press loads
1,167 barrels used
500 punch downs (and counting!)
44 truck beds of compost created
1,680 cups of coffee
88 miles walked as a team per day
too much hand sanitizer to tally
12 team members to get it all done!
❤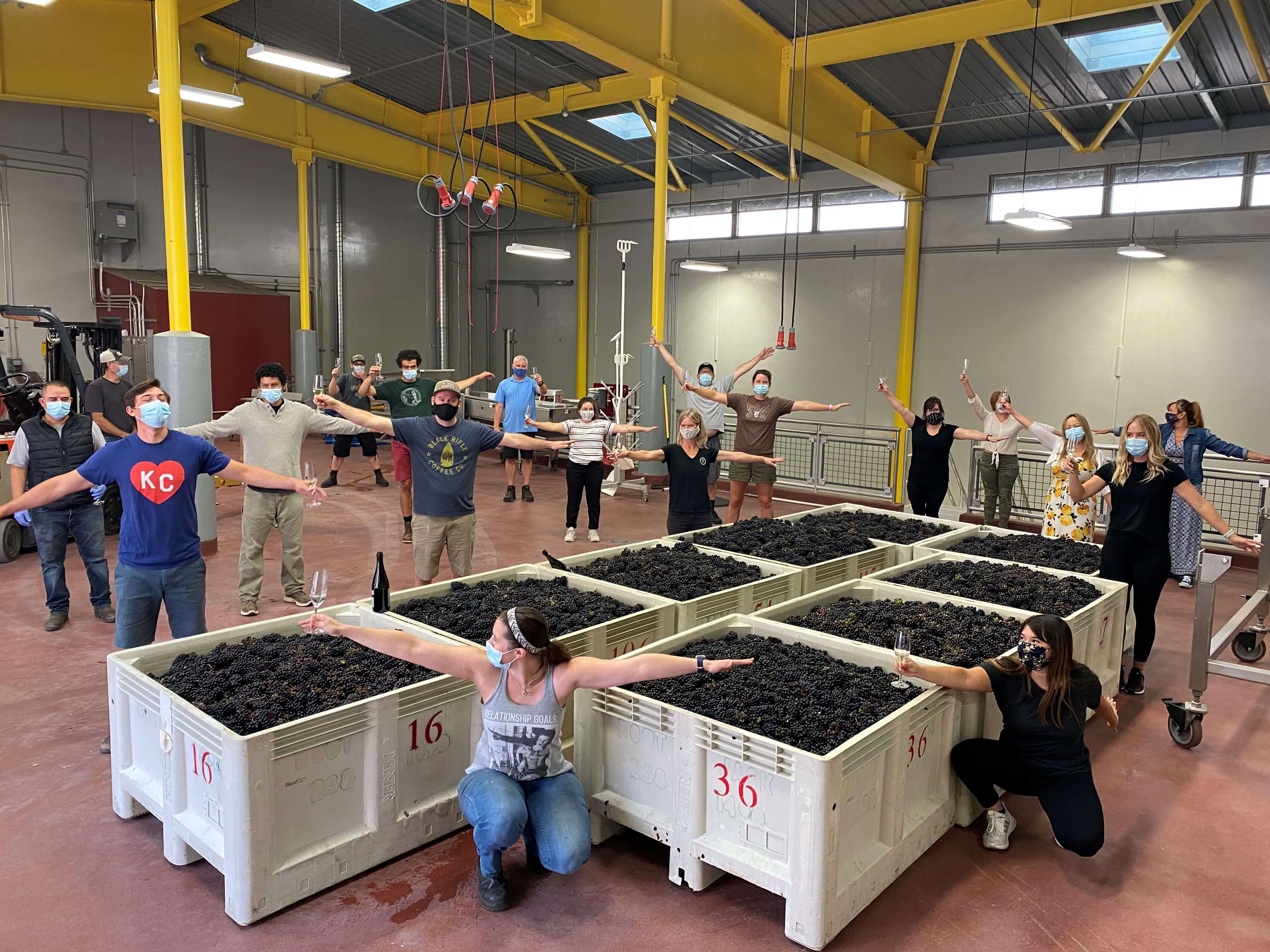 commemorating the requirements of 2020 - pinot noir & facemasks
What the Winemakers Had to Say...
Molly Bohlman, winemaker for jespersen ranch
"2020 will certainly be a year, and a vintage, that we won't soon forget. The growing season got off to an early start with warmer than average spring temperatures, and about half the average rainfall. Summer was a series of cool to high temperature fluctuations but overall, the summer was mild and the vineyard looked great as we headed into harvest.
Then the curveballs started. Heat spikes over 110F stressed the vineyard and pushed Brix (sugar levels) quickly.
Despite not having any fires in Edna Valley, the air was saturated in smoke from fires in Big Sur, Monterey and Northern California. We did dozens of micro-ferments ahead of picks to try to predict whether there would be any negative effects from the smoke (it can be absorbed into the grape skins and make the resulting wine taste and smell smoky).
And of course there was COVID-19… despite being anxious about doubling our staff to manage the increased workload during harvest, we took precautions (masks, distancing and LOTS of sanitizer) and everyone was committed to health and safety.
In challenging times like these, I am grateful to our vineyard and winery team for coming together to make the best wine we can. We were fortunate to be spared the extensive wildfire damage many wineries in California and Oregon experienced. I'm confident in the quality of the 2020 wines from Jespersen Ranch and look forward to sharing them with you in 2021 and beyond. Hopefully, in person!"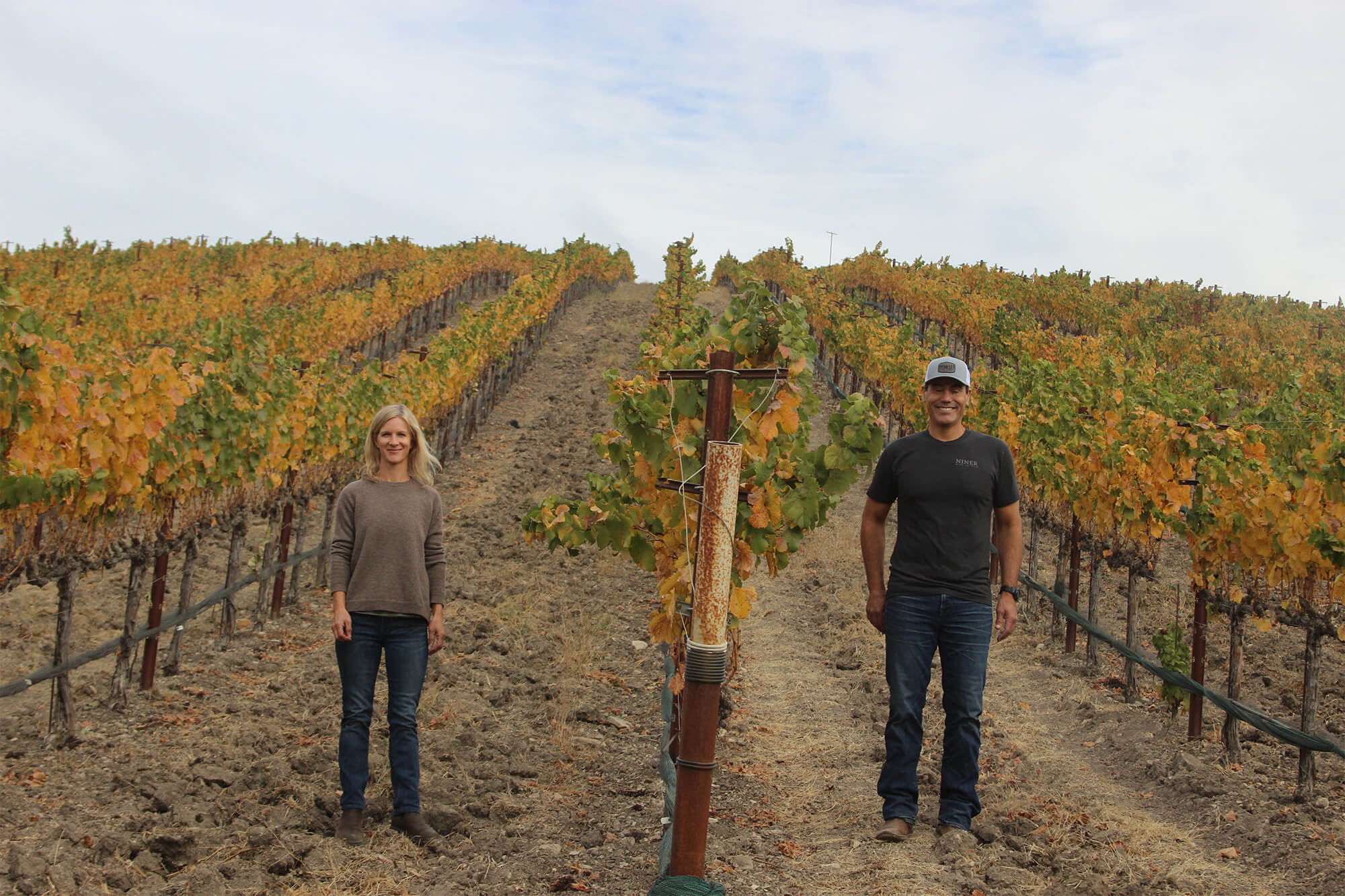 winemakers molly bohlman and patrick muran
PATRICK MURAN, winemaker for heart hill vineyard & bootjack ranch
"We've all had our own personal struggles and challenges this year, but perhaps we can take a little heart in knowing that even the grapes had their own challenges. Despite the fire, smoke and heat waves of 2020, they persevered. Looking at the vintage as a whole we had a very nice, yet cool growing season. From a late bud break in April to a blustery and cool spring, then into a mild early summer, the overall season reminded me of cooler vintages of the past. We even dodged the traditional hot Mid-State Fair weather that seems to always hang over Paso Robles near the end of July (well, this year we did not have a fair and that is perhaps why!)
August and September were a departure from the rest of the year: hot, dry and smoky. The heat accelerated the ripening and we ended up picking around the same time we do each year, negating the cool growing season.
At the winery, we had our usual vineyard stars that shine brightly including: Heart Hill Vineyard Block 3 Cabernet Sauvignon, Block 4 Malbec and Block 18 Syrah. Bootjack Ranch Carménère, with its juicy, earthy and roasted bell pepper deliciousness and our fruity/spicy Sangiovese were also superstars. In the winery, we added two new beautifully crafted, 2,000 gallon French Oak tanks. They will add new dimensions to our wines by contributing tannins from the wood, subtle toasted aromas, and a positive aspect to the aging qualities of the wines.
All in all, I think the wines of 2020 will have a purity and distinction that can only come from a bit of struggle."