November 15, 2020 | Wine News
8 Questions For Winemaker Patrick Muran
Each November we release a new vintage of Fog Catcher. Crafting the Fog Catcher blend starts early in the vintage as we shepherd stand-out vineyard blocks through the growing season. During harvest, this fruit is set aside for special treatment in the winery. After a year of aging each varietal in barrel independently, we blend the best barrels into Fog Catcher. The blend is then returned to barrel for a year and a half of aging before bottling.
Fog Catcher truly represents the best of the vintage, our vineyards and our winemaking capabilities. Releasing a new vintage warrants celebration, so, to celebrate the release of our 2017 Fog Catcher, we sat down with winemaker Patrick Muran to ask a few questions about making the Fog Catcher blend, how it has evolved over time and more!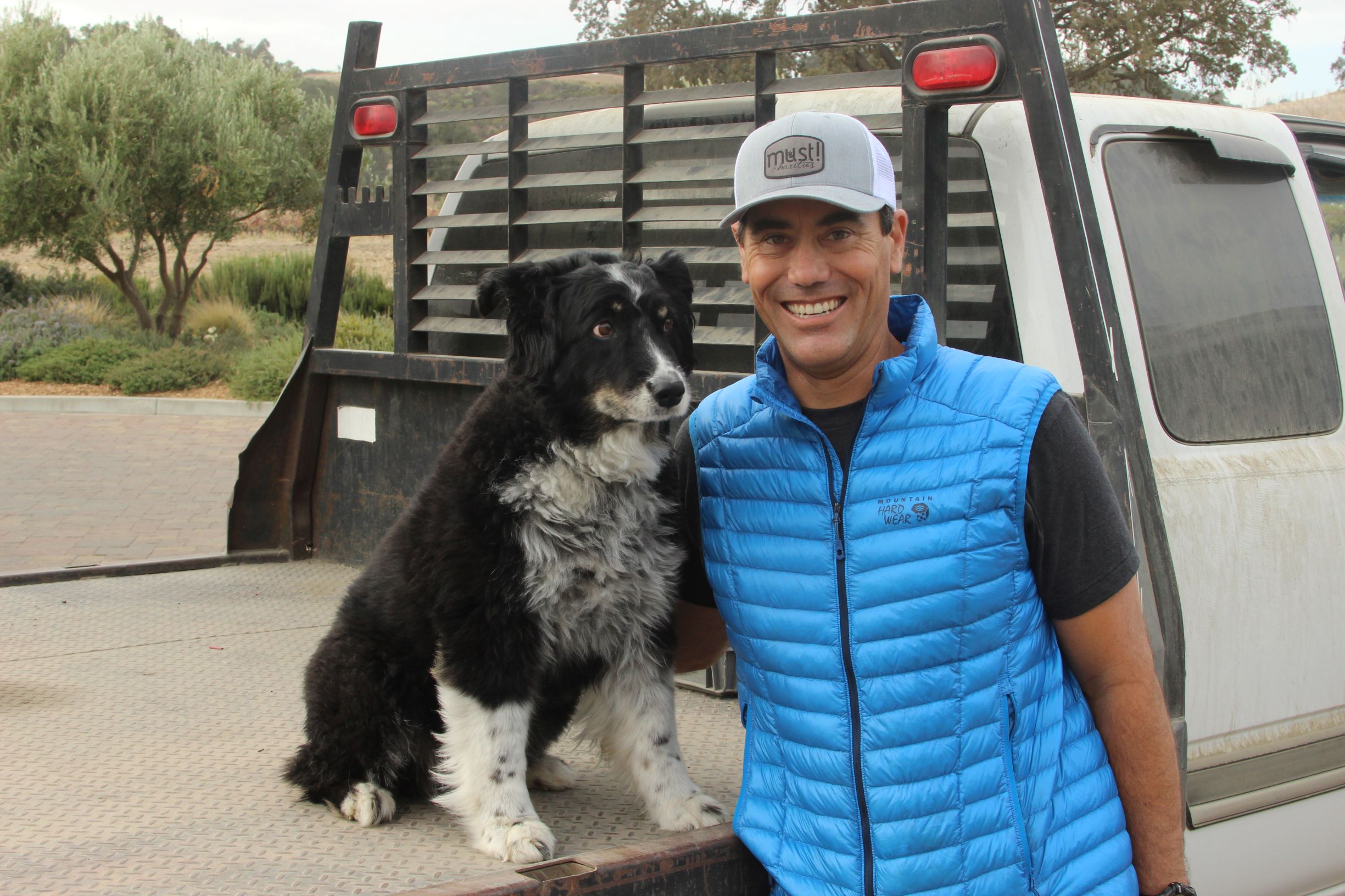 patrick and his pup, bella
Armed with a microbiology degree and a passion for the outdoors, Patrick Muran joined the Niner winemaking team in 2009 and was promoted to head winemaker in 2013. Patrick oversees our winemaking program makes all of our wines from our Paso Robles Vineyards; Bootjack Ranch and Heart Hill Vineyard.
8 questions for Patrick
1. You just wrapped up a busy harvest. What does a typical day during harvest look like for you?
Around 5 am, I get out of bed, pour some coffee, grab a PB&J and get to work around 6 am with grapes already waiting on the crush pad. Before the staff arrives, I take some time to consider blending options and make a game plan for the day. At 7 am the staff arrives and we have a round table about the agenda for the day. Then it's mostly tasting, grape processing, problem-solving, vineyard walks, checking weather reports, finishing paperwork and finally I head home around 6 pm. Rinse and repeat daily!
2. How has the 2020 vintage/harvest stood out compared to others?
Other than intense smoke from wildfires up north, record-breaking heatwaves and a pandemic, it was an awesome vintage. Seriously, we did have an overall very nice growing season. Despite all of the challenges this year brought, the grapes and subsequent wine are very promising. As an older and wiser sailing captain once said to me, "the boat is doing just fine, it's just you that is uncomfortable."
3. After tasting through our library to update our aging chart, is there a specific vintage of Fog Catcher that stood out to you?
Yes, the 2013 Fog Catcher is really tasting fantastic right now. It's a very rich wine with caramel and graham cracker, cherry and dark chocolate. The 2014 Fog Catcher is right on the 13's heels but with the Cabernet Franc base, it shows more blueberry and dried provincial herbs.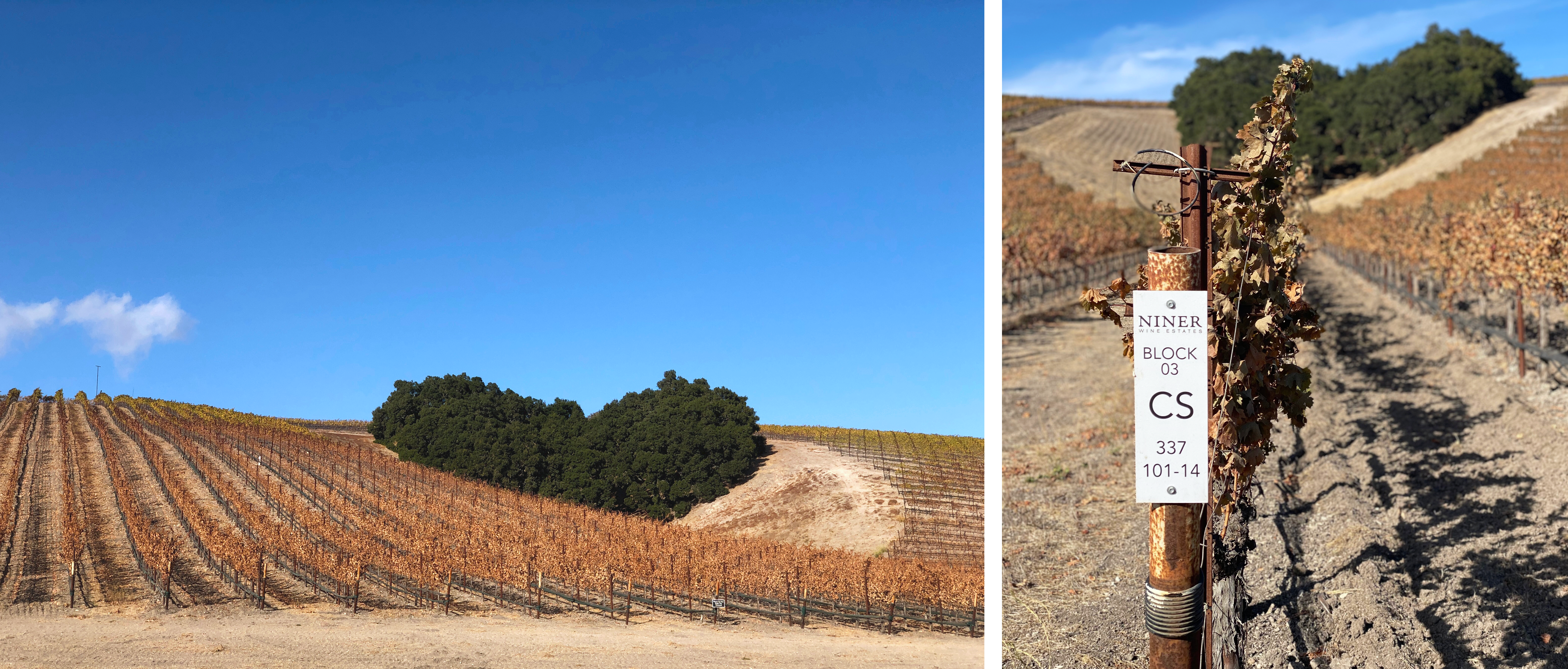 The two blocks to the right and left of the heart typically make up a large portion of Fog Catcher. They are Malbec (on the left) and Cabernet Sauvignon (on the right).
4. From your perspective, what makes Heart Hill Vineyard an ideal location for the Bordeaux varietals that make up Fog Catcher?
A few things do. Temperature and seasonality - Warm afternoons and cool evenings and mornings help the grapes to achieve a proper balance of ripeness, sugar, acid, color and flavors. The Soil - the combination of loam and fractured shale gives us enough soil to farm healthy vines, and enough shale to make the vines work a little bit harder resulting in a smaller amount of highly concentrated grapes and the ability to get each cluster to full ripeness. Rolling Hillsides and Aspects - varying aspects and row orientation throughout the vineyard contribute to different sun exposure and adds layers to our blends.
5. When crafting Fog Catcher each year, do you start with the end goal in mind, or does the vintage dictate the decisions you make?
There is a reason why farmers can seem a bit gruff; it's because mother nature is in charge and not them. Each season brings changes and new challenges. Instead of trying to force a wine into a box of having the same qualities or attributes each year, we approach the making of Fog Catcher with a bit more flexibility. We take the best barrels of Bordeaux varietals from that specific year and blend them into the best wine we can. Fog Catcher truly is the finest expression of the vintage and our creativity.
6. How has the Fog Catcher blend evolved since our first vintage was released in 2004?
Fog Catcher is constantly evolving. Specifically, over the past few years, we have increasingly drawn the majority of its components from Heart Hill Vineyard. We've learned over time which barrel and varietal combinations work best and we apply this learning to each component of Fog Catcher. We've also increased the length of time Fog Catcher spends in the barrel from 20 months to a minimum of 29 months.
7. What is your favorite winemaking memory since you started here at Niner?
There isn't one specific memory that stands out, but for the last 11 years, it's been watching the people, the winery and the vineyards mature. Since 2001 a lot of people have contributed so much into making this a great place to make great wine.
8. Is there anything people would be surprised to learn about you?
I can hold my breath for over 2 minutes!
2017 Fog Catcher
44% Cabernet Sauvignon, %26 Malbec, 20% Petit Verdot, 10% Cabernet Franc

In 2017, early-season rains ended drought conditions and produced vigorous canopy growth. Dual heatwaves in late summer dried out portions of our clusters and led to lower than average yields. A combination of hand-picking and sorting removed the dried out portions, and the fruit we brought into the winery was absolutely beautiful. Noteworthy barrels were tucked away in the cellar for a year of aging. After a year, the best of these barrels were selected and the final blend was created and returned to barrel for additional aging and marrying of flavors. In total, the 2017 Fog Catcher spent 29 months in 85% new French Oak. $100 / Shop here »
Aging Recommendations
Curious about how long to age or when to drink an older vintage of Fog Catcher? Download our Aging Chart here »