November 4, 2020 | News Restaurant
Transitioning to Fall in our Garden and Restaurant
Fall is one of the most exciting times on the Central Coast. The vineyard and winery are bustling with activity and there is a notable feeling of excitement and anticipation in the air. The days are getting shorter, and even though we are still experiencing warmer temperatures than usual (we are back in the high '80s this week!), crisp, cool mornings have made an appearance reminding us that fall is here.
Our Chef's garden is a vibrant reflection of this change in seasons. As fall crops begin to make appearances on our new lunch menu, we wanted to give you a closer look at what we are doing in the garden during this season of transition.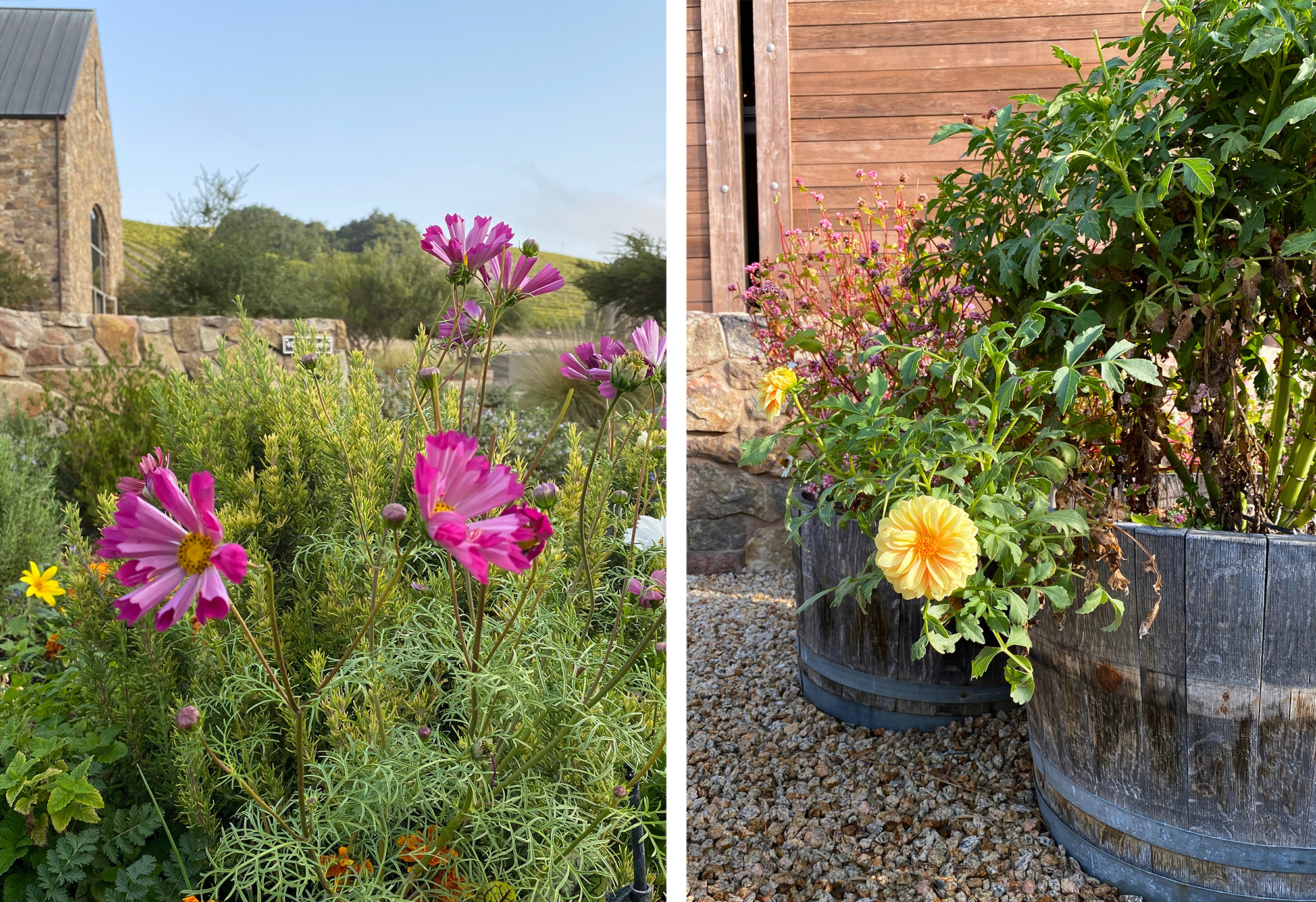 ---
fall in the garden
- We harvested all of our summer crops to make room for Fall & Winter crops. Anytime we remove something from the soil, our gardener adds nutrients back in by spreading a compost tea made from grape skins and stems from our vineyard. This fosters a healthy environment for the fall/winter season.
- We've spent the last few weeks planting new crops our Chef has picked for Fall. Kale, garlic, fava beans and more are popping up all over the garden and some of them are already making appearances on our new Fall Lunch Menu.
- Our Chef and Gardener just finished selecting fruit trees for a small orchard in the back half of the garden! Over the next few weeks peach trees, fig-trees, raspberry bushes and more will be planted. You'll start to see these on our menu early next summer!
---
Our new fall lunch menu is available in the restaurant now and to celebrate, Chef Jacob Burrell shared the recipe for our Fall Burrata dish featuring garden radicchio, herbs and edible flowers. We've featured different versions of this burrata dish on our lunch menu for the last few months and the great thing about this dish is that the ingredients can easily be changed to fit the seasons.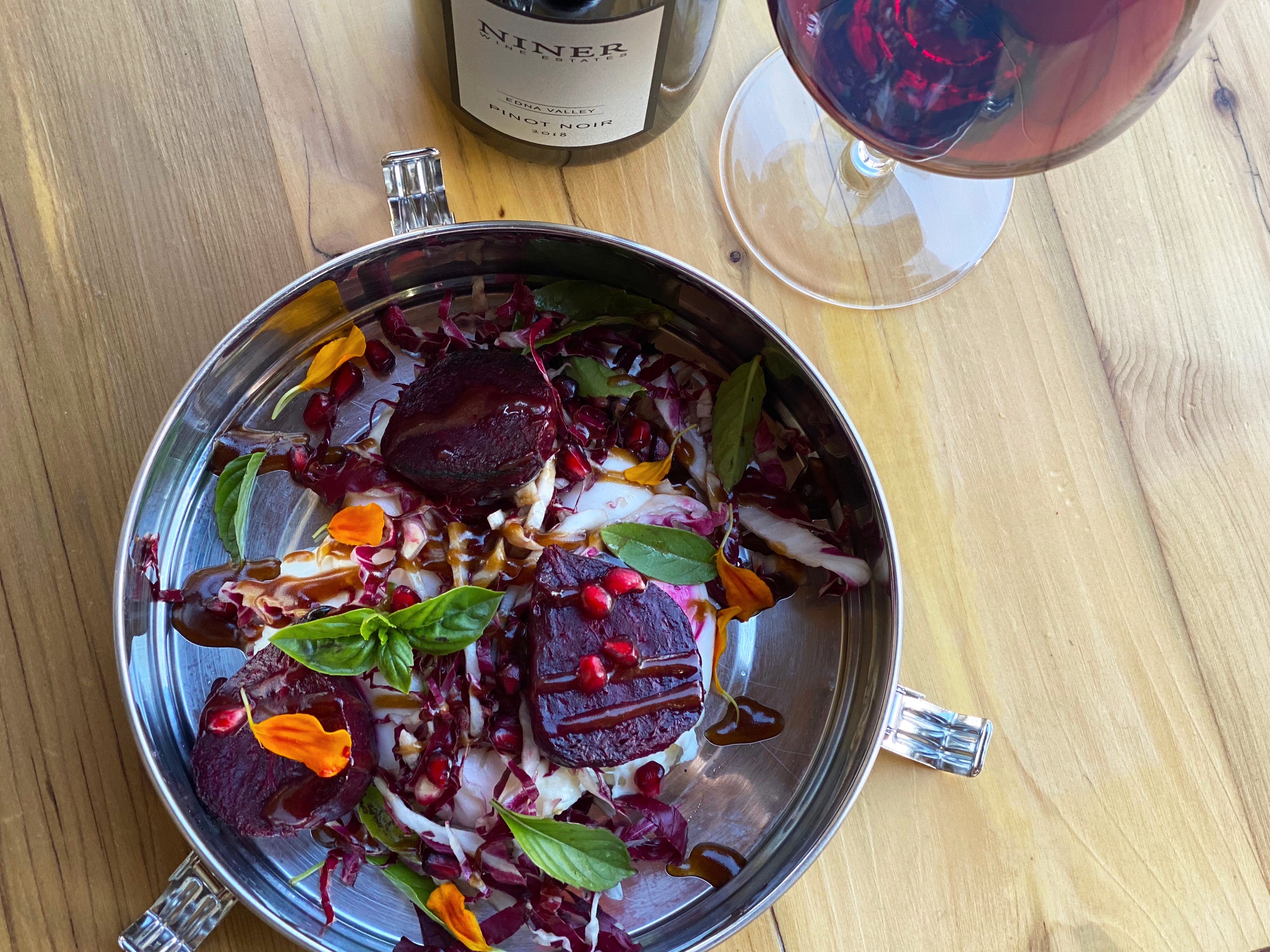 Fall Burrata and pinot noir
Earthy beets, creamy burrata and bright toppings make this burrata a beautiful partner to our 2018 Estate Pinot Noir. It would make a fantastic starter or side. Serves 2-4 people.
Ingredients:
2 lb Chiogga or Red beets
1 tsp Sugar
2 Tbsp red wine vinegar
2 Tbsp Niner Estate Olive Oil
1 garlic clove, minced
1 handful fresh basil, separated into stems and leaves
¼ cup of fresh pomegranate seeds picked without pith
1 tsp pink peppercorns
Shredded radicchio
1½ tbsp pomegranate molasses
optional: blackberries or raspberries for garnish
Preheat your oven to 350 degrees.
Mince the basil stems and add them along with the garlic, salt, sugar, red wine vinegar and olive oil. Toss your beets in the mixture and spread them in a baking dish. Add enough water to cover the bottom of the dish, cover and roast at 350 degrees until tender (around 40 minutes). While still hot, peel and season again with salt, a pinch of sugar and more red wine vinegar.
To assemble the dish, place your burrata on your serving plate of choice. Slice the beets and scatter on top, along with the rest of the garnishes. Drizzle the pomegranate molasses and olive oil on top, and garnish with fresh berries if you have them.