October 15, 2020 | Wine News
Updated Aging Chart - 2020
The 2020 tasting update of our Aging Chart is here! While our goal is to release wines only when they are ready to be enjoyed, certain wines can often evolve and taste even better after a few years of aging in the right conditions. Before Harvest started, our Winemaking team went to work tasting every wine in our Library and updating drinking window recommendations.
We hope this inspires you to dig deep into your cellar and enjoy some of those special bottles you have been saving!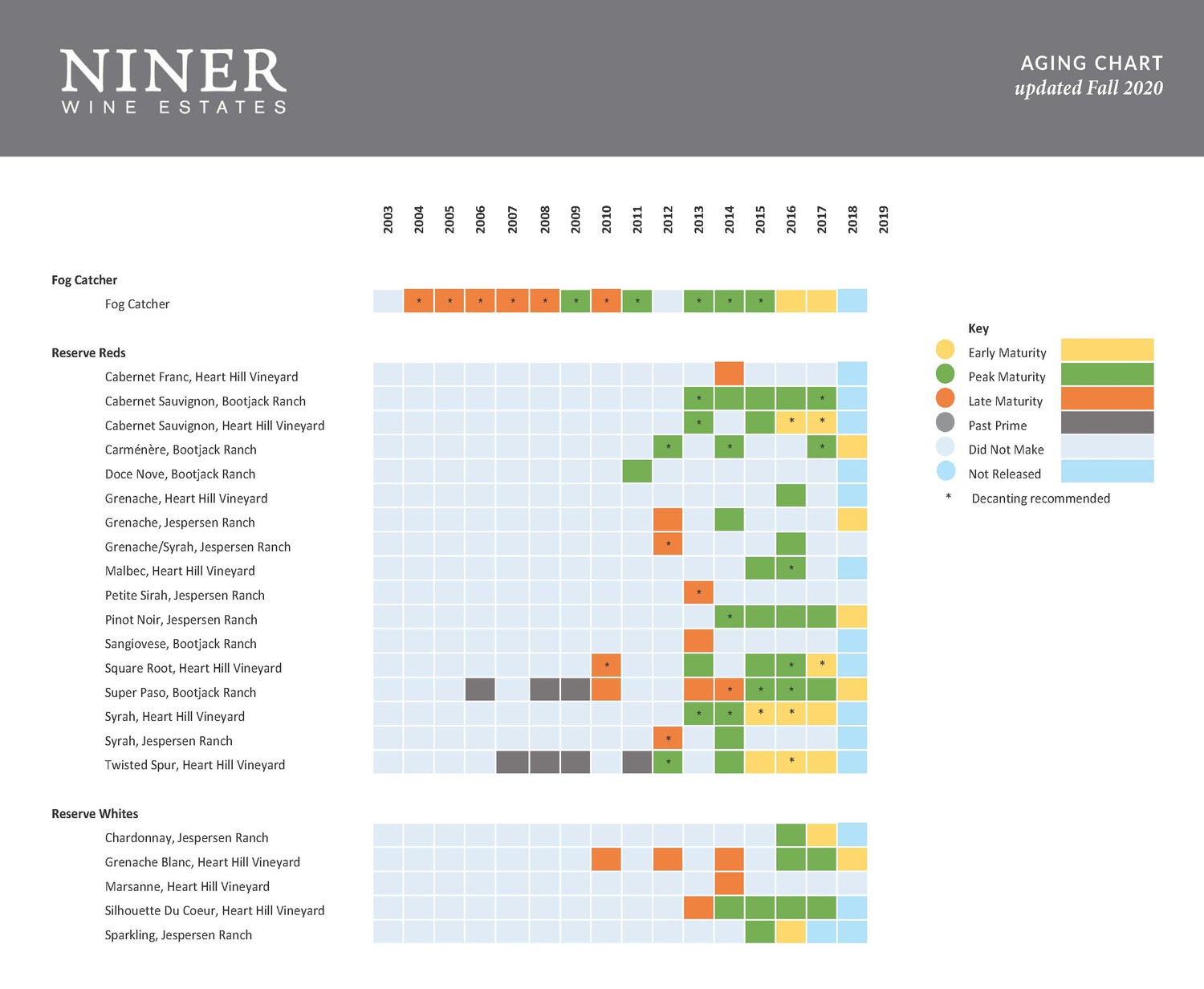 a reminder about our PRocess

Each year, our winemaking team tastes through our entire library of wines and places them into one of the following categories:
Early Maturity - fine to drink now, but will improve with age
Peak Maturity - a wine at its peak balance of flavors
Late Maturity - a wine expressing aged flavors
Past Prime - perfect for cooking
While these categories are useful in figuring out when to drink a wine, wine evolution is much more dynamic and unpredictable than a finite category would suggest. We feel like additional explanation is helpful! We propose two useful ways for you to think about wine aging: Statistically (for the left-brainers) and human equivalent (for the right-brainers). Since a wine's characteristics change with time it's less important to think of a certain period as "better or worse." What is more important is to be cognizant of the positives and negatives of each state and how they match your own preferences. Taste, learn and enjoy!
statistical

The first way to think about wine aging is that readiness to drink evolves in a way that mirrors a normal distribution curve, with readiness to drink on the Y-axis and time on the X-axis.
Early Maturity: While pleasant to drink, the wine may be overtly fruity while tannins can be somewhat coarse and acidity is at its most apparent.

Peak Maturity: The wine is in a very expressive state because the fruit, acid and tannin have integrated with each other. All flavors combine seamlessly and the mouthfeel is well-balanced.

Late Maturity: The wine has evolved to show more dried or cooked fruit and spice or earthy flavors. The color may turn more brick-red and acidity and tannins are softer.
Past Prime: The wine begins to develop characteristics that are undesirable and show age. Acidity and tannins are very soft to no longer present.
All wines age at different rates and the length of time it takes a wine to evolve depends on its natural characteristics. Wines with high acidity and tannin tend to age over a longer timeframe.
human equivalent
Wine is living, and way more nuanced than a single line on a graph can represent. Therefore, we find using an analogy to your life adds much-needed character and depth of understanding. Think of each category as a period in the human lifecycle:
Early Maturity (young adulthood) – You're definitely out of the difficult teenage years, and are feeling confident. You have moments of brilliance, but are still prone to the occasional social gaffe or workplace faux-pas. You might benefit greatly from guidance (aka decanting).
Peak Maturity (adult life) – You're now as beautiful and strong as you will ever get. You know who you are and can confidently express it. If you've taken care of yourself (aka cellared in good conditions) then you'll bring happiness to everyone around you.
Late Maturity (retirement) – Work is for the young'uns - it's time to relax and enjoy life. Your smile lines are reflective of how much joy you've experienced so far and you cherish every moment with family and friends. Drink up!