April 29, 2021 | Wine News
Spring Newsletter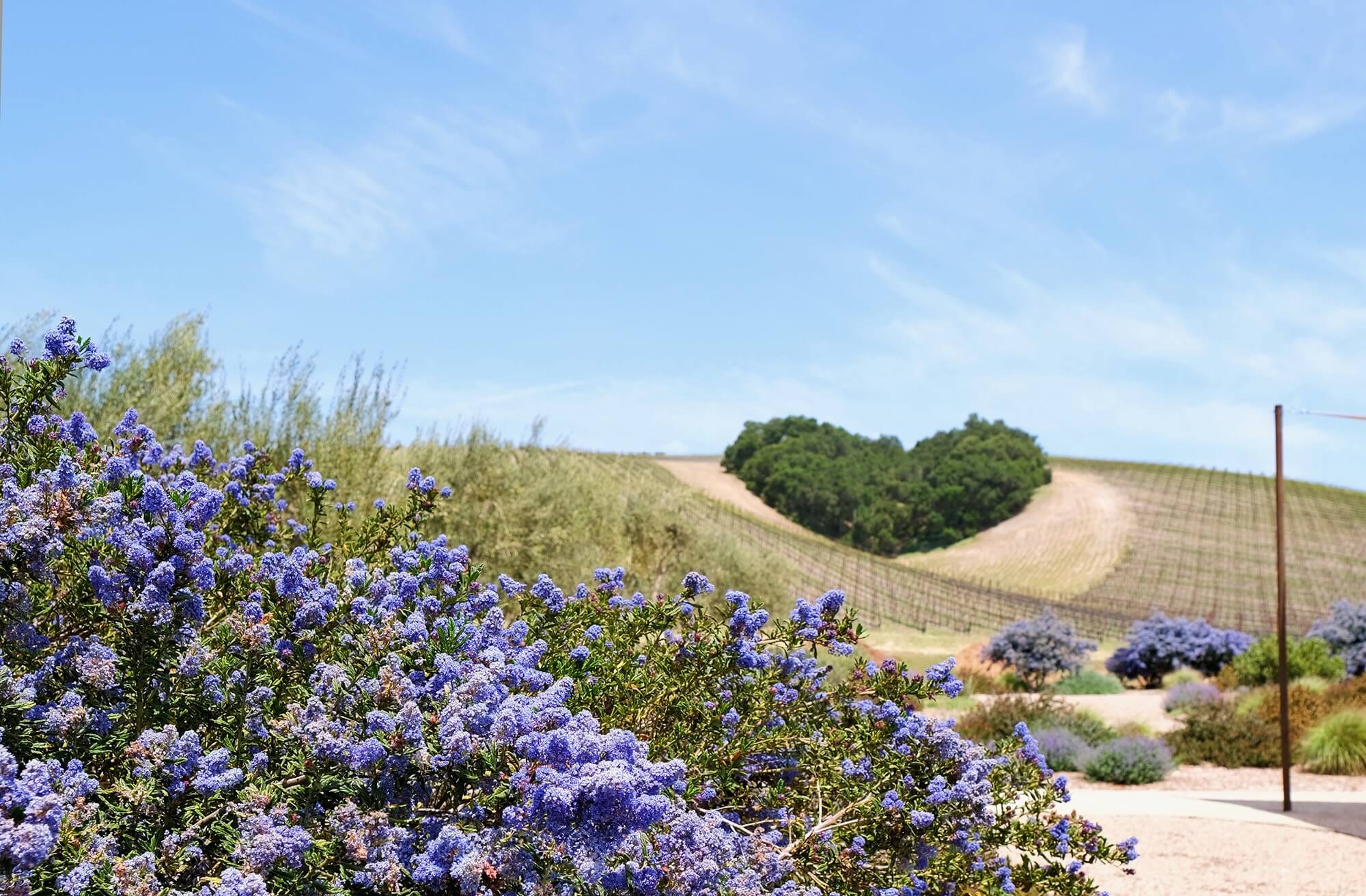 THREE THINGS HAPPENING IN THE VINEYARD
1. Bud break // Bud break is the time when vines come out of dormancy, and new shoots begin to grow. We saw our first bud break in early March, and now the vineyard is bursting with new growth. This time also symbolically marks the beginning of a new vintage - 2021 here we come!
2. Wildflowers in Bloom // Poppies, filaree, vetch, mustard and lupines are showing up in swaths of color across our vineyards. Spring is an underrated but beautiful time to visit wine country!
3. Insectary garden at Jespersen Ranch // To help increase biodiversity, foster a healthy ecosystem and reduce our need for pesticides we planted an insectary garden last year. This plot of 75 native plants (like deergrass, ceonothus and yarrow) provide a year-round habitat for helpful insects like lacewings, ladybugs and spiders.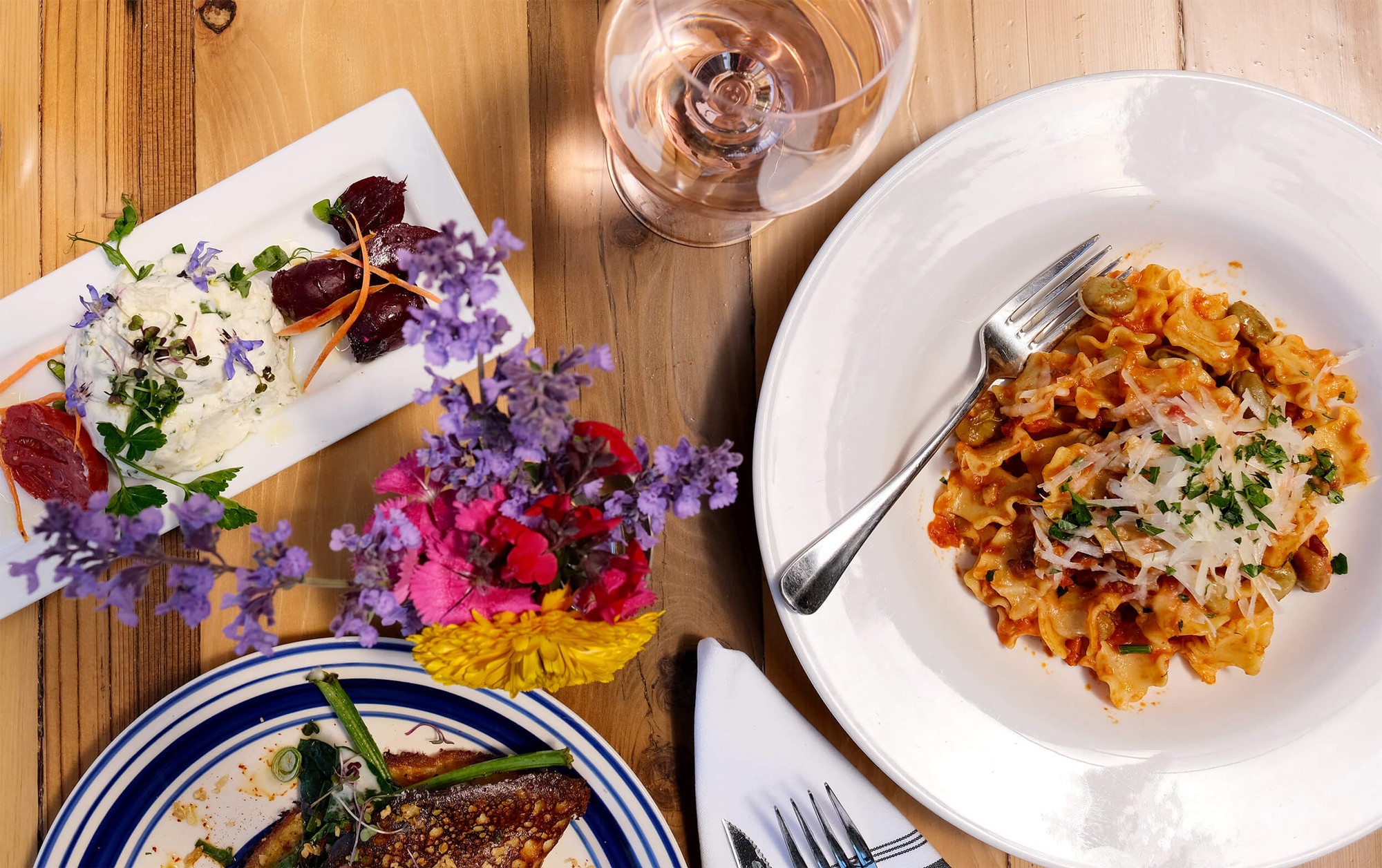 NEW SPRING LUNCH MENU
With a new season comes a new menu. Visit to enjoy Fresh pasta, fava beans, cured pork, preserved tomatoes, aged sheep's milk cheese - delightful with a glass of 2018 Sangiovese. And the Farmer's cheese and roasted spring onion dip is a perfect compliment to our freshly baked sourdough foccacia and 2020 Sauvignon Blanc.
Also new: Pan-roasted Flannery beef striploin with a brandy-peppercorn sauce, beautiful with 2018 Cabernet Sauvignon. Browse the full menu here »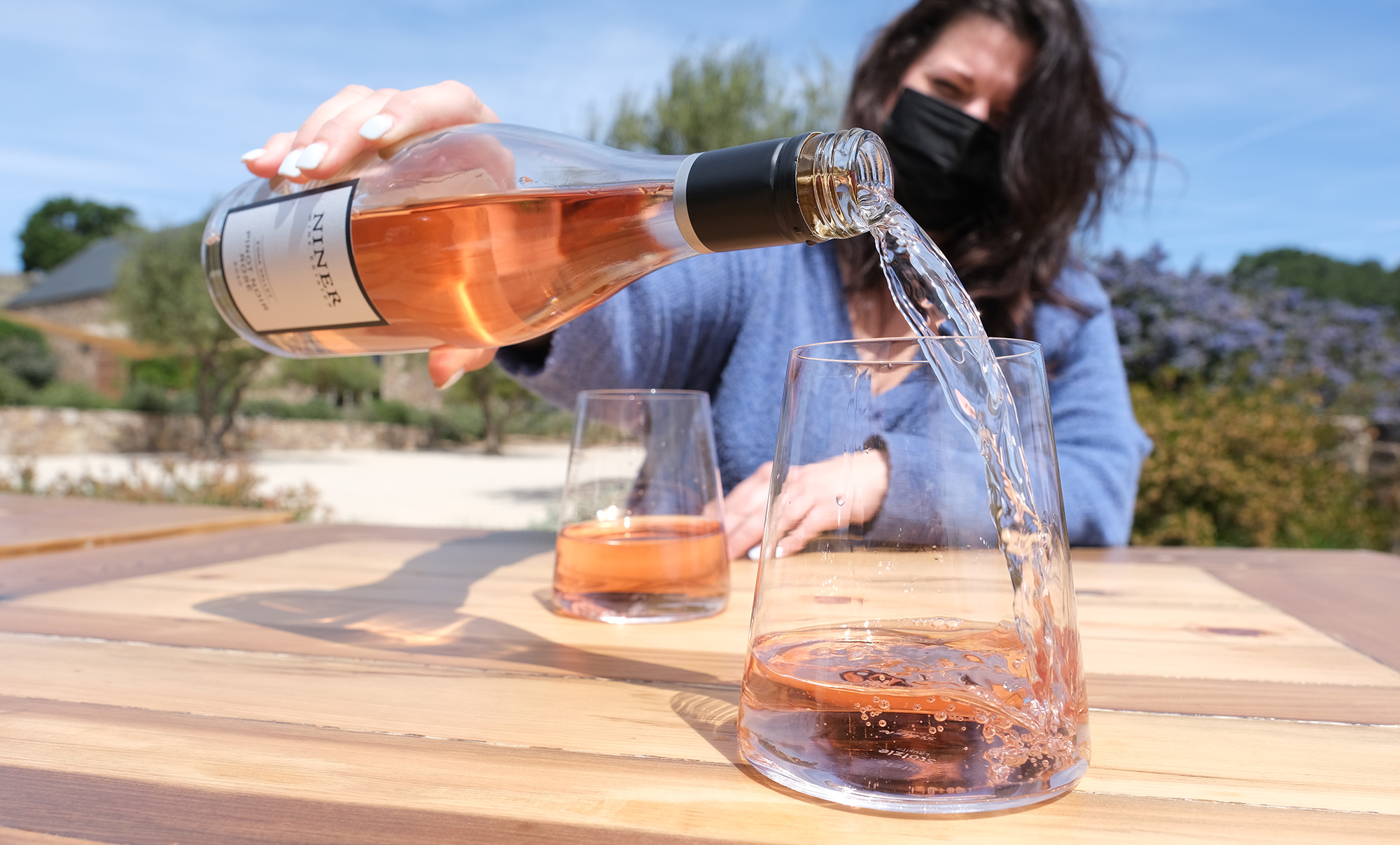 SPRING WINE HIGHLIGHTS
With warmer weather we're gravitating towards our lighter red wines and chilled whites. Our 2020 Rose has been one of the most popular bottles in the tasting room, followed closely by the bright and mineral 2020 Albarino.
The 2018 Reserve Pinot Noir has delicate structure, with ample fruit and striking black tea aromatics and flavors. If you're still looking for a big and bold red, look no farther than our 2017 Twisted Spur (37% Syrah, 29% Cabernet Sauvignon, 15% Petit Verdot, 15% Malbec, 4% Carménère).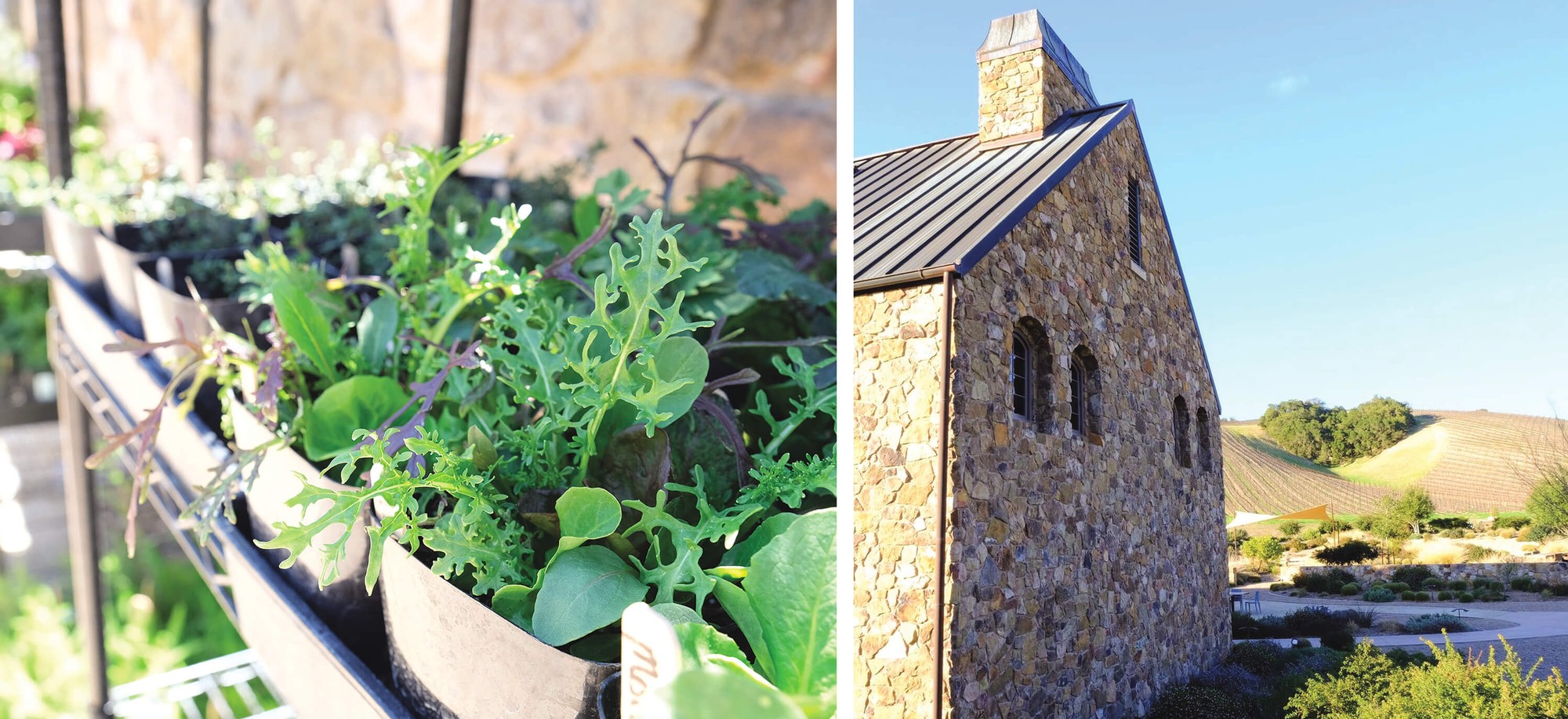 UPDATES FROM THE ESTATE -TASTING ROOM, RESTAURANT & EVENTS
1. We Will Remain Open by Reservation // When planning your summer trip, please know that we plan to remain open by reservation! Book an "Estate Visit" for your choice of tasting flights, lunch or both. Club Members - please call us for availability as we do hold tables for you. At least a week's notice is appreciated for your visit!
2. Chef's Garden Seedlings // This Spring & Summer we will have a little pop-up garden shop featuring plants from our garden! You can purchase seasonal starts for your own garden, like lettuce, yarrow, peas and more.
3. 2021 Dinners & Events // Our events calender is live! We are hosting Supper Clubs, Winemaker Dinners & Wine Club Happy hours. Dates, menus and tickets can all be found on our website.
---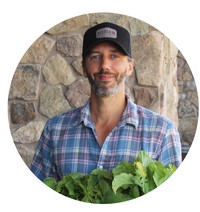 MEET THE TEAM: EXECUTIVE CHEF JACOB BURRELL
A MASTER OF FLAVORS COMBINATIONS AND DAD JOKES, JACOB IS A CREATIVE FORCE.
He's held positions at the Michelen starred Manresa Restaurant, Post Ranch Inn and Big Sur Bakery. He then spent a few years managing Parachute Bali – a bakery, farm and restaurant in Indonesia. While there he also managed to compete and win Iron Chef Indonesia: Crab!
Q1 What flavors are you drawn to or inspired by right now?
It's springtime!! So what's exciting is seeing Spring time staples really start to come in to harvest. Peas and fava beans, spinach, spring onions and leeks. We've also had some citrus and very nice strawberries as of late. With our seasonal menu switch, we've been plugging these fresh ingredients into the lunch menu. We are trying to keep a cohesive menu that reflects our locale and our understanding of cooking and nourishing.
I think we're on to something with the current flavors of the fava bean pasta, and our grilled trout set with lemon and seaweed and leeks. The new Farmer's Cheese with Spring Onions alongside our staple sourdough focaccia makes for a really nice spread to accompany your wine tasting. The menu has a good blend of technique, flavors and texture - and the different bites play off each other well.
Q2 What's your go to karaoke song?
I'm a much better background singer, so I feel like I haven't found my artist yet that I can match notes with. I'm also shy. But I've been known to do anything from Andy Gibbs "I Just Want to be Your Everything," Prince's "When Doves Cry," to Carrie Underwood's "Before He Cheats."
Q3 What's one of your most memorable kitchen stories?
It's all about the team. Working together in a tight, high stress environment creates a lifetime bond and my biggest memories revolve around people.
One example: when I was younger, Mimi was our kitchen shift leader. Mid-20s, mother of 2 young boys. She worked extremely hard and she and her husband both spent about 10 minutes together in the parking lot trading the kids off in between their jobs (something that my wife and I later did when we had our first son, Maceo). Mimi ran kitchen shifts and adopted all of us as her kids too. She requested off 1 day, rare for her, to cook for the whole restaurant.
We struggled to find a time where all shifts could come at the same time and enjoy each other's company. We were lunch and dinner 7 days a week. She cooked all day long, an incredible southern soul food spread. The party started at midnight at her house and ran all night. The afternoon shift wrapped up at midnight, so they could come. The morning shift woke up a few hours earlier than normal and came through maybe 4-5am.
20 years later, I still think about it. That team was special and I think that is a good reflection of what hospitality is - openly taking care of people when it's convenient for them even when it might not be convenient for you.
Tasting Room & Restaurant
Open daily by reservation