September 6, 2018 | Wine News
2018 Harvest Update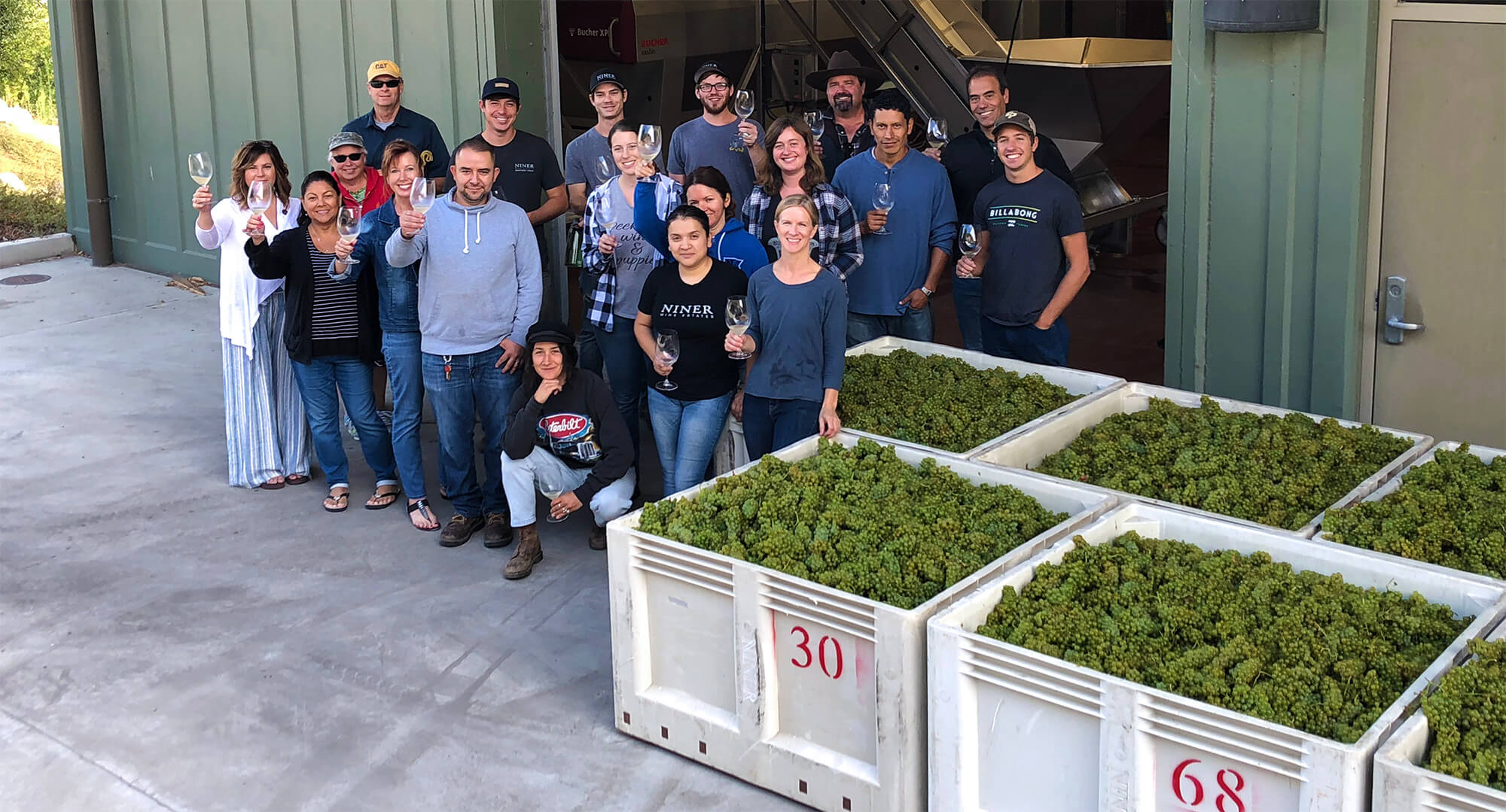 the 2018 harvest crew raising a glass to the first pick of the year!
The most exciting time of the year is here again! From September to November, the grapes that have been steadily growing over the last year will finally be ready to pick and our team will be busy ushering grape clusters into your favorite wines. Our harvest interns officially started work last week and we have cupboards full of coffee and energy bars to fuel the entire winemaking team through the next few months. The vintage is starting slow, with a few picks to ease us into the season.
According to our Vineyard Manager Jason Yeager "this year is turning out to be a banner vintage in the vineyard. Clusters were rather large this Spring but cool and windy conditions at bloom brought some shatter to our set giving us beautiful, open clusters. With reduced cluster and berry size we're expecting excellent phenolics, complexity and uniformity for this vintage."
On August 30th we picked the first grapes of the year: 4 tons of Chardonnay grapes from Jespersen Ranch. Specifically, Clone 17 Chardonnay destined for our sparkling wine program. In case you hadn't heard, we've been producing a vintage sparkling wine for the last four years, although we've yet to release the first vintage due to the time it takes to craft. This December we'll be releasing our first finished sparkling: the 2015 Brut Rosé. Details of how to purchase and purchase tickets to the Release Party can be found here »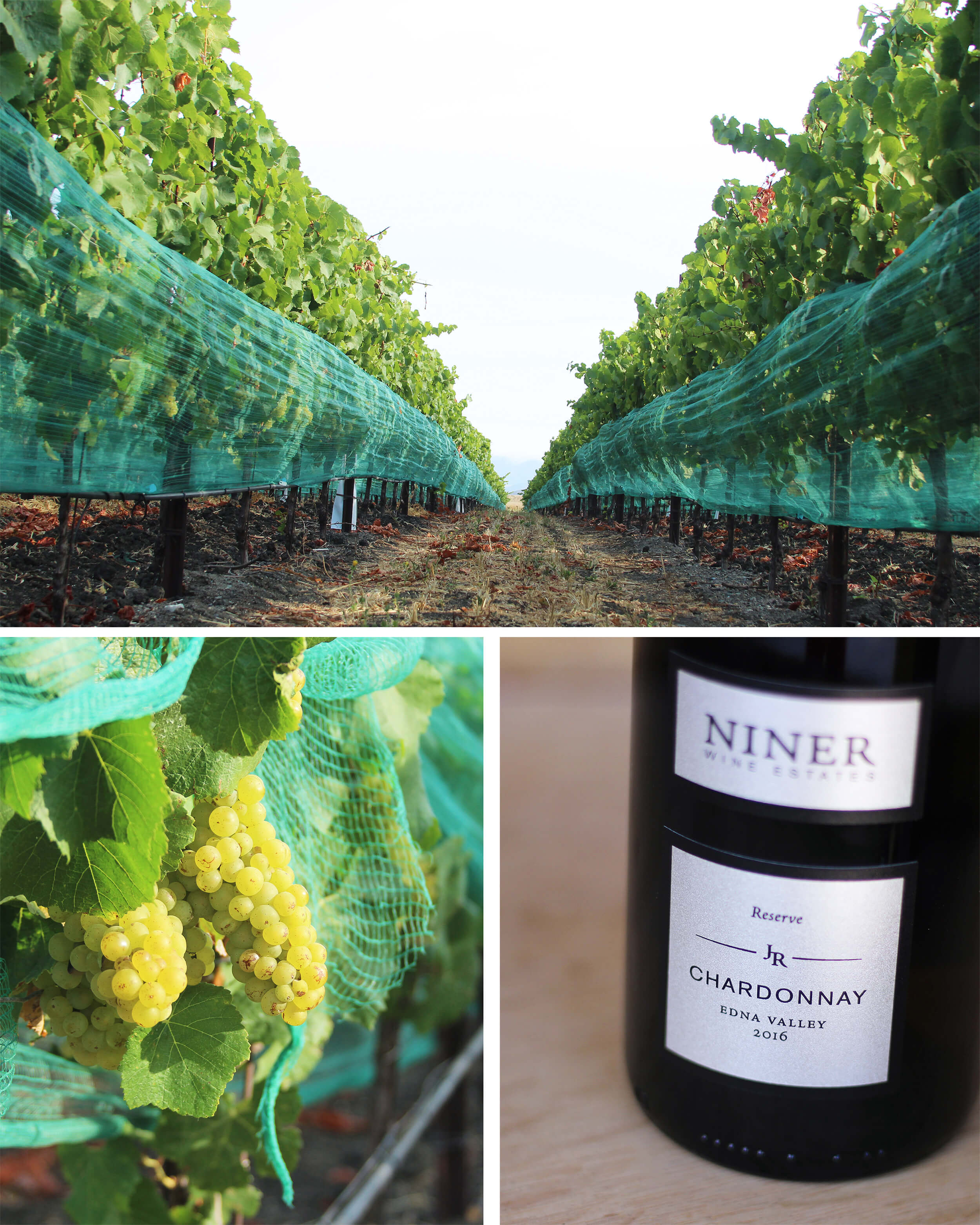 from top: jespersen ranch's classic foggy mornings; a cluster of clone 17 chardonnay taking a quick peek through the bird netting for a photo opp; our newly released 2016 reserve chardonnay made from clone 17
Next up after sparkling grapes will be another early pick of Pinot Noir from Jespersen Ranch for our 2018 Rosé. We're expecting this fruit to come in early next week before diving headfirst into the rest of the vintage in the days following. Some of the first red grapes off the vines will be our Pinot Noir from Jespersen Ranch, alongside the rest of our Chardonnay. Molly Bohlman, who runs our Pinot Noir and Chardonnay program, is looking forward to the year.
"The quality of the Pinot Noir and Chardonnay grapes looks great this year. The older vines at Jespersen Ranch are now more than a decade old and are consistently producing stunning wines, and the younger blocks are coming into their own personalities" - Molly
We've had our run of interesting curveballs thrown at us over the last few vintages, like the low yielding year of 2015 or the heat spike and rain combination late during 2017, but are looking forward to a solid year in 2018. Although the recent heat spikes felt across California would have you thinking this is a warmer year than normal, we actually had a relatively cool growing season. Budbreak occurred in mid-March this year, a few weeks later at each vineyard than normal. This was followed by months of relatively cool weather and the few weeks of intense heat felt recently has not made up for that original slow start. Winemaker Patrick Muran is expecting a longer harvest:
"After 19 years of growing wine you don't ignore hard facts like temperature, humidity and growing degree days. I pay a lot of attention to signs in nature that offer clues as to what is to come. So far what I am led to believe is that this will be a rather cool fall and significantly later harvest than what we have seen in the previous 5+ years" - Patrick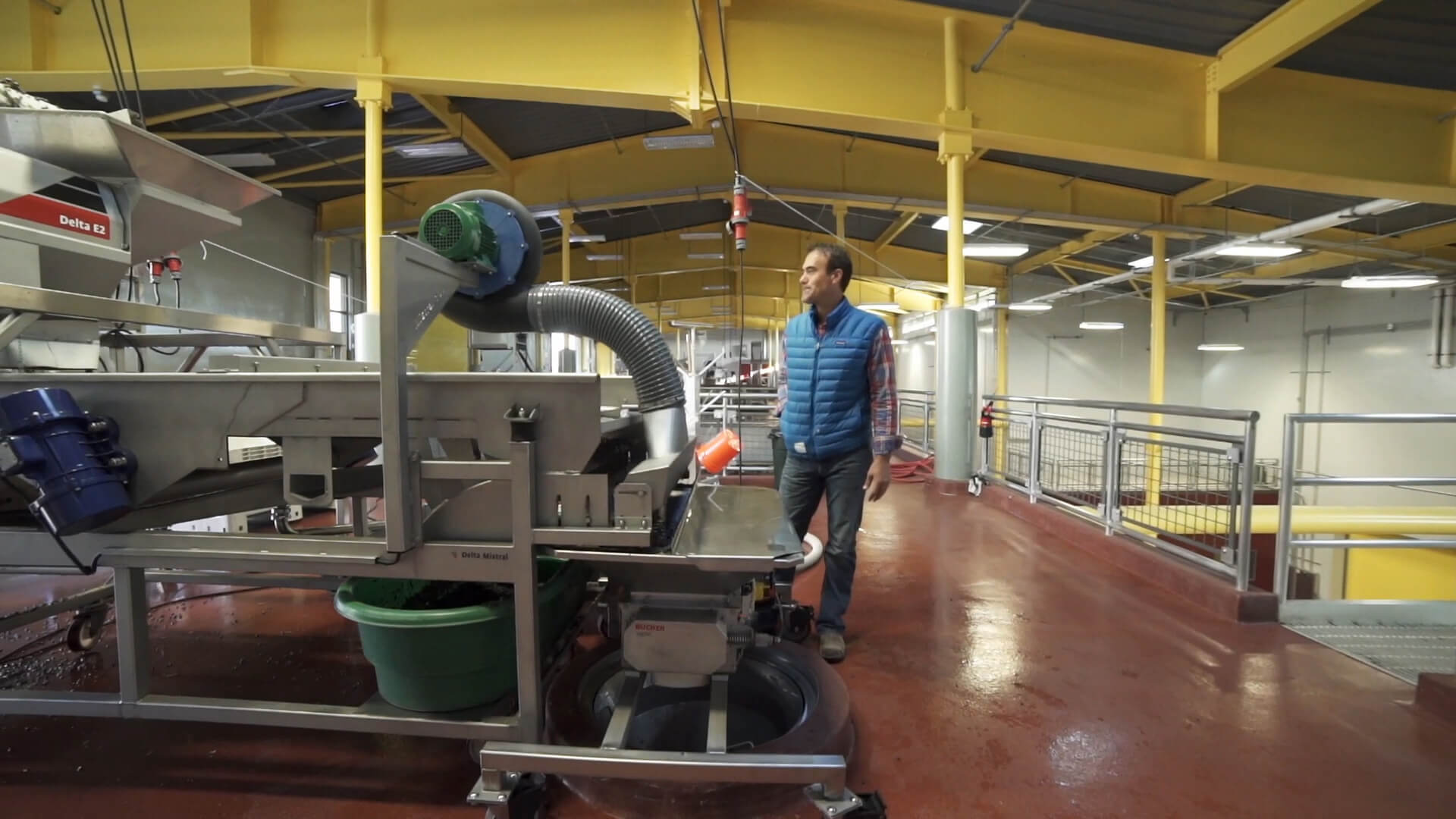 If you're looking to learn more about our people and process, we offer a special Harvest Winery Tour each year from September to November. The tour is offered daily at 9am to make sure you catch all the early morning action of the cellar. This is a great tour for novices and experts alike. Reservations can be made online and more information is available here. Learn more and make reservations here »
If you can't make it to the winery but want to follow along with the rest of Harvest, be sure to follow us on Instagram and Facebook. We'll be posting updates on what we're picking, what our Winemakers are saying and other behind the scenes happenings!
Wish the winemakers in your life good luck – it's looking to be a long harvest.