March 10, 2017 | Wine News
Our Craft Winery & Pinot Noir
The beauty of our Craft Winery goes beyond aesthetics. the design helps us make beautiful Pinot Noir from our coastally-kissed vines at Jespersen Ranch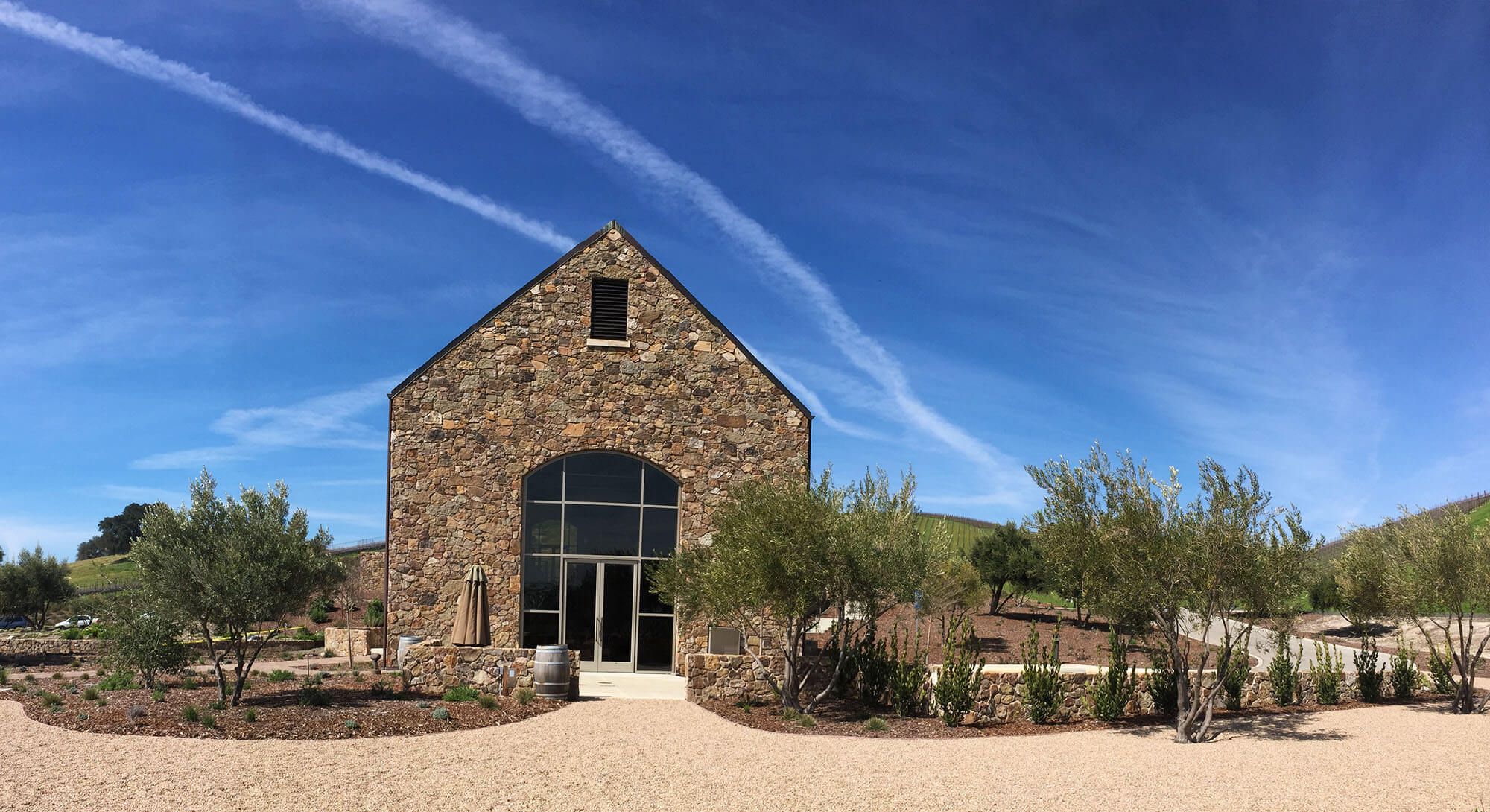 view of the craft winery & heart hill vineyard from the tasting room
Our Craft Winery sits behind our tasting room and from late July until October it is the home of our Pinot Noir program. Prior to 2014 we used it for private events, tastings & special dinners but not for Winemaking; that changed in 2014 when we hired a second Winemaker to head up our Pinot Noir & Chardonnay program. Many of you have met Molly Bohlman who now works in the Craft Winery to make our Pinot Noir, Chardonnay & Sparkling Wine.
We just released our first ever Reserve Pinot Noir (90 pts, Wine Enthusiast) . Wine Club Members can purchase it here »
We often get asked why we use two wineries. What's the benefit? The short of it is that the Craft Winery is absolutely perfect for making Pinot Noir. We produce two different Pinot Noirs from our vines at Jespersen Ranch in the Edna Valley. Nearly half of the vineyard is planted to seven different clones of Pinot Noir to provide complexity & differentiated expressions that we can play with during blending. Due to its proximity to the ocean our 33 acres derive character from the rolling banks of coastal fog in the morning & ocean breezes in the afternoon and produce stunning fruit that is transformed into beautiful wines in the Craft Winery. Click here to see a Vineyard Map of Jespersen Ranch.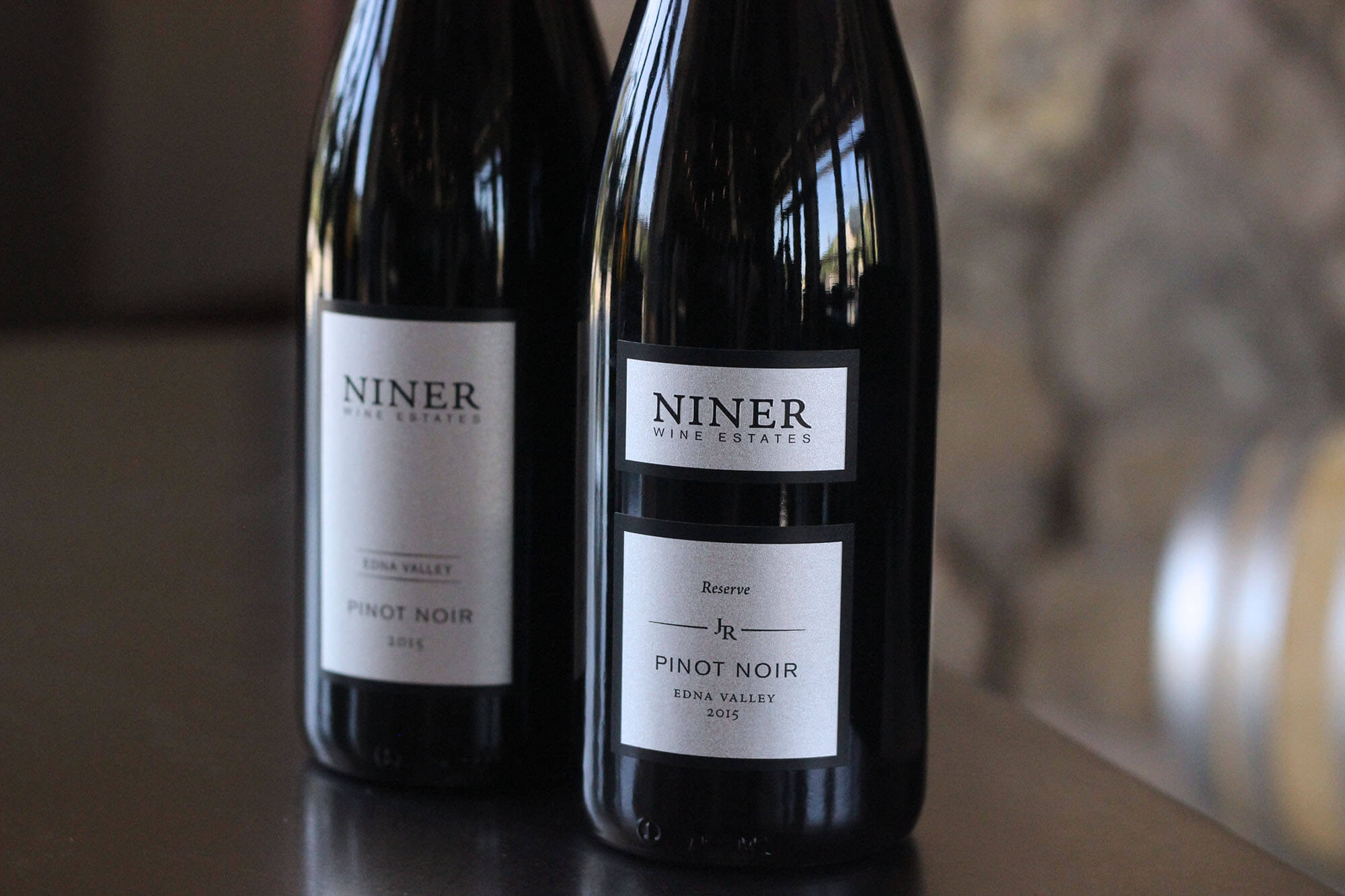 Our Reserve Pinot Noir is designated with a split silver label and a "JR" for Jepsersen Ranch
Every year we produce our Estate Pinot Noir & we only craft a Reserve Pinot Noir if the vintage is fantastic. Depending on the vintage we produce around 2,000 cases of wine that has bright & fresh berry flavors with floral & earth notes playing secondary roles.
In special years we will produce a Reserve Pinot Noir. This wine is only crafted if we have exceptional quality to justify an addition bottling. 2014 was a brilliant example of this where tiny clusters & berries resulted in a wine full of dark fruit, velvety tannins & subtle spice.
Our Sparkling Wine program uses Pinot Noir & Chardonnay grapes from Jespersen Ranch and began with Molly in 2015. This program is remarkable because we are doing everything ourselves; this is a rarity when most wineries are sending their wine to a Sparkling Wine House to be finished. Our 2015 Sparkling wine is currently in tirage (aging in the bottle) and is expected to be released in late 2018.

Why Does Pinot Noir Need Its Own Building?
A look at why our winery matters when it comes to producing pinot noir
Talk to any winemaker and you'll quickly find out that Pinot Noir demands more attention than other varietals. It's extremely sensitive to weather conditions in the vineyard, susceptible to maceration on the sorting tables & all together a finicky grape. But when grown & handled correctly it can transform into of the most gorgeous, nuanced & captivating wines available.
The special design of this building is perfect for a few reasons: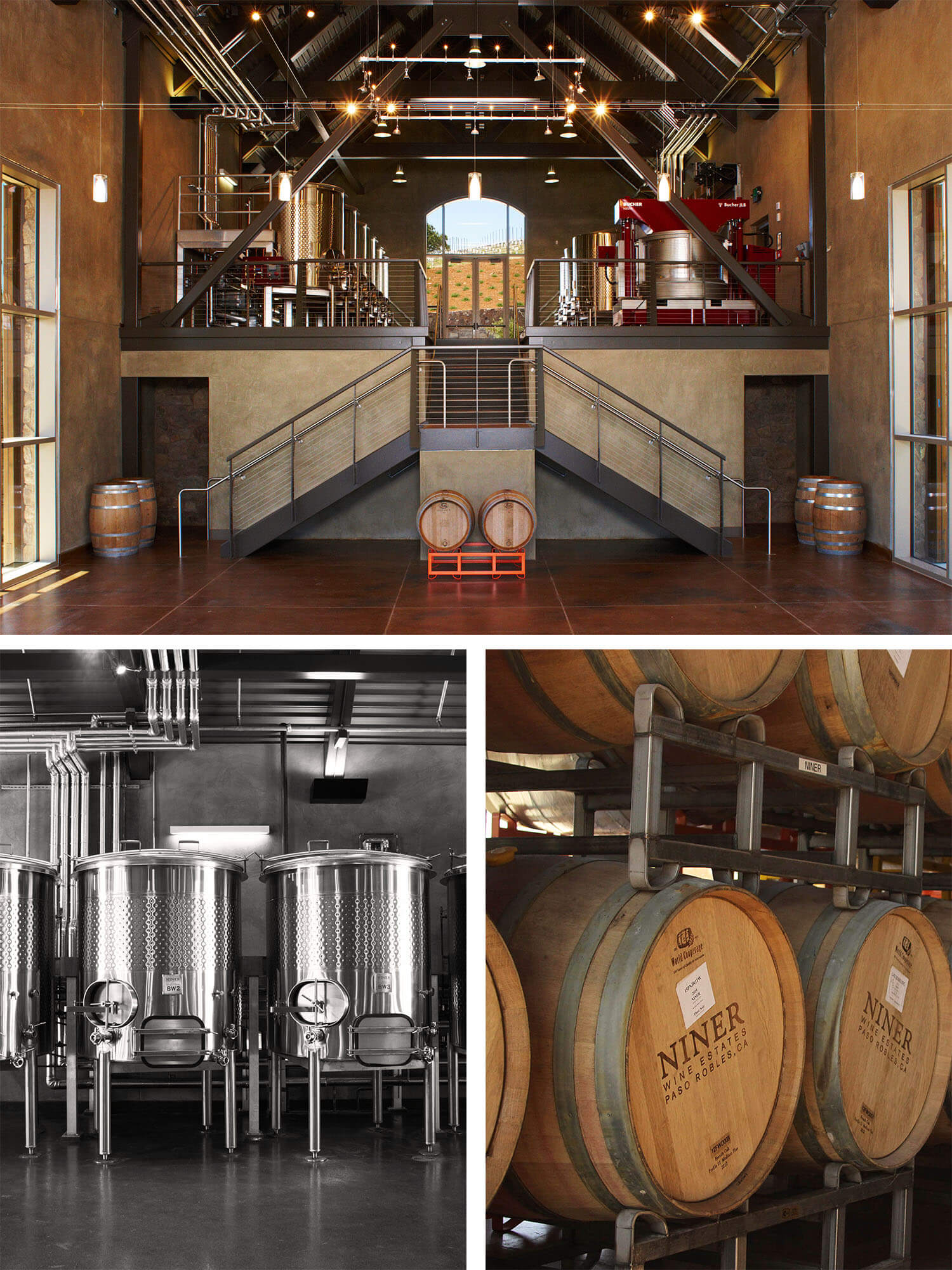 Want to learn more? We offer tours of the Craft Winery Friday - Sunday by reservation. Click here to learn more & make a reservation online!
Small, Open Top Tanks
The open top tanks allow us to "punch-down" the grapes during primary fermentation instead of using a pump to mix the tank. While the pump-over technique works better for our other red wines, Pinot Noir demands a more delicate approach. The small size of the tanks (about half the size of our normal tanks) allow the nuance & flavor in Pinot Noir to develop more.

Gravity-Flow barrel filling
Our tanks & basket press are located on the second story of the Craft Winery which allows us to drain the tanks via gravity directly into Oak Barrels. We barrel-age this free run juice separately from the wine we get from the basket press to keep nuances intact.

Basket Press
A basket press is gentler than other styles of pressing. Our state-of-the-art stainless steel basket press is only used for our Pinot Noir and allows for gentle extraction that we then feed into Oak Barrels separately from the free run juice.
All of these tools allow Winemaker Molly Bohlman to focus on creating exceptional Pinot Noirs. When we're not in the middle of Harvest we do host special events & dinners in the Craft Winery, including the 2017 Pinot Noir Winemaker Dinner we had in early March where Molly guided an intimate group through 5 courses paired with her wines from Jespersen Ranch. Click here to learn more about upcoming dinners we have planned or here if you are interested in planning your own private event!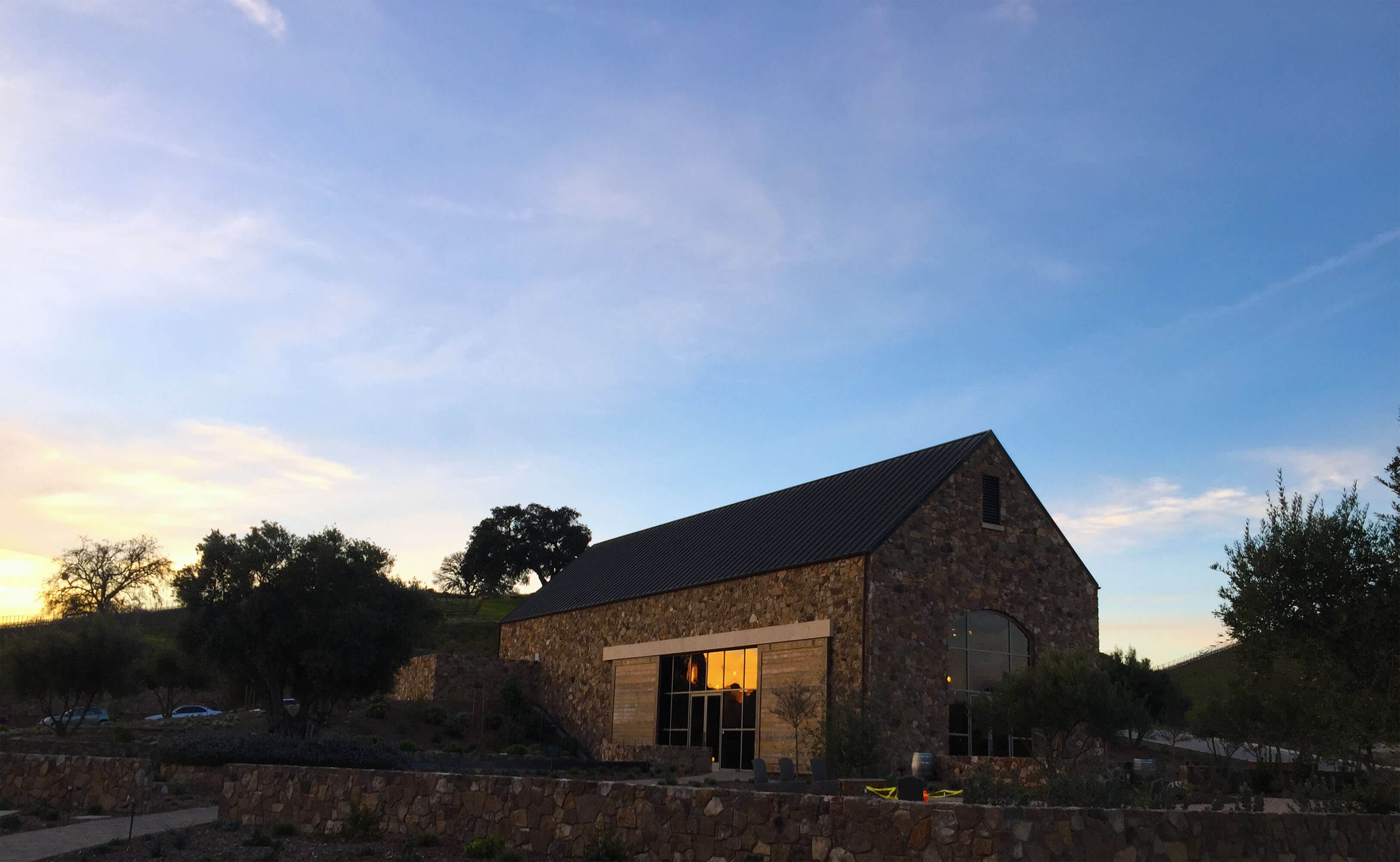 the beginning to a beautiful night for our Pinot noir winemaker dinner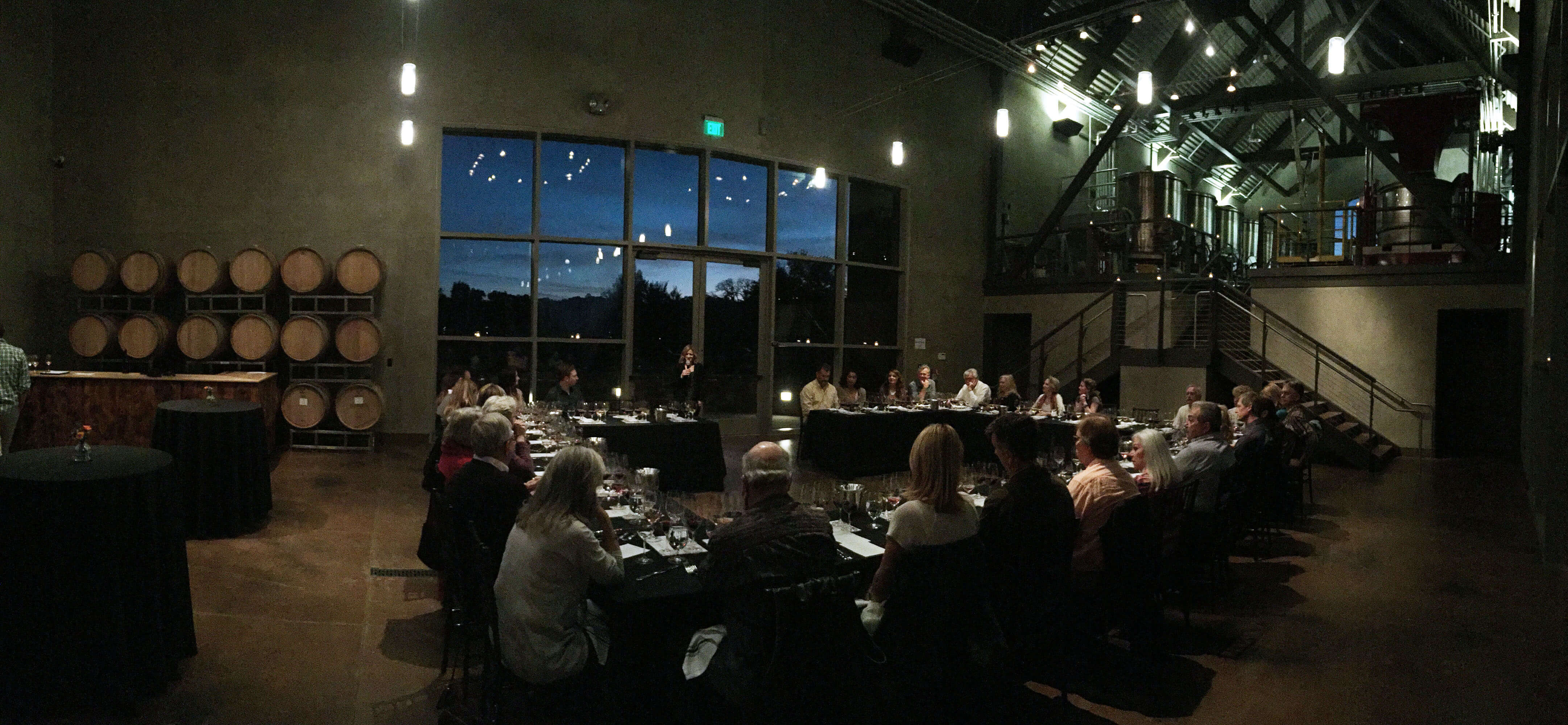 Molly introducing herself & explaining the process of making sparkling wine all in house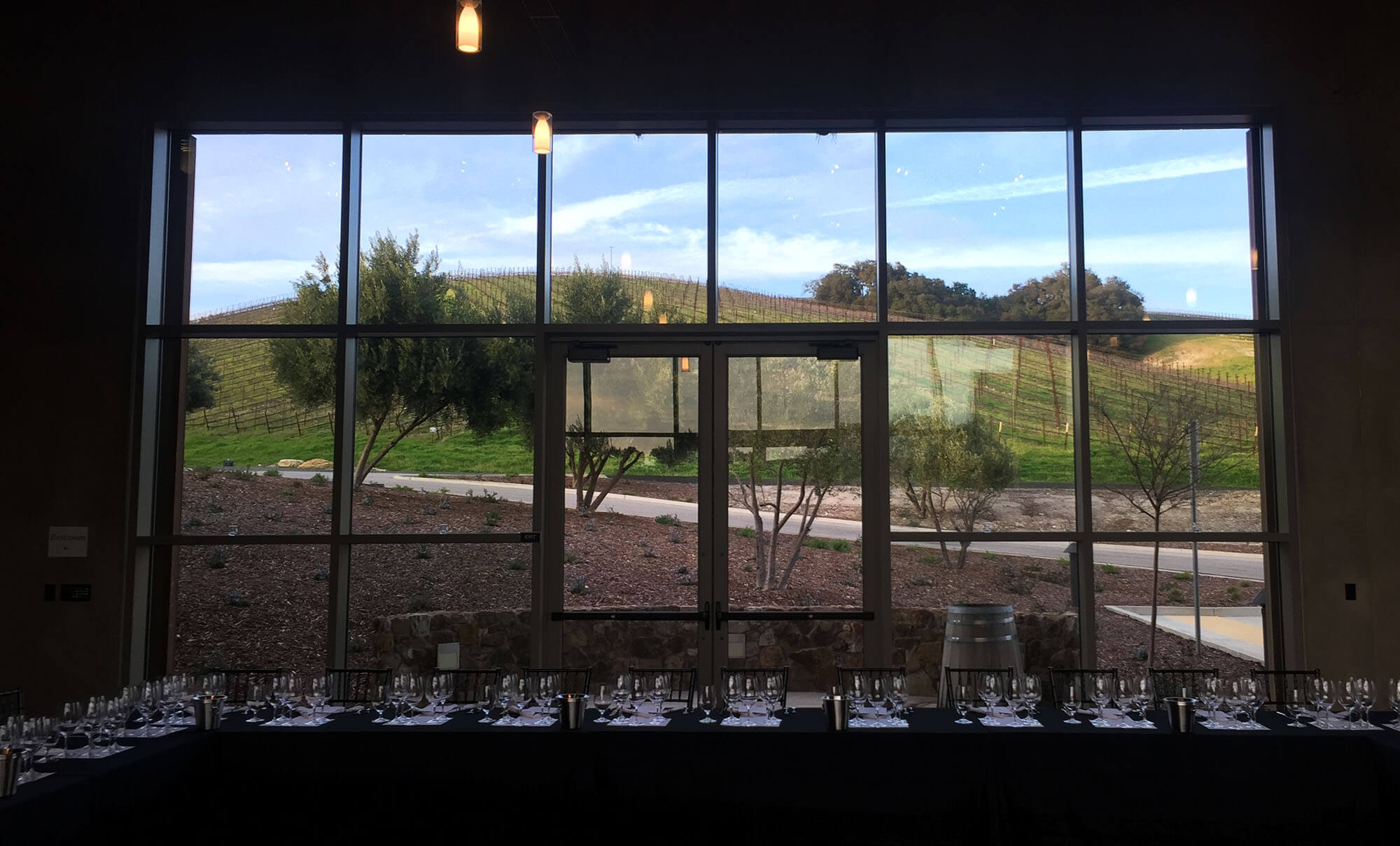 view from the craft winery & seminar