September 29, 2016 | Wine News
A Grand Reopening: Our New Landscaping!
It is with MUCH excitement that we announce the completion of our landscaping project. Thank you to those of you who have visited in the last four months and tolerated the dust & noise!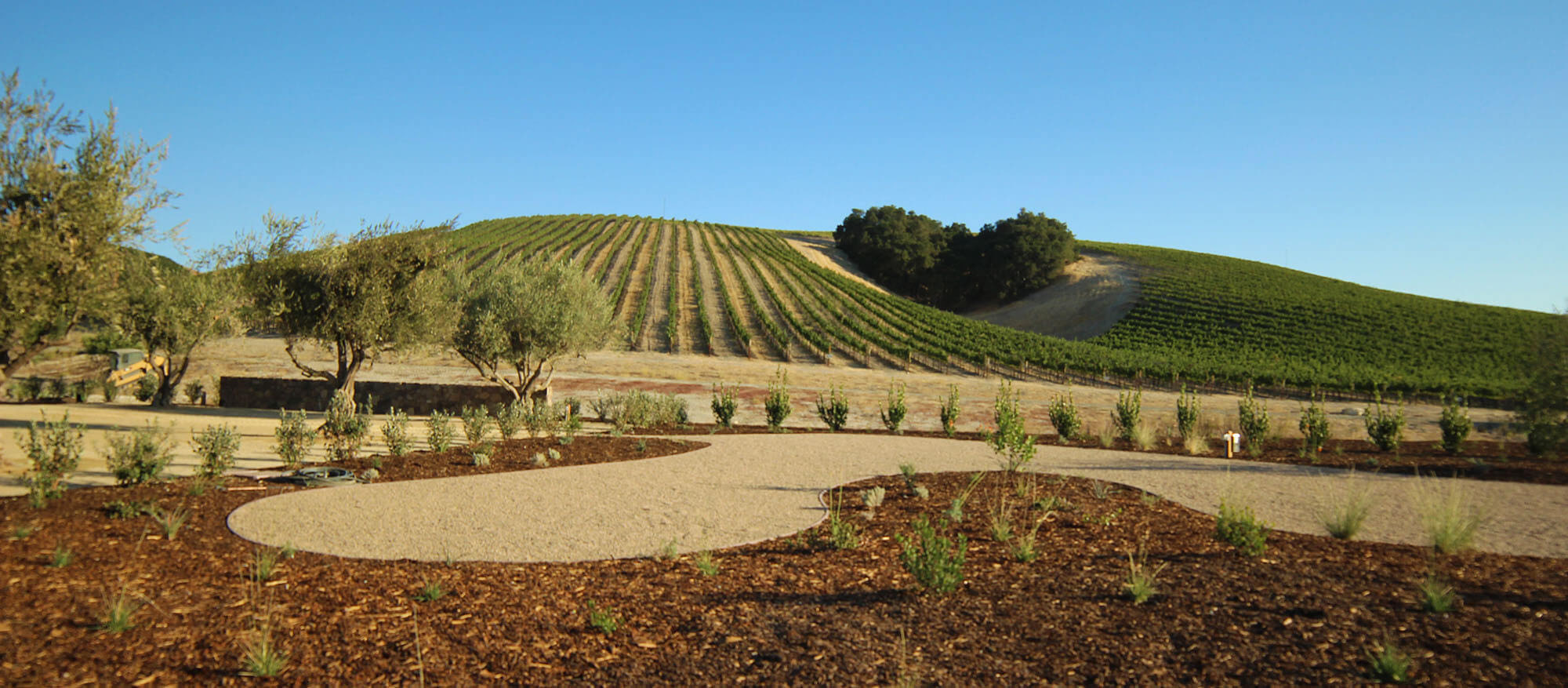 our expanded grounds are now ready to wander!
In June 2016 we began to re-landscape the area around our tasting room with two goals in mind: create more usable space and reduce our landscape irrigation needs. We removed the lavender and rose bushes (we loved them too but they needed too much maintenance & water!) and opened up the entire area beyond our tasting room patio to bring you additional space to taste wine, eat lunch, picnic & relax. The design process alone for this project took well over a year to plan and we ended up taking three specific actions that make it impactful & practical:
1. We Planted Old Growth Olive Trees to Frame Heart Hill
The marquee landmark of this project is the new corridor of eight olive trees that frame Heart Hill. This striking vista was designed to play with perspective and accentuate the Heart without blocking it. The trees are each fifty years old and were sourced from a farm near Fresno, CA. Lights on the trunk of each tree light up at night and we have the option of floating string lights above the trees for special events and dinners. Day or night it now offers one of the best photography spots around!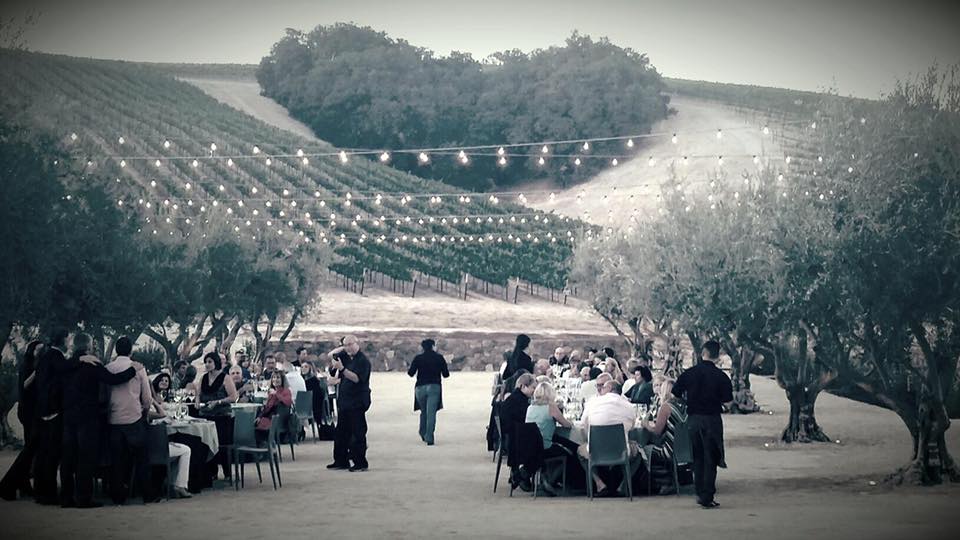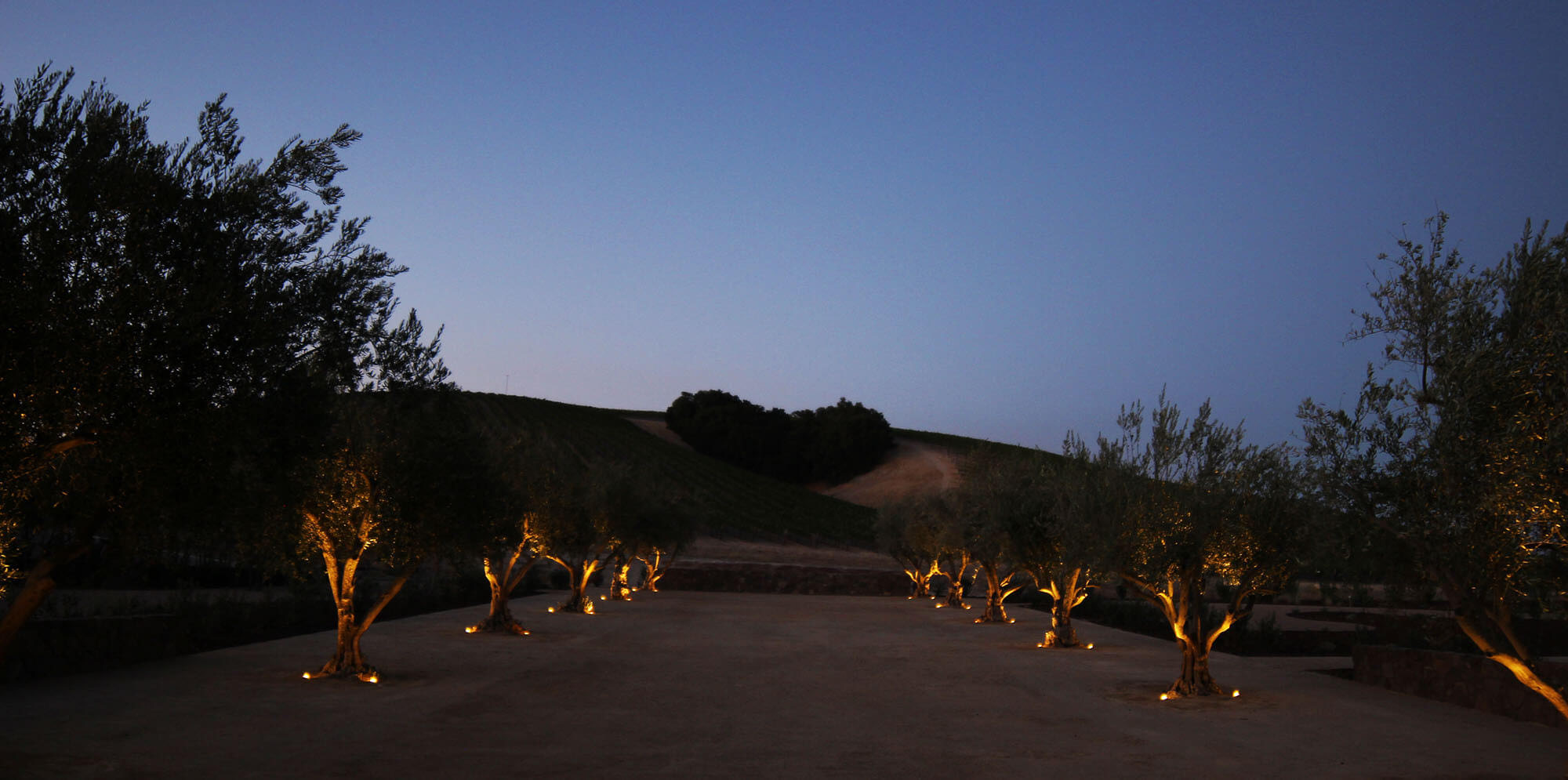 2. We Expanded Our Restaurant with a Covered Patio for Outdoor Dining
Another substantial change in the new design is our expanded Restaurant patio. When you're in a wine country that is as beautiful as Paso Robles outdoor dining is a must. With an awning and glass windbreak wall we can now keep our customers cool in the summer and protected from the rain (fingers crossed we get some) in the winter. Lunch will still be served Thursday – Sunday and we offer indoor or outdoor seating for you to enjoy our seasonal lunch menu.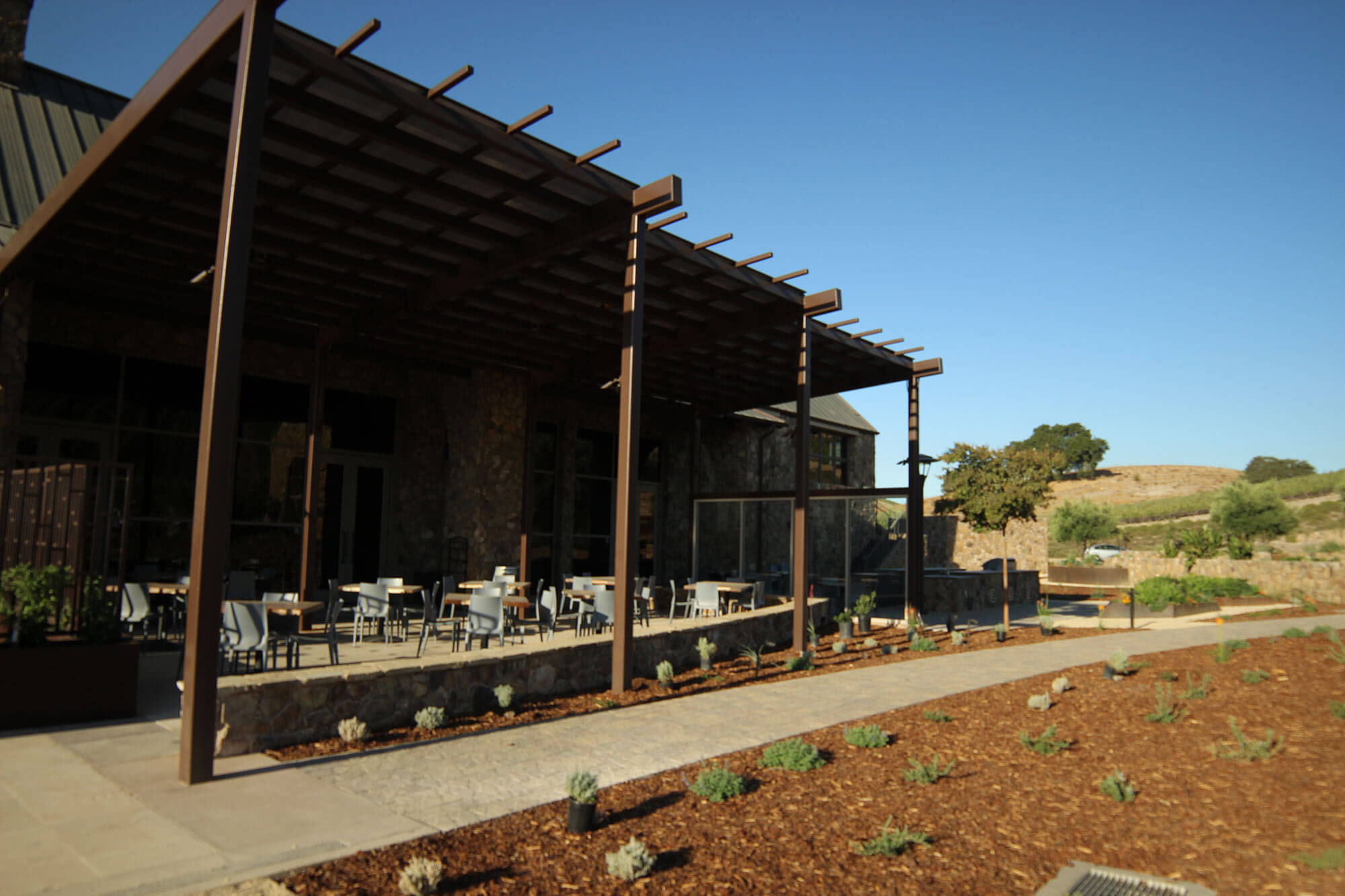 relax on our patio Thursday - Sunday for a leisurely Wine Country lunch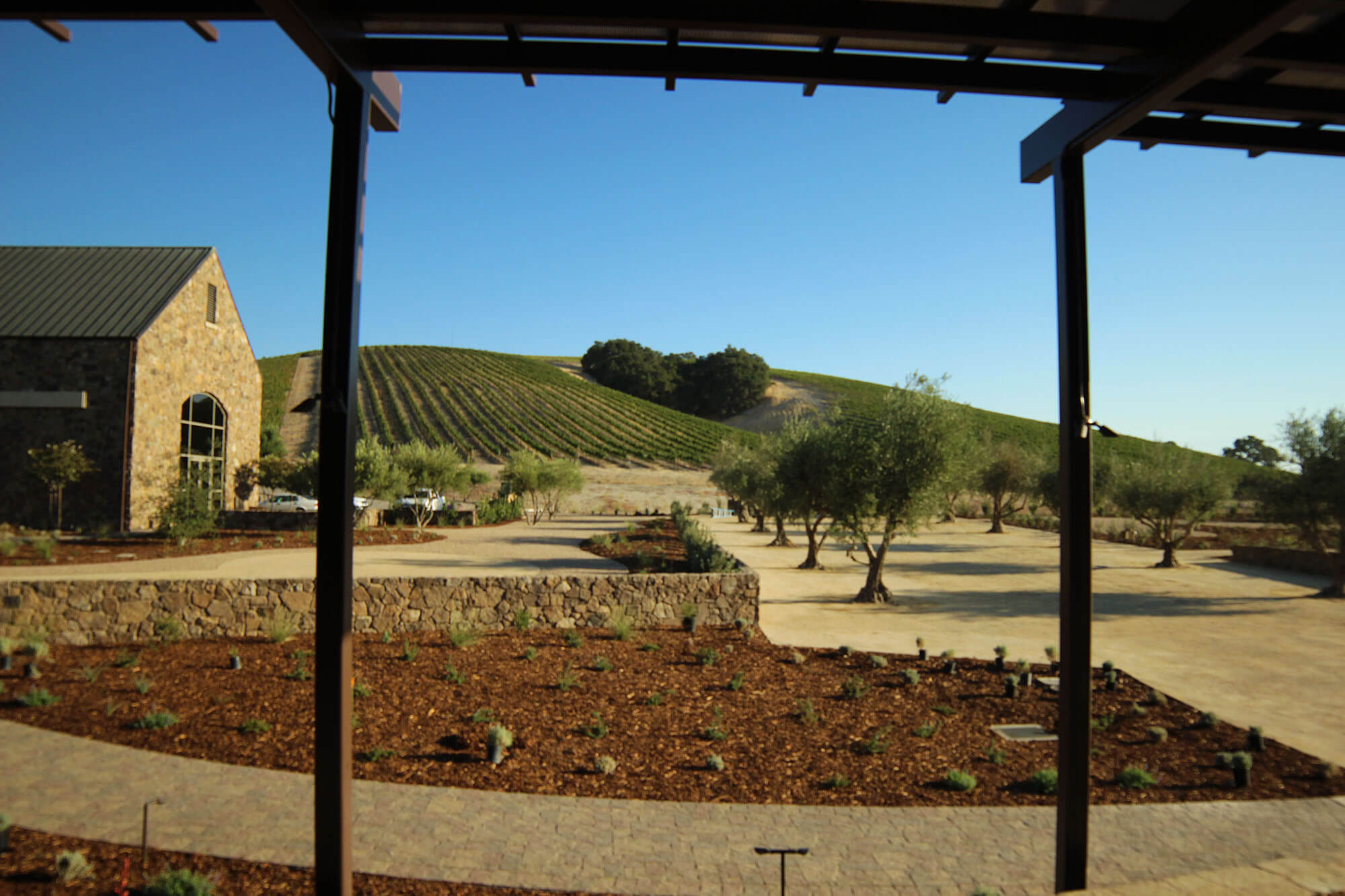 you can now enjoy shade with a view while eating lunch at our Restaurant
3. We Planted Six California Live Oak Trees & a Variety of Drought-Tolerant Plants
The rest of the design seamlessly integrates design elements of the tasting room & craft winery with the natural beauty of our vineyard. We planted an additional six California Live Oaks to bring natural shade to our private outdoor tasting areas and we will be adding picnic tables & additional seating in the upcoming months. The new areas are separated naturally with fruit-bearing hedges and accented with a variety of plants that bring color & greenery directly into the space. Since we planted exclusively drought tolerant plants we hope to be able to cut our landscaping current water use in at least half over the next few years. Each species was carefully chosen to bring beauty and sustainable growth to the table - click here if you want to see an entire list of what we planted.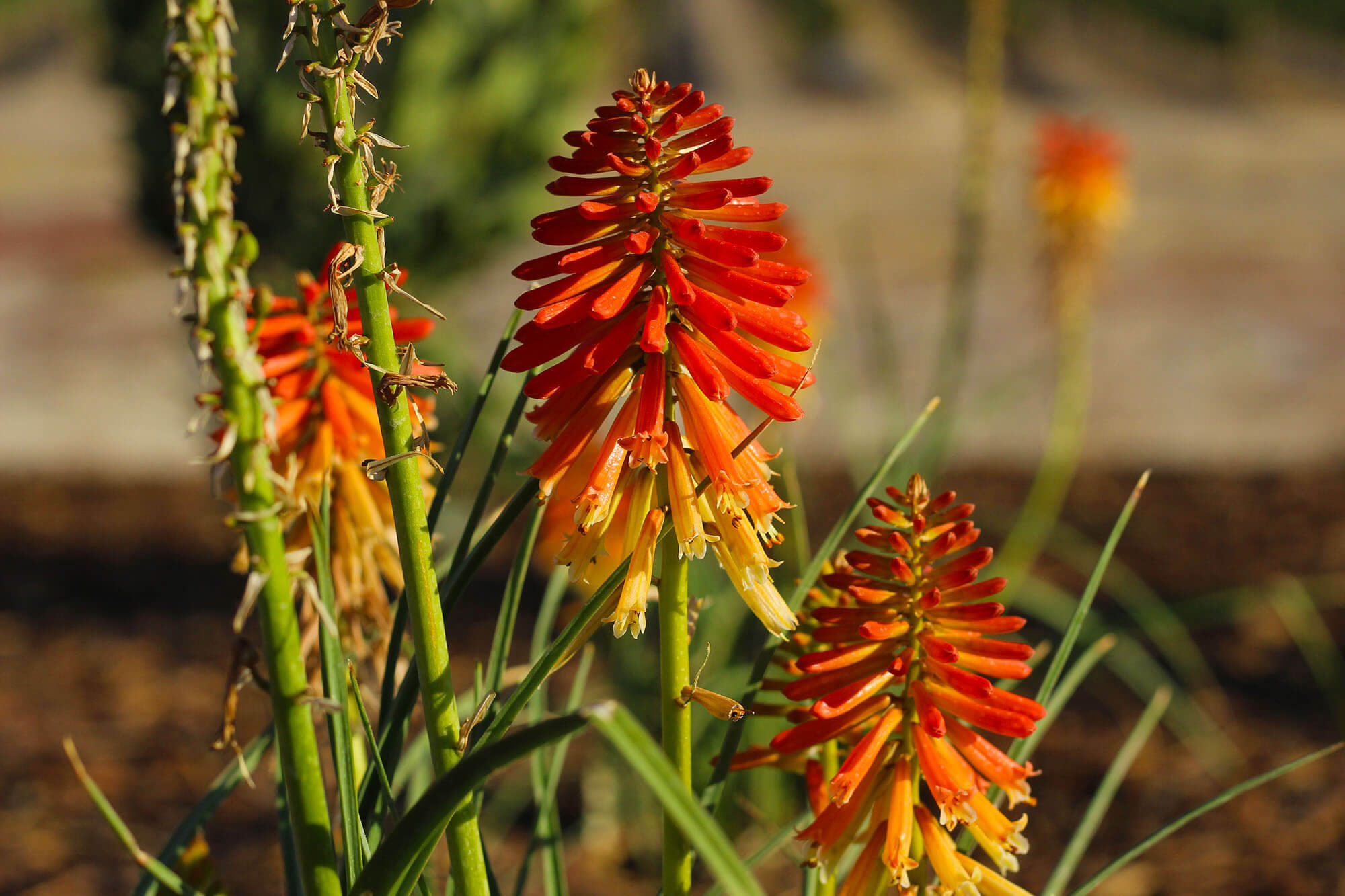 Hot poker flowers were chosen for their vibrant colors and drought tolerance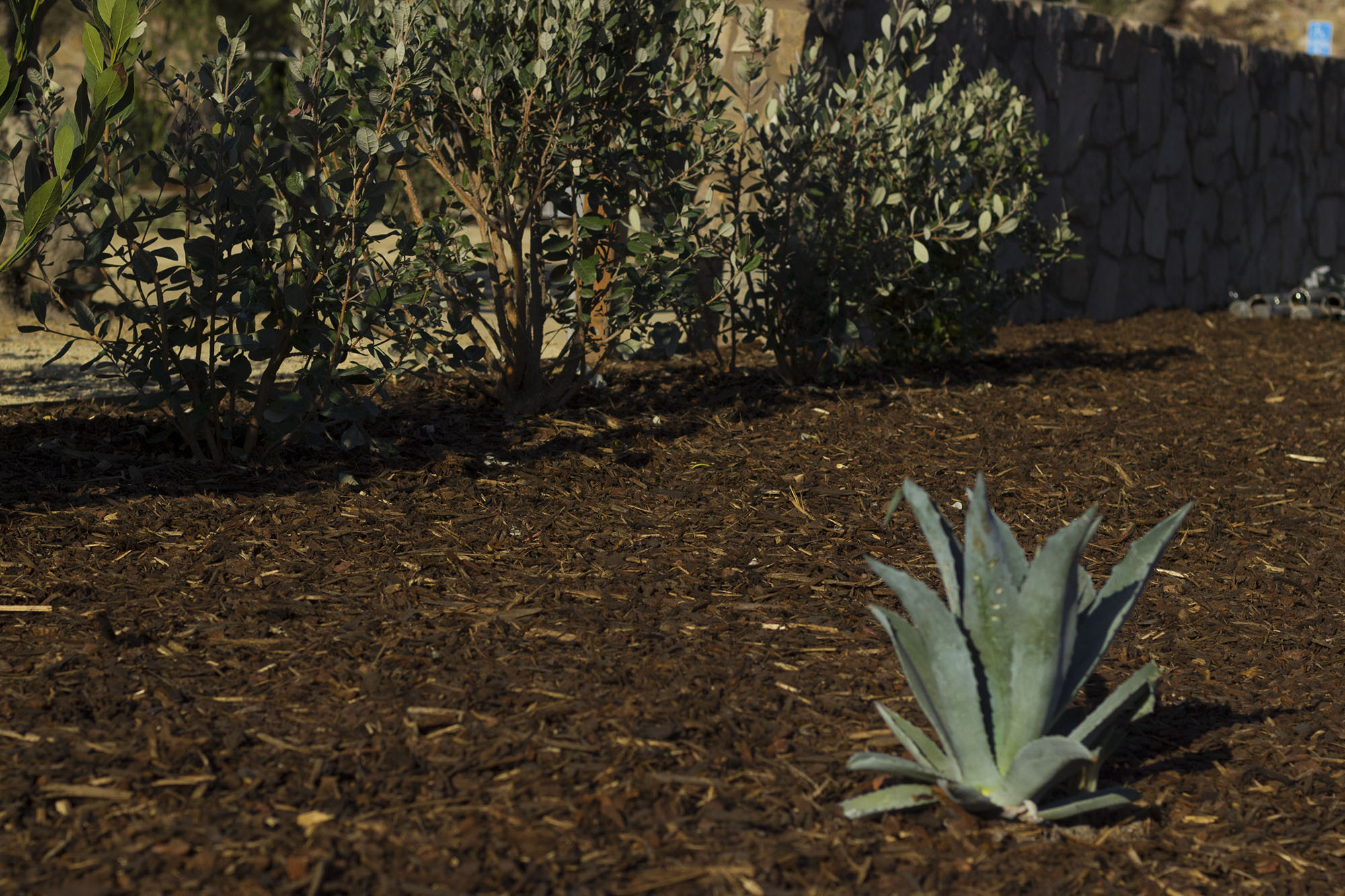 agave plants are planted sporadically to add texture to the native grasses & bark scheme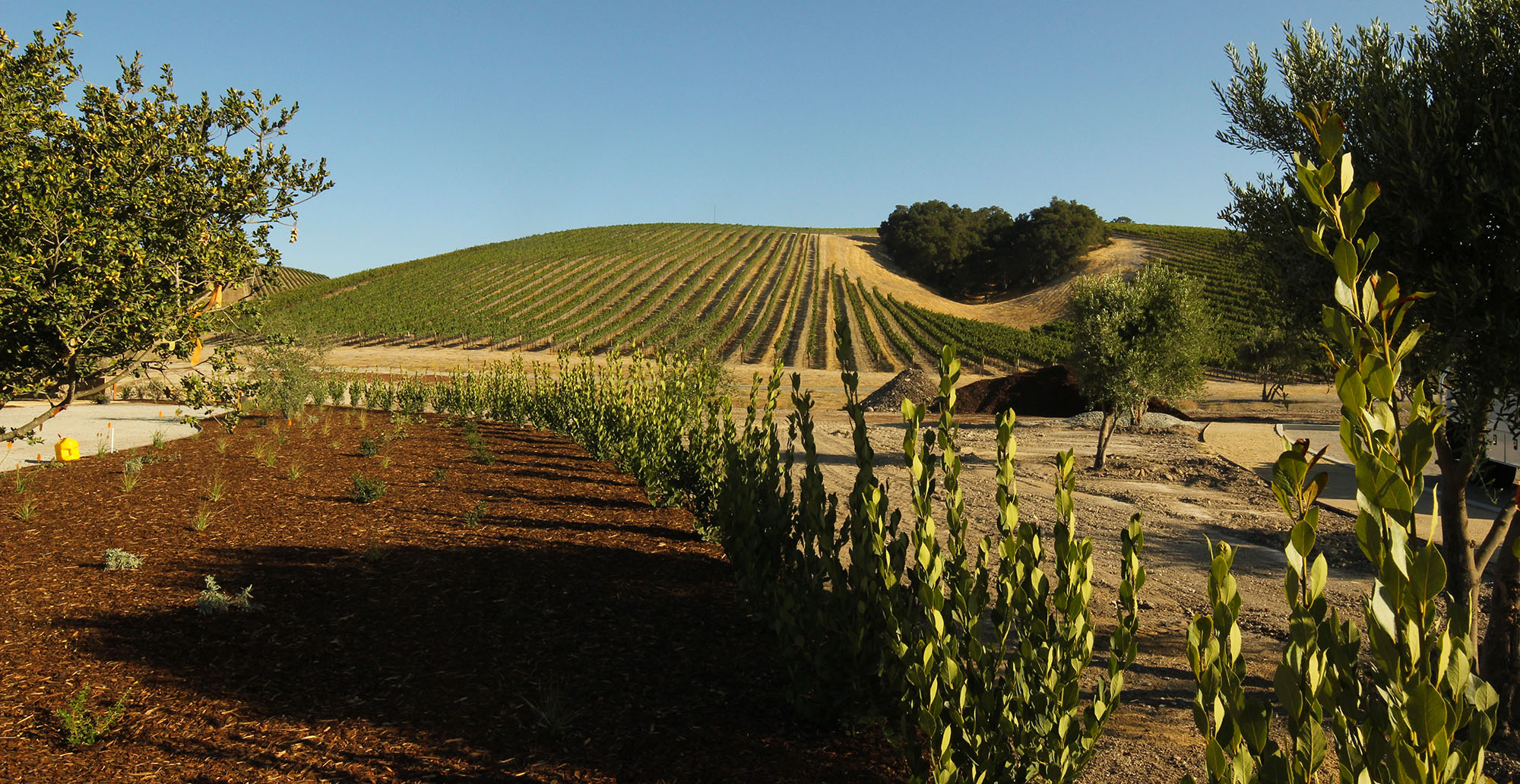 bay leaf plants (pictured above) will eventually grow into a perimeter hedge
To help celebrate join us for Paso Robles Harvest Festival this October! We will have live music, lunch specials, wine & more - click here to see what we're up to. Our tasting room is open daily from 10am - 5pm and you are free to roam the grounds throughout your tasting!
A big thank you goes out to Arcadia Studio for the concept and to Fortini Landscapes for bringing it to life.