April 1, 2016 | News Restaurant
Recipe: Garden Greens w/ Pasta & Garbanzo Beans
A simple recipe that can transition seasons & wine pairings with a few ingredient swaps, this rendition uses dill and fresh greens we pulled from our Chef's Garden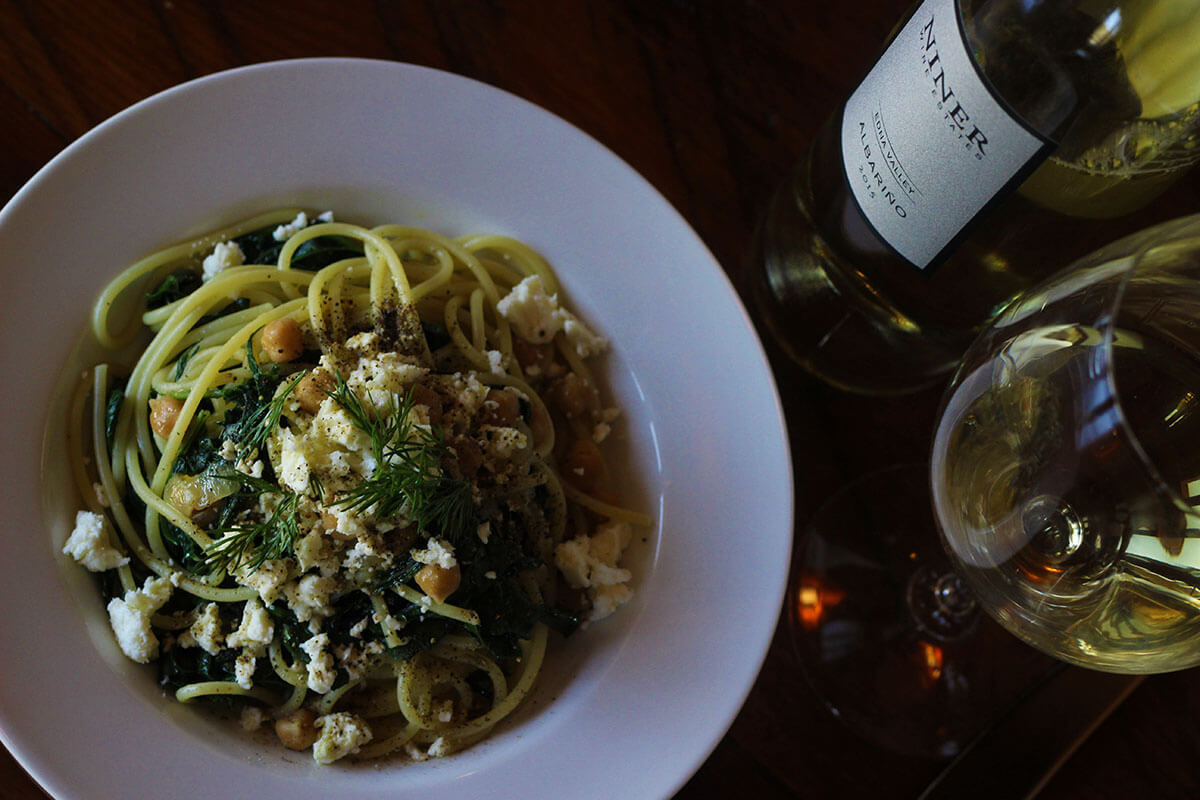 This is a versatile dish that can varied by changing the beans, mix of greens or herbs in the pasta; this version goes great with our 2015 Albarino. The crisp white wine is a great contrast to the rich olive oil, garbanzo beans & feta cheese, while dill serves as a brilliant bridge ingredient to bring out the quiet aromatics in our Albarino.
Pasta with Garden Greens, Garbanzo Beans and Feta
Serves 6
4 Tbsp. NINER Estate Olive Oil
1 Medium Onion, diced small
4 cloves Garlic, thinly sliced
1 16 ounce Can Garbanzo Beans, drained
8 ounces Greens, washed and torn in large pieces (chard, kale or other hearty greens)
1 pound of pasta, cooked, reserving 2 cups of pasta cooking water
½ cup Fresh Dill, roughly chopped
3 ounces Feta Cheese, crumbled
Salt and Pepper to taste
---
In a large sauté pan, over medium heat, sauté the onion and garlic in the olive oil. When onion is transparent, add the beans and sauté for a few more minutes. Add salt and pepper to taste.
Add the Greens to the sauté pan and about 1 cup of pasta cooking water. Stir until greens are wilted. Add the cooked pasta and stir. Add the dill and stir until pasta is warmed and mixed well. Add salt and pepper to taste. Divide pasta in bowls and top with the feta cheese.
For a variation, try white beans and rosemary with garden greens and pair it with our Sangiovese!