June 21, 2019 | News Restaurant
The Perfect Summer Recipes and Wine Pairings
The Perfect Food & Wine Paring Will Bring your Summer Grilling to Life!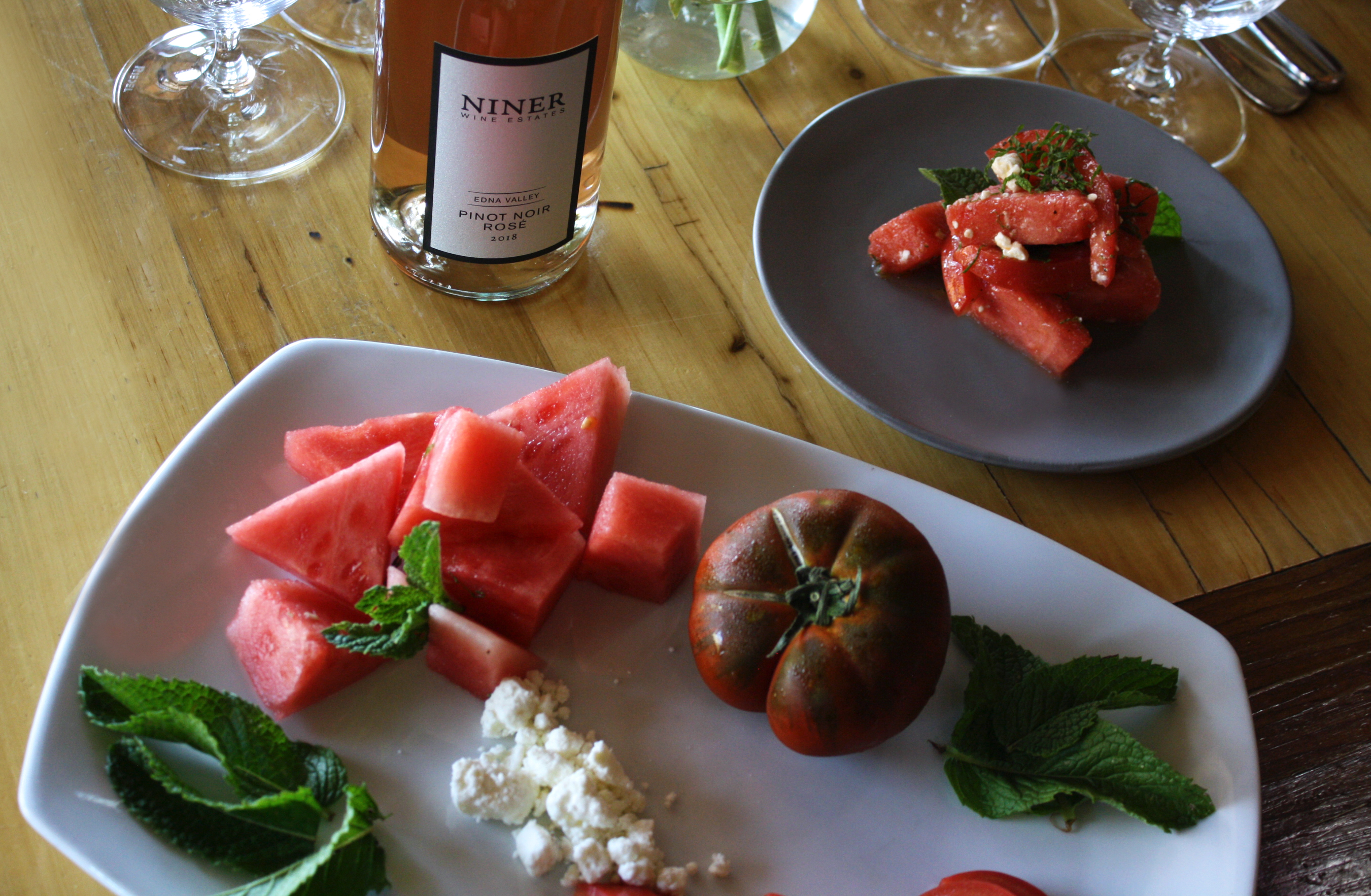 It is officially summer and that means longer days, warmer weather, and grilling and eating outside every chance you get! We love summer for all of these reasons, but even more so because of the abundance of fresh produce and ingredients that make food & wine pairing exciting. Whether you are looking for a dish that can stand up to a bold red wine, or something light and refreshing to pair with a white or Rosé, finding the right combinations can be tough to navigate. Below are a few favorite recipes from our kitchen paired with some of our favorite summer wines.
Watermelon salad
pair with 2018 Pinot Noir Rosé
Nothing says "summer" more than watermelon, and the same could be said for Rosé. This is the perfect side dish for hot summer days spent outside. While light in color, our 2018 Pinot Noir Rosé is full of flavor and dry on the palate, a perfect pairing for the light crisp flavor of the watermelon. The bright acidity in the Rosé also compliments the wedged tomatoes and vinaigrette. Click here to purchase »
Ingredients:
1 Medium Watermelon, cubed
5 Heirloom Tomatoes, wedged
2 Cups Roasted Pistachios, crushed
Feta Cheese, crumbled
Fresh Mint
Salt and Pepper to taste
Mint Vinaigrette
Ingredients:
3 Cups Oil
1 Cup Champagne vinaigrette
2 Cups Fresh Mint
4 Cloves of Garlic
2 Shallots
2 Tbsp Honey
Salt and Pepper to taste
Add all vinaigrette ingredients to a food processor or blender and blend until smooth. Toss cubed watermelon, wedged tomatoes and crushed pistachios together. Slowly fold in the mint vinaigrette dressing and chopped mint. Top with crumbled Feta and serve immediately.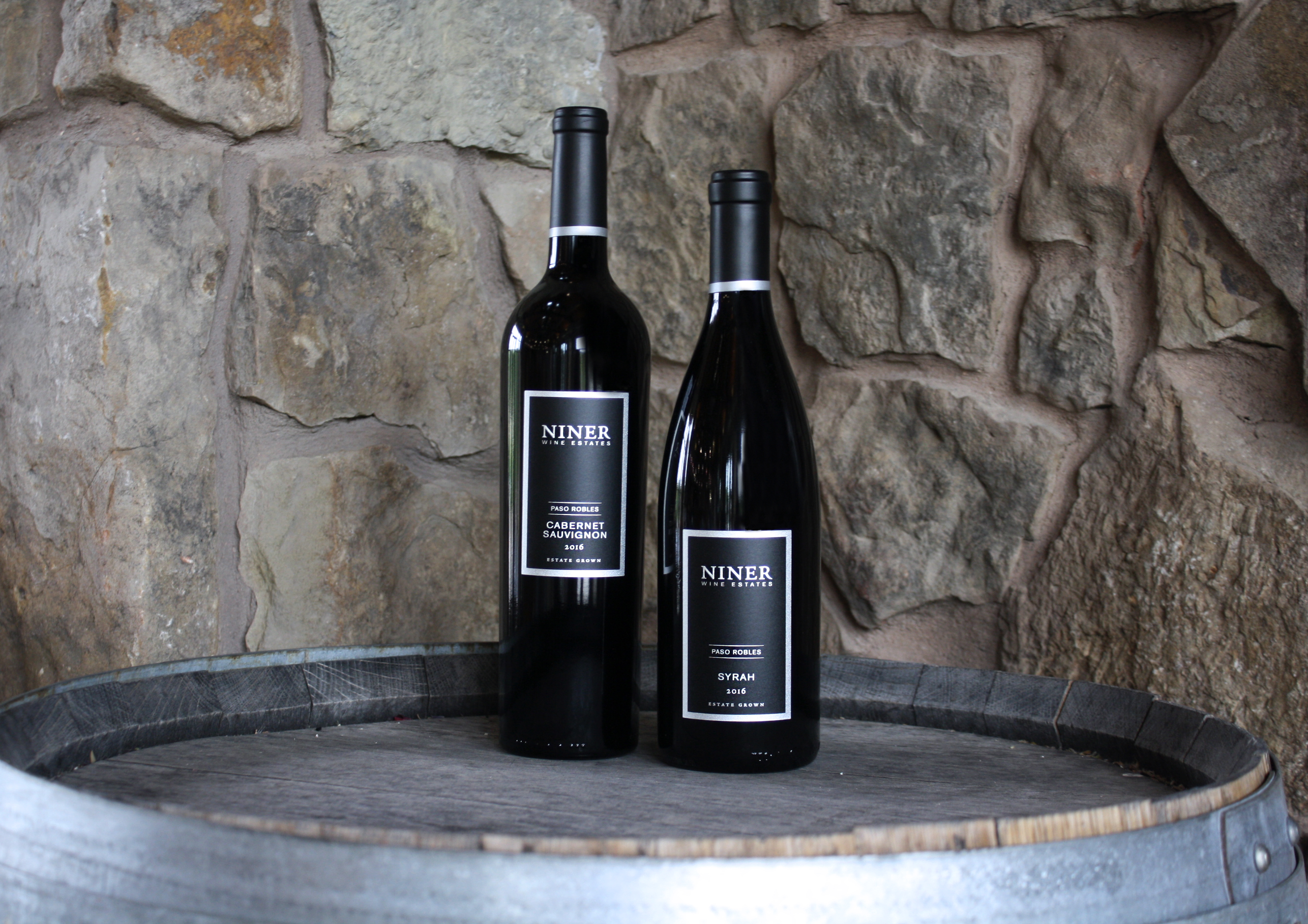 ribs
pair with 2016 Cabernet Sauvignon or 2016 Syrah
Both our 2016 Cabernet Sauvignon and 2016 Syrah would be great options for pairing with this dish. Barbecued meats are full of flavor and need a wine pairing that can hold its own. Both our Cabernet Sauvignon and Syrah have the perfect balance of fruit, tannin and acid to compliment the flavor of the ribs in a way that will show off both the food and the wine. Click here to purchase »
Ingredients per rack of ribs:
Pork Ribs
2 Cups Brown Sugar
Salt & Pepper to taste
Remove the fat on the back of the ribs. Mix together the brown sugar, salt and pepper in a bowl and rub the ribs down entirely with the mixture.
Bake at 300 degrees F for about 45 minutes to 1 hour, until the ribs start to get tender. From there, pull the ribs out of the foil and place the racks straight on the grill for about 5 minutes. This will help give charred flavor and caramelize the brown sugar. Before, during and after placing ribs on the grill, brush with BBQ sauce (recipe below). Pull the ribs off the grill and rest them for 5-10 minutes to give every flavor a chance to settle.
BBQ Sauce
Ingredients:
5 Heirloom Tomatoes
1/2 Cup Apple Cider Vinegar
1 Cup Brown Sugar
1 Tbsp Worchester Sauce
2 Tbsp Honey
1 Lemon
Salt and Pepper to taste
Mix all ingredients together into a pot and squeeze the lemon to add a bit of acid. Adjust all ingredients to your liking. Bring up to a boil and simmer down until it thickens (about 10 minutes). Brush sauce on the ribs right before placing them on the grill, while they are on the grill and after being removed from the grill – use it constantly.