December 1, 2018 | Wine News
The Inaugural Vintage of our Sparkling Wine Program
"The 2015 Brut Rosé is the perfect introduction to our sparkling program. This is a wine that shows the salinity, floral and fresh fruit characteristics of Jespersen Ranch, wrapped up in vibrant bubbles"
The 2015 Reserve Brut Rosé is now available online and in our tasting room! Click here to shop now!
With the release of our 2015 Brut Rosé we feel like we have much to celebrate. From vineyard to bottle, we have poured passion into this wine during each arduous step of the process and we can't wait to share our inaugural vintage with you.
We introduced our sparkling wine program in 2015. The endeavor was lead by our Winemaker Molly Bohlman, who immediately saw the potential in Jespersen Ranch as a source for quality sparkling grapes when she joined our team in 2014. As an all-estate winery, we knew that if this was a project we were going to embark on, we would have to do it the right way. That meant crafting the wine in the traditional method (aka méthod champenoise) and bottling, aging, riddling and disgorging on-site at our winery.

"In order to do something really well, I think you need to be involved in the whole process. I didn't want to miss out on the last part of the winemaking process - after all, when you put sparkling wine in the bottle it is only 1/3 done. It would be lik e dropping your child off at kindergarten and picking him or her up after high school graduation." - Winemaker Molly Bohlman
Making a sparkling wine in the traditional method is one of the most demanding and costly undertakings in winemaking. Many wineries produce a sparkling wine, very few elect to perform all the steps in-house. As an example, most of our actual bottles are touched by hand three times: once to put it on the bottling line, once to take it off the bottling line and once to take it out of a case to sell to you. Our 2015 Brut Rose was touched by hand thirty six times during it's tenure in the cellar! To fully understand the excitement around this new release, we want to give you a detailed look at how we make our sparkling wine and why it is so special:
1. Base Wine Creation - We started by making a still wine made with 100% Pinot Noir grapes, a varietal used for making some of the highest quality Champagne in France. With its coastal influence and foggy mornings, Jespersen Ranch vineyard is an ideal location for growing Pinot Noir that has beautiful flavors at low sugar levels. We picked the grapes at about 19 brix, whole-cluster pressed them and fermented the juice in stainless steel at cool temperatures to capture the freshness. (This is also the point that wineries have the option to send their base wine to a company that will finish all of the following steps for them)



2. Fermentation - There are typically two different ways to ferment sparkling wine: in a tank or in bottle. Although it is much more labor intensive, we opted for a bottle fermentation because we feel it produces a higher quality wine. To do this we brought in a mobile bottling line designed especially for sparkling wines (we were one of the first in CA to use this bottler). During bottling, we added a carefully concocted mixture of sugar and yeast to kick-start the second fermentation and put a crown cap (think of the top on your favorite bottle of beer) on each bottle. The yeast metabolizes the sugar and produces carbon dioxide, which becomes trapped in the bottle and dissolves into the wine to create the "sparkle".
3. Bottle Aging – After bottling we let the bottles rest on their sides for two years in our cellar. During this time, spent yeast cells form a layer of sediment in the bottle called lees. As the wine ages, the lees begins to release complex and layered flavors into the wine through a process called yeast autolysis. This step of the bottle fermentation method is extremely important as it is where complexity is added - many of the toasty, nutty and floral notes unique to sparkling wines come from extended bottle aging.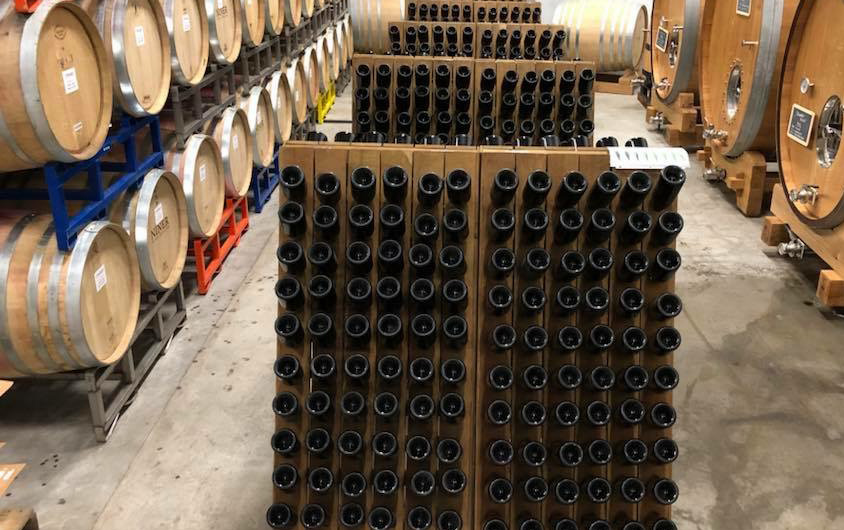 4. Riddling - After the second fermentation and aging is complete, the remaining yeast is removed through a series of steps in order to produce a clear wine. Each and every bottle was placed into a wooden "A" frame and rotated slightly by hand twice a day, every day, for two weeks in a laborious process called riddling. Riddling the bottles helps move the yeast to the neck of the bottle where it is then frozen and removed from the bottle in a process called disgorgement, which we were able to do with the help of the same mobile bottler as two years earlier. A quick video of Molly demonstrating what this looks like is below!
Winemaker molly bohlman showing the hands on nature of making sparkling wine
5. Dosage – At disgorgement, each bottle is typically topped with a mixture of wine and sugar (called dosage) which determines the sweetness of the finished sparkling wine. For this vintage, we added a very small amount of sugar with the intention to balance the acid but not create noticeable sweetness. For reference, a "Brut" sparkling wine can range from 0 to 16 grams per liter of sugar and ours has 2.5 grams per liter.
After 3+ years of working hard and waiting patiently, we are finally ready to share the 2015 Reserve Brut Rosé with you. This is just the start to our sparkling wine program - we have three more vintages of sparkling aging in the cellar right now - and we are excited to share them with you in the coming years!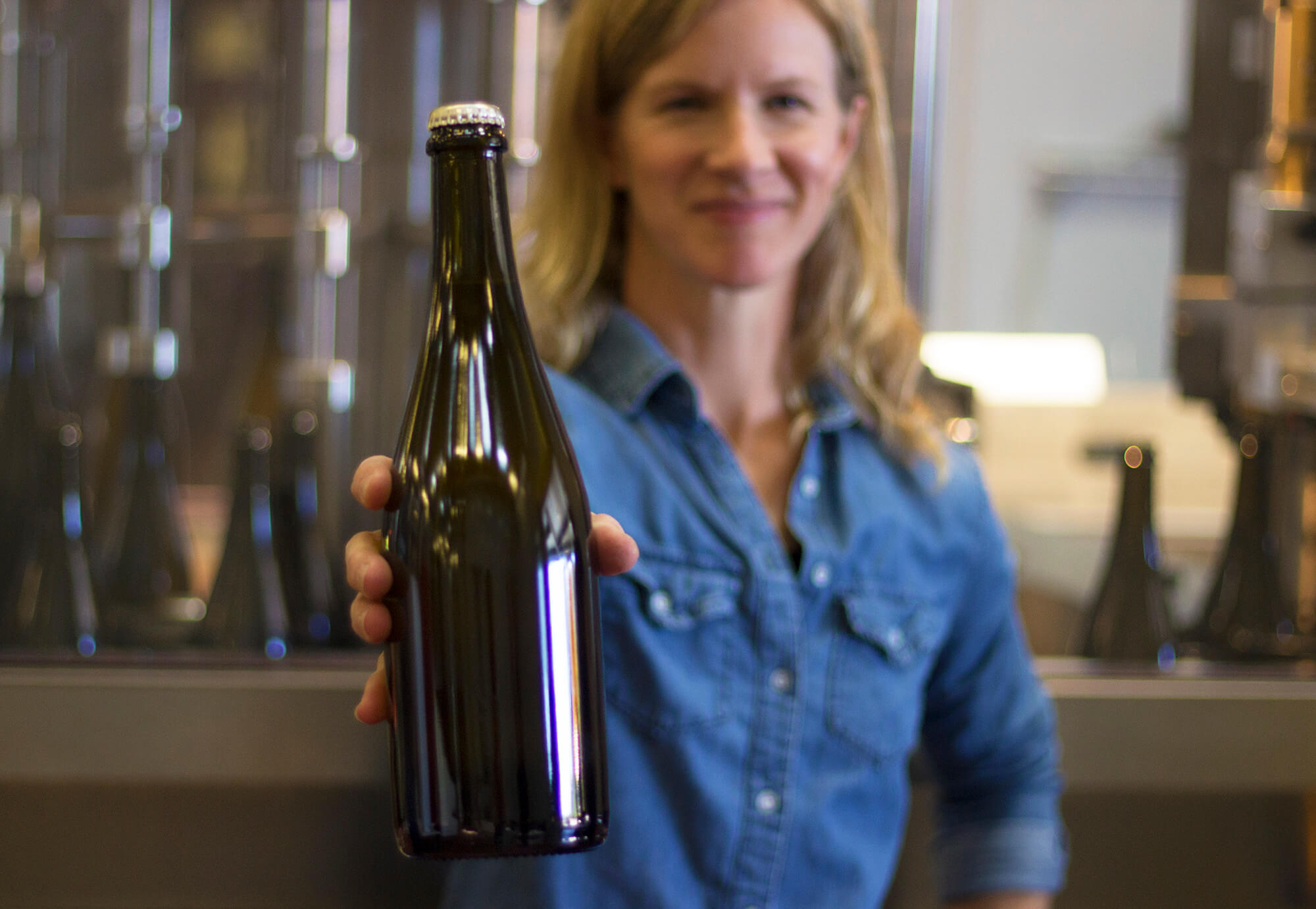 molly with a bottle of unlabeled sparkling wine after the first bottling on the mobile line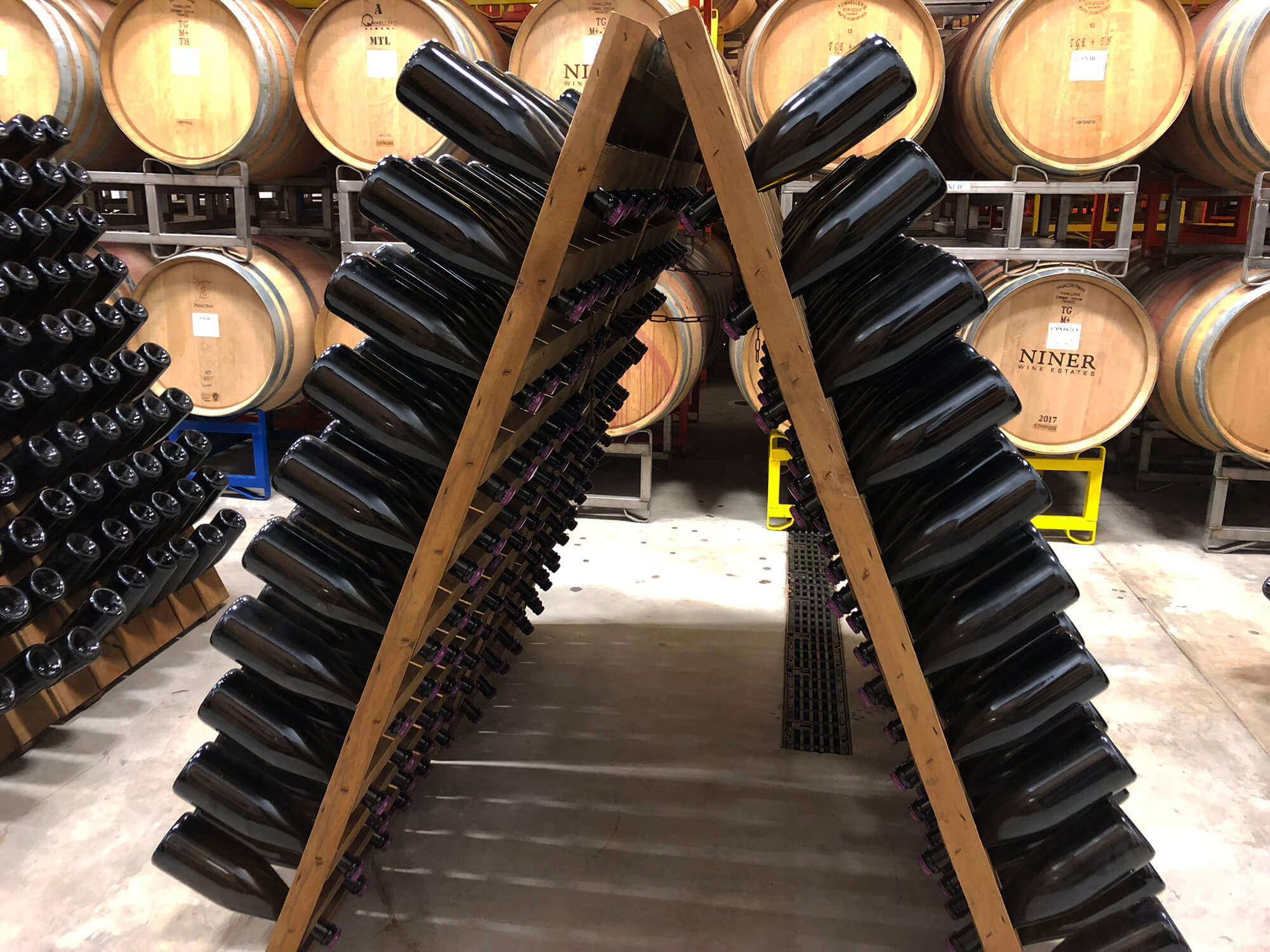 riddling racks in the cellar - each bottle was turned twice a day for two weeks leading up to the final bottling where the dosage, cork and cage were added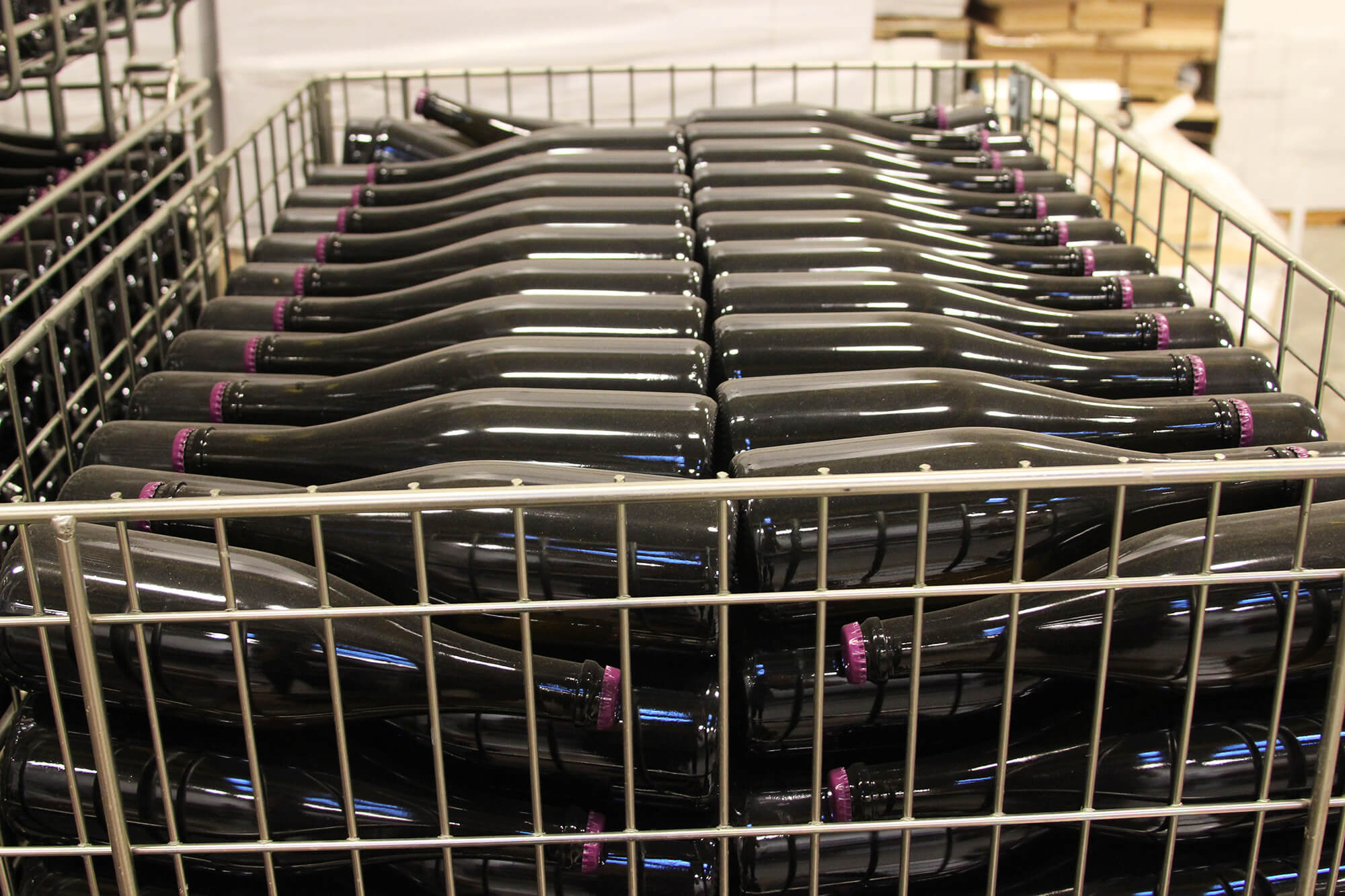 tirage aging in the cellar - this is where bottles were stored for two years prior to disgorgment and the final bottling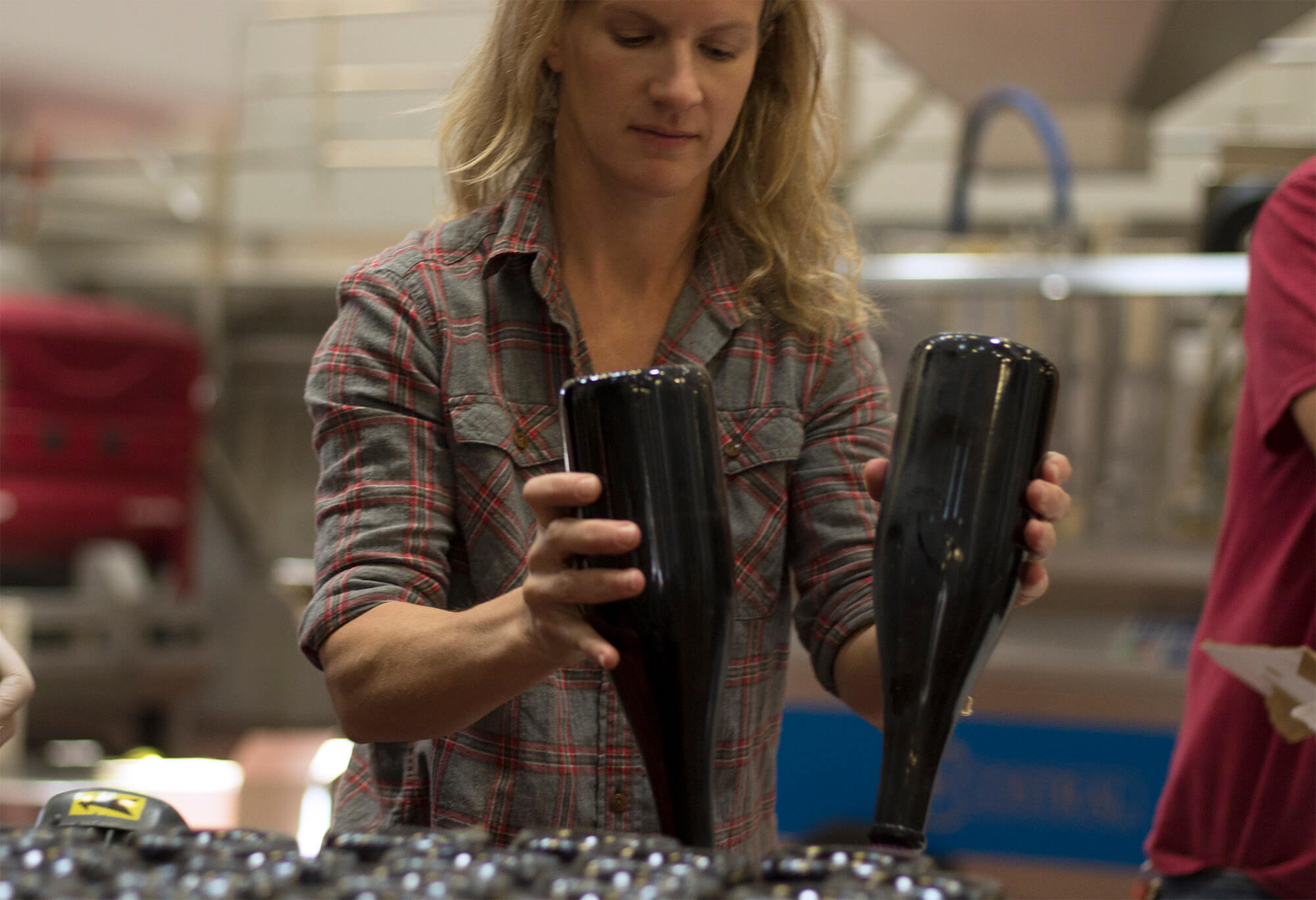 freezing the necks of each bottle at the beginning of the bottling line to freeze the yeast sediment that had accumulated over the last 24 months
| | |
| --- | --- |
| Harvest Date | August 7th 2015 |
| Blend | 100% Pinot Noir |
| Vineyard | Jespersen Ranch |
| pH/TA | 3.08 / 8.8 |
| Alcohol | 12.0% |
| Average Yield | 2.7 tons/acre |
| Disgorged | July 2018 |
| Dosage | 2.5 g/L |
| Cases Produced | 180 |
| Price | $65 |
| | |