December 15, 2016 | Wine News
Winemaker Food & Wine Pairings for the Holidays
Asking a Winemaker which wine is their favorite is like asking a parent which child they like best: everyone knows there is a right answer but nobody wants to say it out loud.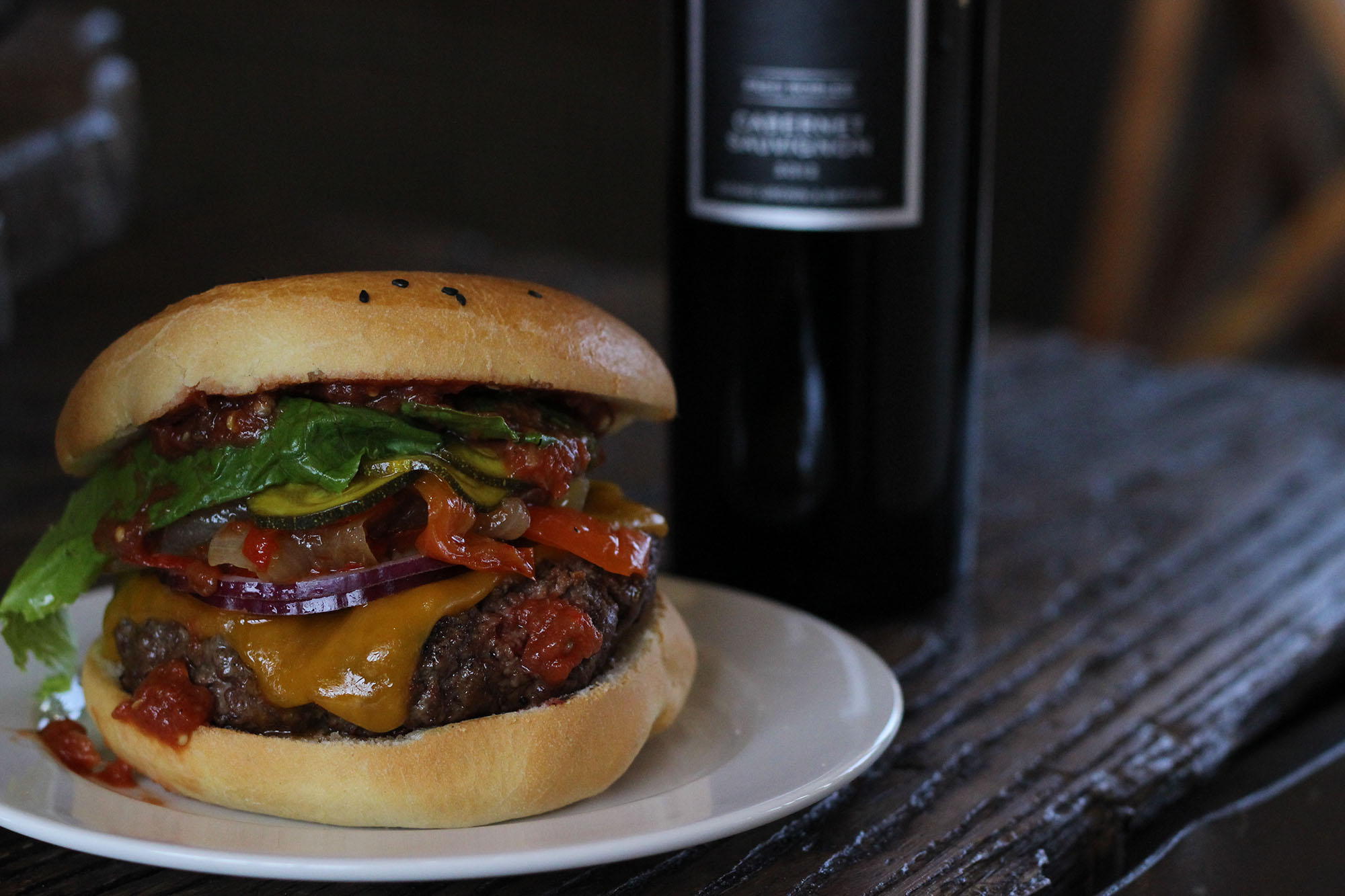 This year we cornered Niner Winemakers Molly Bohlman & Patrick Muran and gave them a slightly different question to ease the sting of choosing a straight up favorite: what current wine releases are they most excited to EAT with this year?
Molly, who runs our Pinot Noir & Chardonnay program, immediately picked out one of her current favorites: "This is an easy and quick recipe that always impresses. Halibut is my favorite fish and while it can be pricey, it is delicious and substantial enough that it can pair well with either red or white wines. Red wine with fish? Yes! This dish has enough density and a savory richness, especially with the prosciutto wrap. I'd pair it with either the 2014 Reserve Marsanne or the 2012 Reserve Syrah." Looking for a local producer? Check daily catches at tognazzini's dockside in Morro Bay!
Patrick went simple on the entertaining route and offered up a recipe for burgers with his secret ingredient: Worcestershire sauce. "I like to take wooden staves from old red wine barrels and chop them up, soak them in water and add them to the BBQ for a smoky flavor. Then it's all about the toppings - around our house the favorites are fresh arugula, more cheese, grilled onions, avocado and olive oil. I'd pair these up with our 2013 Reseve Super Paso or any of our Twisted Spur releases (we're sold out of the 2012 but crack it open if you have it in your cellar) for a casual entertaining night. Looking for a local producer? You can find Charter Oaks Beef at Farmer's Markets around the county!
Don't forget that we are extending our $5 shipping on all Reserve Wines until Christmas! Place your orders before Monday, December 19th to ensure delivery before Christmas! Click here to shop now
---
INGREDIENTS
makes two servings

2 5-ounce halibut fillets
3 teaspoons chopped fresh thyme, divided
4 thin slices prosciutto
2 teaspoons olive oil
2 tablespoons chopped shallot
1/4 cup dry white wine
1 tablespoon butter
molly's recipe - directions
Preheat oven to 400°F. Sprinkle fish fillets with salt and pepper. Sprinkle 1 teaspoon thyme atop each fish fillet. Place 2 slices prosciutto on work surface, overlapping slightly. Place 1 fish fillet crosswise in center of prosciutto; fold prosciutto over fish fillet. Repeat with remaining prosciutto and fish fillet.
Heat oil in medium ovenproof skillet over medium-high heat. Add prosciutto-wrapped fish, seam side down. Cook until prosciutto is brown on all sides, about 1 minute per side. Transfer skillet to oven and roast fish until cooked through, about 6 minutes. Transfer to plates. Add shallot to same skillet; sauté over medium-high heat until beginning to brown, about 1 minute. Add wine and remaining 1 teaspoon thyme. Simmer until sauce is slightly reduced, about 1 minute. Whisk in butter. Drizzle sauce over fish and serve.
original recipe courtesy of Epicurious
Ingredients
serves 4

1lb ground beef
1/2 cup shredded cheese ( sharp chedder to blue cheese will work)
1/2 tsp salt
1/2 tsp pepper
1/2 tsp ground garlic
1 tbsp worcestershire sauce
patrick's recipe - DIRECTIONS
Add seasoning and sauce to the ground beef (get dirty and use your hands) until evenly distributed. Then add your grated or crumbled cheese and mix evenly. Form 4-5 patties for the grill.
Grill along with your choice of wood for a smokey flavor - I like to use old red wine barrels chopped up into small segments and soaked in water.
Once your patties are grilled - garnish with your favorite toppings.