May 2, 2019 | News Restaurant
From our Chef's Garden to Your Table
Spring is in full swing and our Chef's Garden is coming to life with fresh vegetables, herbs and flowers.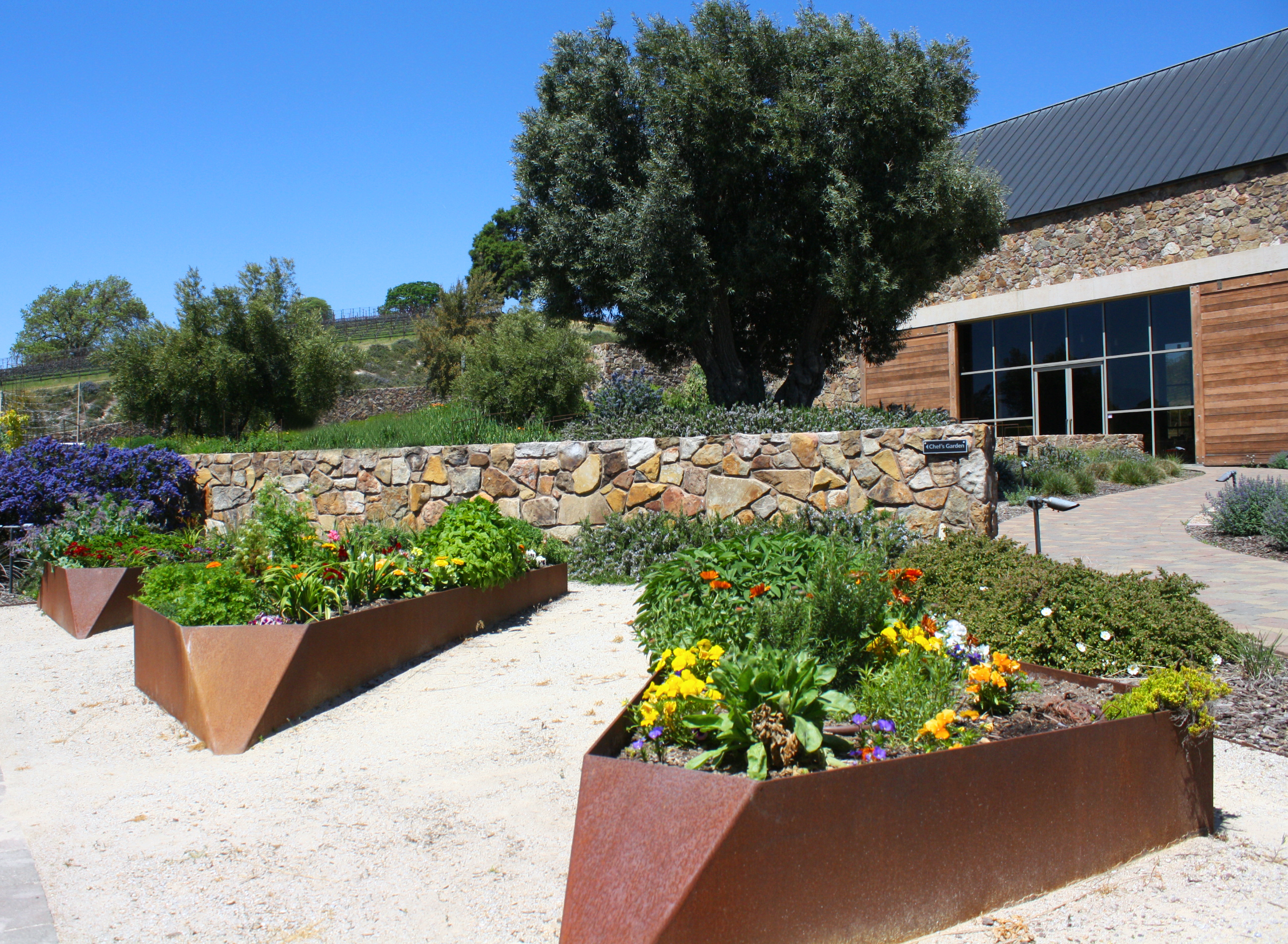 raised flower beds with fresh herbs and edible flowers
The Chef's Garden provides inspiration for our monthly Chef's Tasting Menu. This seasonal menu features many of the fresh herbs and vegetables from the Garden. Take a look at our current menu here and come in to try it for yourself!
There is so much to love about spring on the Central Coast. Everything is growing and coming to life again after the rainy winter months, and in the last few weeks, our Chef's Garden has exploded with fresh herbs, vegetables and edible flowers that are now starting to make appearances on our restaurant menu.
Our Chef's Garden is an important piece of our restaurant philosophy and, in many ways, dictates what ends up on our seasonal lunch menu. We started our Chef's Garden in 2016 with the goal of using seasonal ingredients to inspire our farm-to-table (or garden-to-table) fare. We try to keep our menu items as fresh and locally sourced as possible, and you can't get much more fresh and local than right outside the kitchen doors!
For our gardener, Annette Pollock of Avant-Gardener, this garden is a labor of love that requires planning, communication, creativity and most of all, patience. To better understand how this all comes together to create unique and fresh dishes in our restaurant, we talked with Annette about what is going on in the garden this time of the year, and some of the fun and creative things we can expect to see coming soon!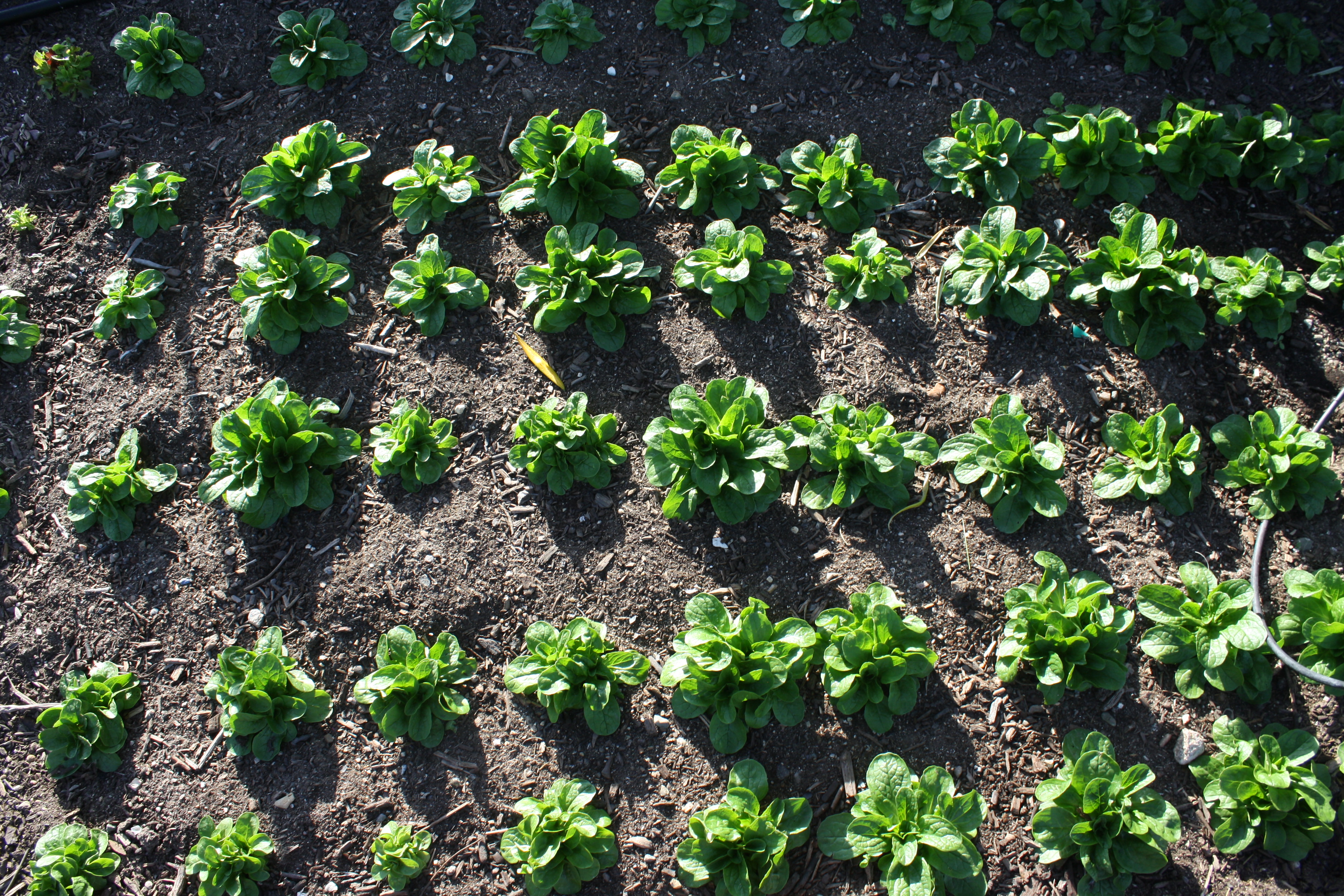 a close up of Mache lettuce in rows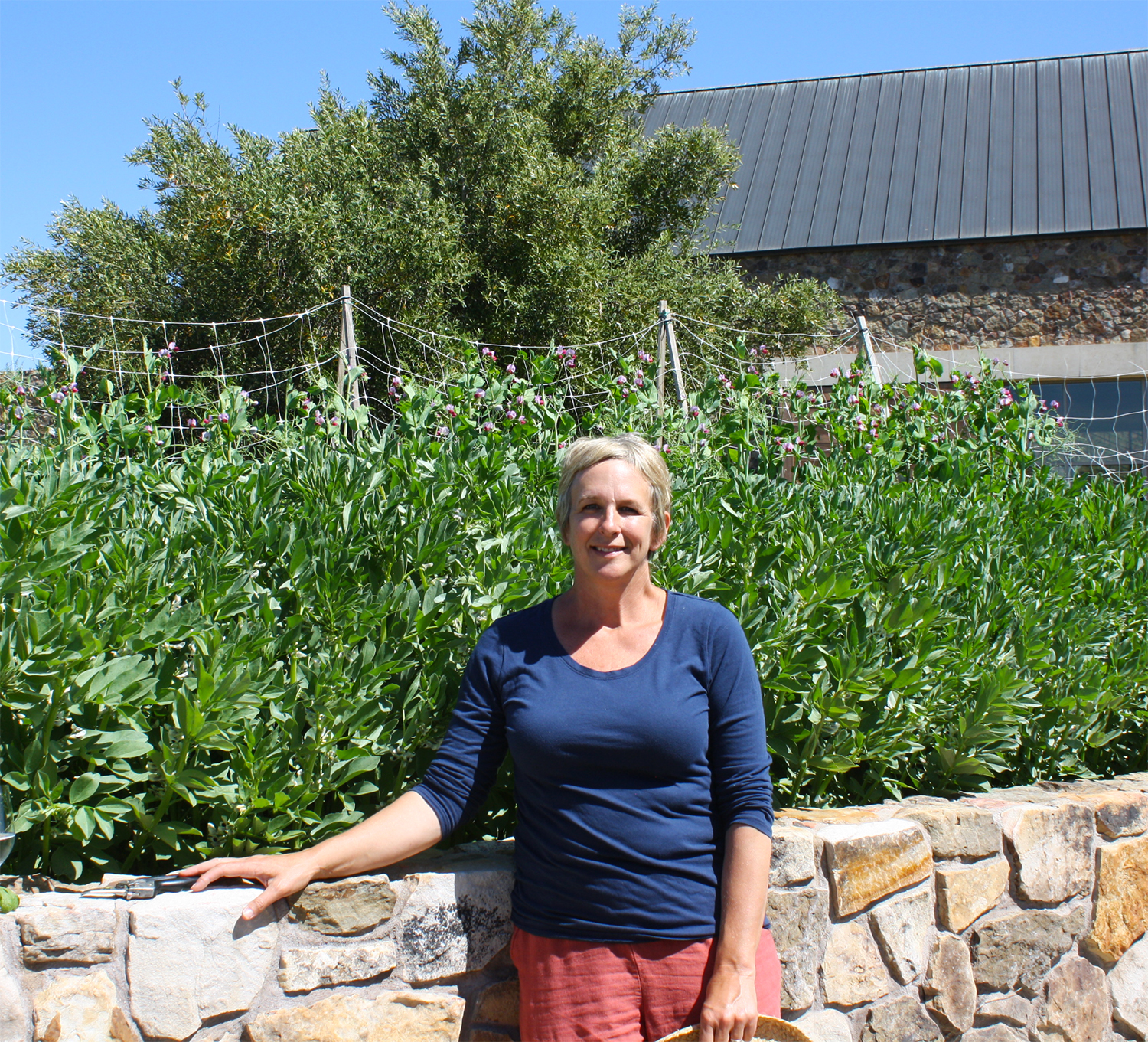 Q&A with our gardener, Annette pollock
Overall, what is happening in the garden right now?
We are still harvesting a ton of greens right now. Today we brought in mustard (Frisée), endive, estate lettuce, arugula and rainbow chard. We also brought in all of the spinach today and we are starting to plant Japanese Eggplant where the spinach was.
Right now we have a lot of weeds in the garden but there is a benefit to that. It looks like a jungle - very organic - but when the weeds flower they bring in beneficial insects (beneficials). I have been seeing ladybugs, hoverflies, etc. It usually takes me about 3 years of working in a garden to bring in the beneficials, but there is so much diversity in the garden right now. We do eventually have to pull the weeds out though!
I have also been working with Winemaker Patrick Muran to create more of a connection between the garden, the vineyard and the natural wildlife. They are starting to do their own organic compost in the vineyard and we have been talking about bringing in chickens, etc. We share resources.
What else are you planting right now?
We have been growing all of our own starts in the greenhouse so we are getting ready to plant the tomato starts - we have a bunch of heirloom tomatoes – and we are planting painted serpent cucumbers. Chef liked those last year so we are doing them again this year.
We are also planting Tuscan cantaloupe, seedless watermelons, blue corn, sweet corn, lots of hot peppers, Thai chilis (Chef makes his own hot sauce with these), bell peppers and delicata squash for the winter as well as some Italian striped zucchinis. That is what my hopes are anyway!
What are some of your favorite things to harvest in the spring?
We grow microgreens in the greenhouse including Dun Peas. Some of these Dun Peas went to seed and they have sprouted, so we have been harvesting them. That is what we consider a freebie, and gardeners love freebies. They are healthier because they have done their own germination and followed their own timing. I also love the Bronze Fennel we are bringing in because it is really pretty on the plate and it brings beneficials into the garden. I am also really looking forward to the English Peas coming up. They get to be about 6 feet tall and right now they are about 4. I love the Fava Beans we have coming up too, they are flowering now and will be coming in May.
The Mache is something I really enjoy growing because it is so pretty. Red Ribbon Sorel is coming up and the mint is exploding – this will be coming on the Chef's Tasting Menu in May!
What has been the most challenging part of this garden for you?
It can get very hot, windy and dry here. It can be tough to figure out sometimes what needs shade and when. The fluctuation in temperature affects some crops the same as it affects grapes. For example, tomato vines shut down when it gets to be 95 degrees. You are hoping you will get them but it is always a gamble. I have learned not to get attached to anything in the garden. There are many variables at play here and sometimes things don't go as planned. There is a lot that goes into the garden so mourning a loss can take a long time. I have learned to be ok with learning from mistakes and moving forward.
What has been the most rewarding part of this garden for you?
I love seeing how the chefs are inspired by things that are brought into the kitchen and how they choose to use it. They really respect the food that is grown, and they are always really respectful of me. They tell me respectfully what they need or if something isn't working, and I respond well to that. They also bring me in to try dishes they are testing out with new items from the garden and I love being a part of that.
How do you collaborate with Executive Chef Chris Closser on what to grow, when it is needed and the reality of what can be done?
We have limited space in the garden and we aren't under the illusion that we can supply everything for the restaurant at this point, so I also like to keep up with what other local farmers we source from are growing so that the kitchen always has a backup.
Chris and I look at seed catalogs together a few times each year. We are both drawn to color, so if I see something a little different and I show it to him, he usually goes for it. The Salsafy is a fun experiment because I have never grown it and I don't think Chris has ever had the opportunity to work with it, but he has always wanted to so that is going to be really cool to try, and we are going to find a way to keep it 6 months out of the year.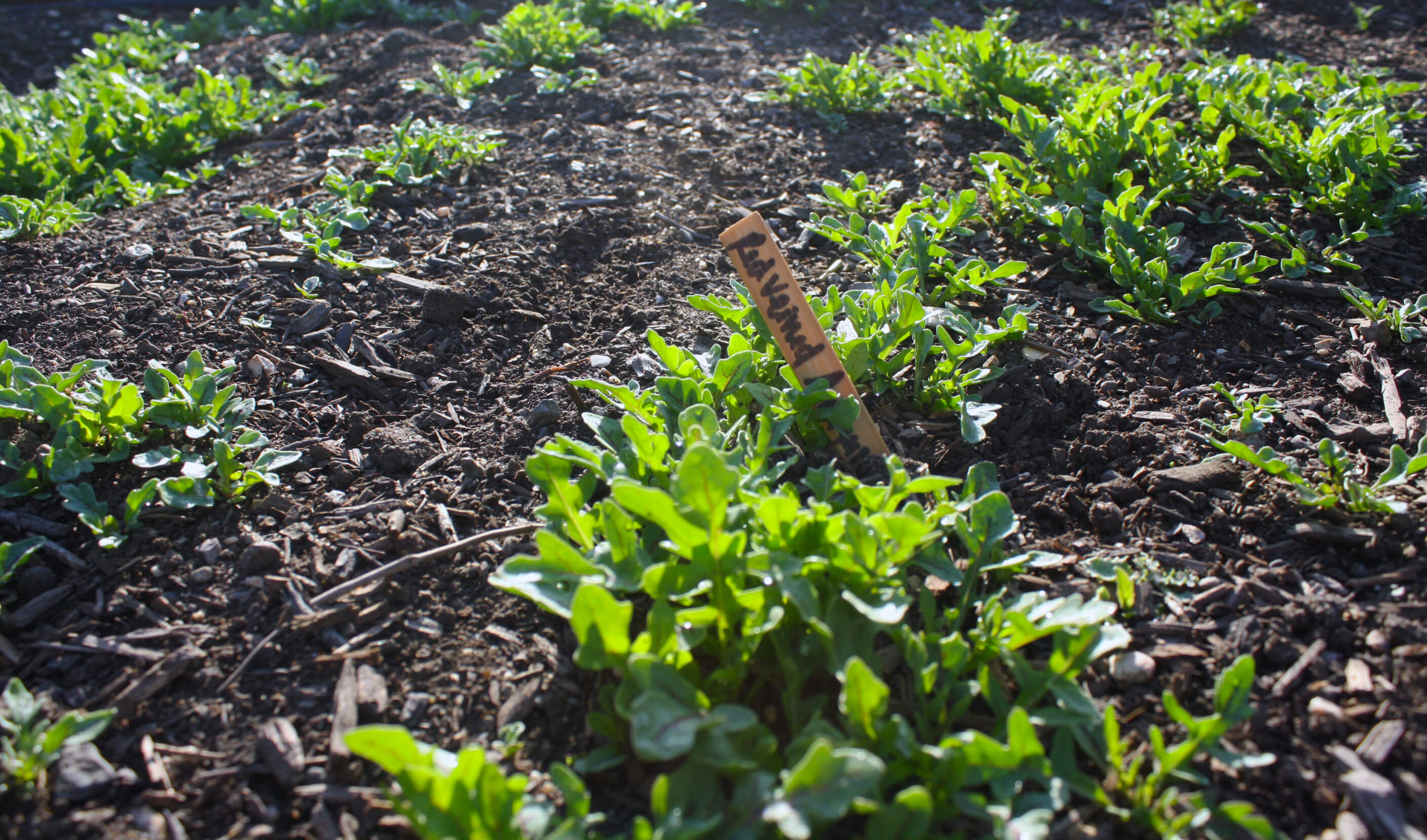 red-veined arugula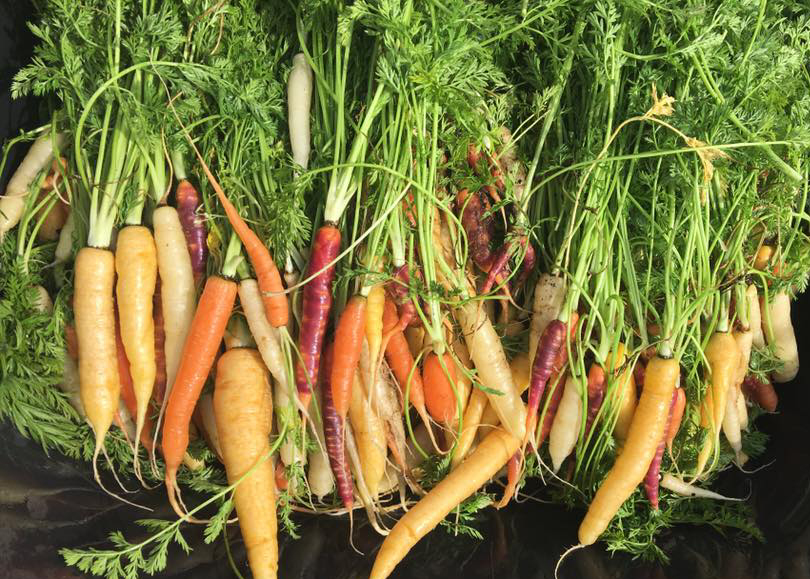 bunches of colorful carrots that are used in a variety of dishes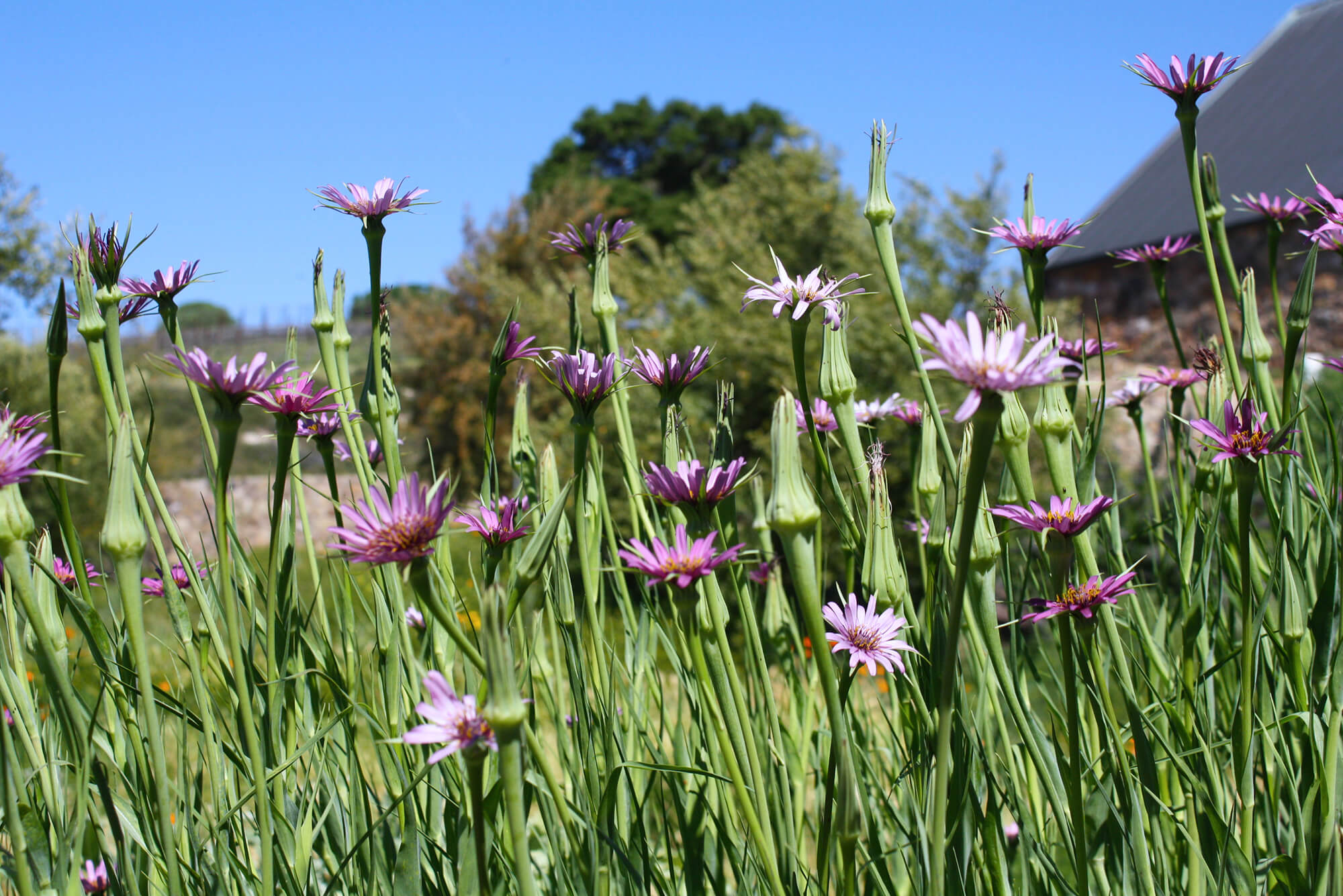 flowering Salsafy, a root vegetable that will eventually be harvested and used to make vegan scallops in our restaurant
With all of the exciting and fresh items we have coming out of the garden, we can't wait to see what Executive Chef Chris Closser comes up with in the restaurant! Our seasonal menu is constantly changing and the best way to experience it is to come and try it for yourself. Right now, we're incorporating as much of the garden as we can into our menu and using our edible flowers to add pops of color to our burrata plate, greens for salads and to spice up main courses and much more. Click here to see our entire menu.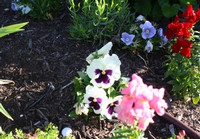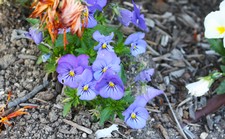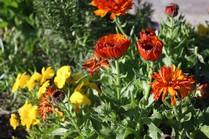 edible flowers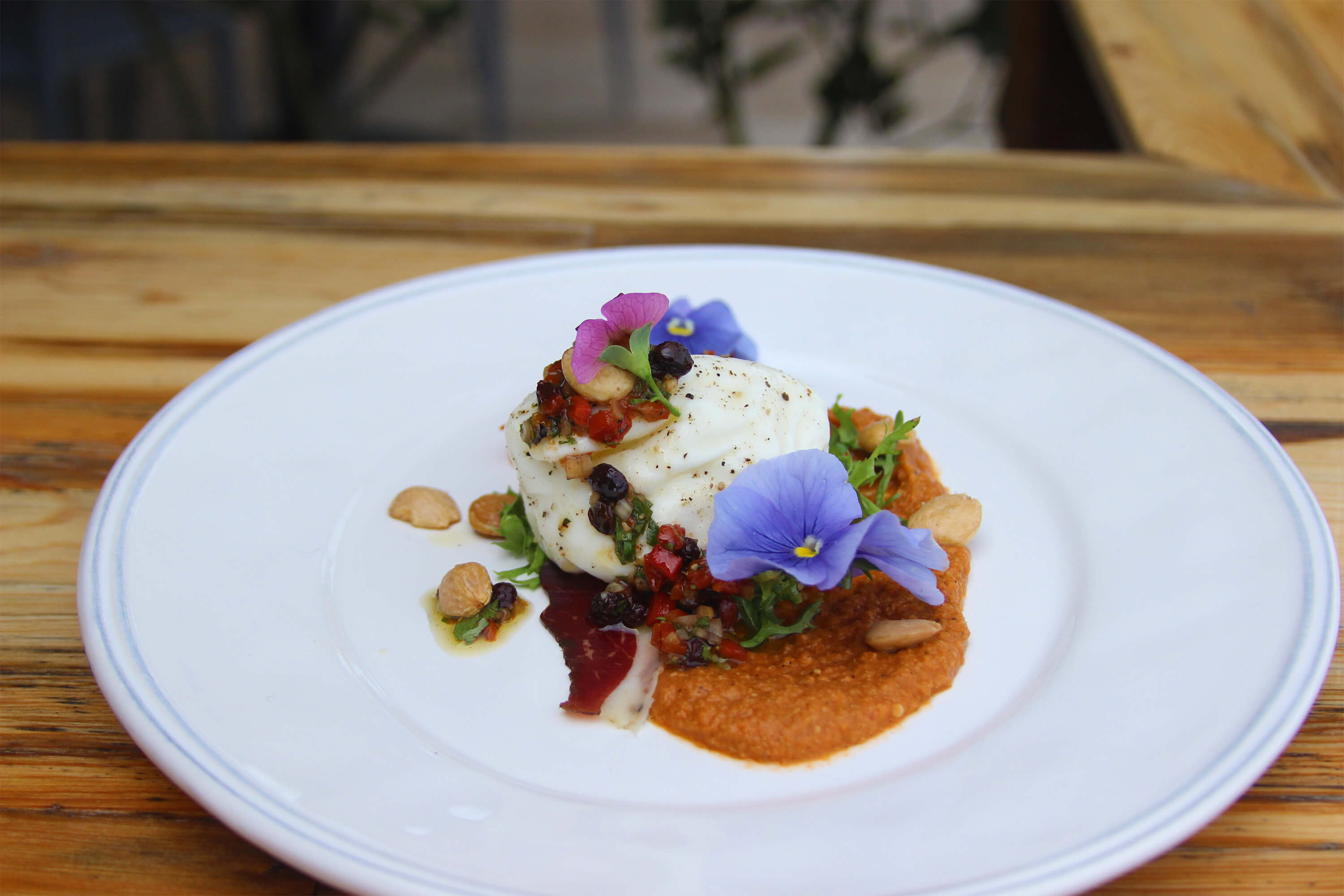 burrata plate with edible flowers from the garden and seasonal accompaniments selected by our kitchen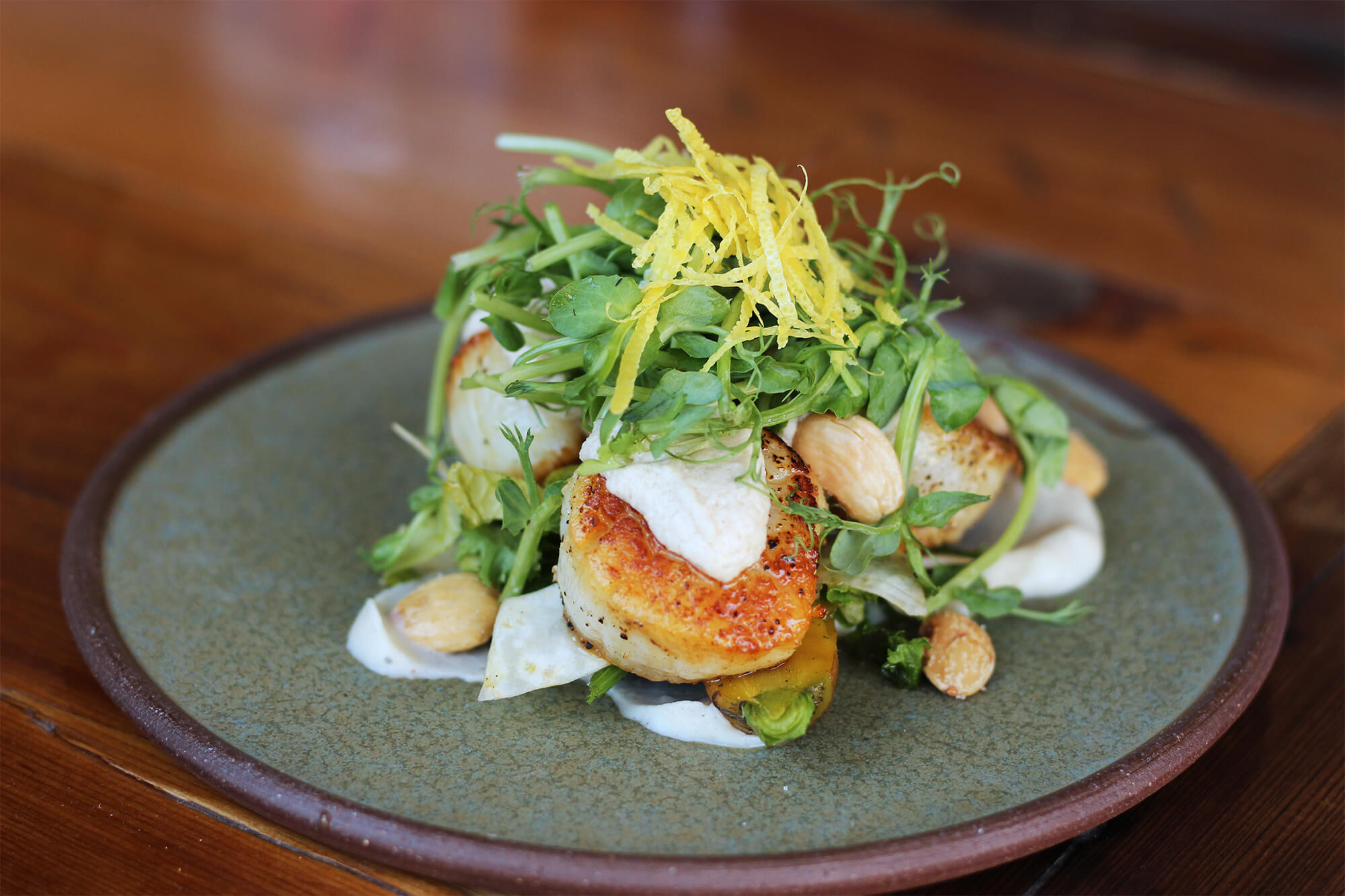 pan-seared scallops with celery root puree, carrots, mustard greens, chicory, shaved celery root & lemon rind